Update: As of Wednesday, November 14, 2018, Apple offers new, higher-end graphics options for the 2018 MacBook Pro. Namely, mobile Radeon Pro Vega.
Build-to-order options for the 15-inch only, you can get the Pro Vega 16 with 4GB of HBM2 memory for + $250.00 or the Radeon Pro Vega 20 with 4GB of HBM2 memory for + $350.00.
There's something about cracking open a new MacBook Pro for the first time. I'll probably never know for sure, but I imagine it's similar to getting into a new Ferrari. You already know what hyper-performance wrapped in sleek lines feels like, but you're curious to see just how much better it can get.
For me, hitting render on Final Cut Pro X is like slamming down the gas. It's not just how much faster it goes, it's how much faster it goes faster.
In a normal year, that's a straightforward process. With the MacBook Pro (2018), not so much: From the moment the third iteration of Apple's latest design hit the market, controversy hit with it.
First, concerns about the reliability of the butterfly and dome-switch keyboards, which proved problematic enough in the previous two versions for Apple to have instituted a repair program.
Second, from the irresistible force of Intel falling back on multiple extra cores to make up for multiple years of failing to get to a 10-nanometer process, slamming head-on into the immovable object that is Apple's insistence on keeping its pro portables ultra portable.
I've now spent a week testing a new, 15-inch MacBook Pro (2018) with a 6-core i9 processor, 32GB of memory, and 2TB of solid-state storage, which sells for a brisk $4,699. (The new 13-inch starts at $1,799 and the new 15-inch at $2,399). I've also spent almost a second week throwing out those tests and doing them over again following Apple finding and fixing a bug in the thermal management firmware (see the Coffee Lake section, below). In addition, I've spoken to over a dozen pro users in a wide range of fields, to get a sense of how the new machines affect a wide range of workloads.
Here's what I've found.
Previously, on MacBook Pro…
MacBook Pro (2018) is based on the platform Apple introduced in 2016. Rather than recapitulate everything here, I'm going to focus only on what's new and different. For more on everything else, please see my previous reviews:
MacBook Pro (2018) In Brief
Portability over raw power
Blisteringly fast storage
The latest ports
Touch Bar, Touch ID, and T2 security
macOS
Raw power over portability
NVIDIA graphics
Legacy ports.
Touchscreen and scissor switch keyboards
Low, low pricing.
For some, MacBook Pro (2018) will be the best of the best. For others, the best of the worst. Three years into this design generation only one thing is for certain: This remains the most controversial and divisive pro portable Apple has ever made.
The casing is the same. Light, sleek, and strong, but no longer modern looking in the age of iPhone X or some of its near-bezeless competition. The ports remain USB-C / Thunderbolt 3, but the 13-inch now matches the 15-inch with all four offering full bandwidth.
The already excellent high-gamut, high-density display now has True Tone, which means it will automatically match the ambient color temperature, from the warm yellows of incandescent light to the cool blues of fluorescent. Unless you're in a proper studio, carefully calibrating before doing a final color correction on images or video, just leave it on and enjoy whites that actually look paper-white.
Apple's custom T1 co-processor, which previously offered a secure enclave for features like Touch ID and Apple Pay, has been escalated to a T2, which adds secure boot authentication and hardware accelerated data encryption, among other things.
eighth-generation Intel "Coffee Lake" processors bring the 13-inch to 4 cores and the 15-inch to 6-cores. Because Apple wants maximum portability as well as performance, they're aggressively power managed. Still, the gains are appreciable, especially following Apple's supplemental update, which fixed a thermal management bug in the firmware.
The graphics update is more modest, though the 13-inch now offers 128MB of eDRAM, double the previous generation. But eGPU is now a reality for anyone who wants to or is willing to plug in a bigger, better AMD card. Apple and NVIDIA are still at loggerheads, though, so there's still no option for people who want Cuda cores.
Update: As of Wednesday, November 14, 2018, Apple offers new, higher-end graphics options for the 2018 MacBook Pro. Namely, mobile Radeon Pro Vega.
Build-to-order options for the 15-inch only, you can get the Pro Vega 16 with 4GB of HBM2 memory for + $250.00 or the Radeon Pro Vega 20 with 4GB of HBM2 memory for + $350.00.
For those who wanted more memory,, good news: The 15-inch MacBook Pro has given up more power-efficient LPDDR3 RAM for more scalable DDR4 RAM, and can now go to 32GB. Both now have even faster solid-state storage and double their previous capacities: Up to 2TB for the 13-inch and a whopping — and wallet-rending — 4TB for the 15-inch.
To power the extra cores and hungrier memory, Apple has added more battery. By virtue of some hocus-pocus, the overall weight didn't change, but the extra power is canceled out by the extra demand, so you end up with the same battery life as previous years. I get about a workday of web surfing and several hours of video editing and rendering.
The butterfly and dome switch keyboard — embraced by some, detested by others but concerning for its failure rate to most — has been iterated again as well. For the third gen, a silicone membrane has been slipped in over the switches. It changes the tone and loudness, sure, but it also makes the keys feel punchier and, most importantly, provides protection against dust and debris, which should improve reliability.
So if you're already using a 2016 or 2017 MacBook Pro, are the performance, security, and reliability improvements worth upgrading for? If you've stuck with an old MacBook Pro, are the updated display, chipsets, security, and keyboard enough to finally win you over?
Three version in and my original recommendation remains the same: Apple has a very specific opinion about what makes a pro laptop, and it's still as much about portability as it is performance.
If you want a thicker laptop with more thermal headroom, more keyboard travel, and more legacy ports, then this is still not that. If, on the other hand, you're all about pro-on-the-go, and you want your speed to be sexy, then the MacBook Pro (2018) is the absolute best expression of it yet and will make you ludicrously happy.
(If you're at all unsure, try before you buy.)
MacBook Pro (2018) True Tone Display
True Tone makes the white on your display look… white. Not bluish white as it sometimes looks under warm, incandescent light. Not yellowish white as it sometimes looks under cool, fluorescent light. White white. Theory being, the pages of a book don't get all wonky as you move from room to room or from indoors out, so why should your display?
Using a special light sensor array to measure and match the ambient color temperature, Apple introduced True Tone with the 9.7-inch iPad Pro, brought it to the subsequent 10.5-inch and 12.9-inch iPads Pro, and iPhone X. Now it's come to the Mac. Finally.
As a bonus, the Touch Bar will also temperature match your surroundings, though it's way less noticeable. And if you dock your MacBook Pro into the Apple-recommended LG UltraFine 5K Display, LG UltraFine 4K Display, or O.G. Apple Thunderbolt Display, as long as you leave the lid open so the sensor can work, True Tone will temperature match those panels as well. (Presumably, the pre-announced Apple Pro Display, coming in 2019, will be True Tone compatible as well, if it doesn't do it on its own.)
Some people love True Tone and just leave it on. Others worry it might mess with the color accuracy of their work and leave it off. Still others leave it on most of the time but turn it off for final edits. I've spoken to several pro photographers and videographers and opinions really do vary. I've also edited more than my fair share of photos and videos, and so here's my recommendation:
Turn True Tone on and don't worry about it. Not unless and until you're in a perfectly lit studio, have broken out your spider to ensure perfect calibration, and are ready to do final color correction on your work. That's the only situation where you absolutely don't want True Tone on. For everything else, you're fine.
Also: Don't confuse True Tone with Night Shift, which heavily biases your display towards blue during the day and yellow at night to help ease you into a more natural sleep cycle. By all means, that off if you're worried about the people in your photos or video shifting from Mister Freeze by day to Minions by night — at least more than you are the idea pf pixels messing with the chemicals in your brain.
Otherwise, ambient lighting conditions are already and always altering what you see, and leaving True Tone on will simply even things out for you on the go.
That's my approach, anyway. I love True Tone. I want it everywhere. I want Continuity True Tone for devices that don't or can't support it. Seriously, take my eyeballs.
MacBook Pro (2018) and Coffee Lake
We're living in an age where Moore's law — or more properly House's Law, which predicted performance would double roughly every 18 months — contracted zombie plague a few years ago and is now dead or dying. And, as computing continues to become more mobile, and pro-level computing more mainstream, aggressive thermal management in constrained enclosures is something we're all going to have to come to terms with.
It's the reason why Apple doesn't break out things like memory or frequencies on iPhone or iPad and why, I think, Apple is increasingly viewing the Intel chips inside the Mac as an implementation detail. (At least until it's ready with an alternative.)
This year, that's Intel's 8th-generation "Coffee Lake" processors, which bring 4-cores to the 13-inch and 6-cores to the 15-inch.
13-inch options include:
2.3GHz quad‑core 8th‑generation Intel Core i5 processor, Turbo Boost up to 3.8GHz
2.7GHz quad‑core 8th‑generation Intel Core i7 processor, Turbo Boost up to 4.5GHz (+$300)
15-inch options include:
2.2GHz 6‑core 8th‑generation Intel Core i7 processor, Turbo Boost up to 4.1GHz
2.9GHz 6‑core 8th‑generation Intel Core i9 processor, Turbo Boost up to 4.8GHz (+$300)
In a perfect world, Intel wouldn't have fallen so far behind on its roadmap, The 10-nanometer process shrink would have happened on schedule, the tick would have been followed by its usual tock, Skylake would have been immediately succeeded by Cannon Lake, and we would never have had interim optimization cycles like Kaby Lake and Coffee Lake, and whatever other iterations ultimately get crammed in between. (I'm afraid to even take a nap these days in case I wake up and find another Whiskey Lake or Ice Lake bumped into the roadmap.)
Absent the process shrink, which would have allowed for higher performance with greater efficiency, Intel has fallen back to adding more cores. All else being equal, they were sold as allowing for higher performance at the same efficiency. But nothing else is ever equal, so, we end up with more cores that aren't quite as efficient as Intel said they'd be, stuffed into the same MacBook Pro chassis Apple has been using for the last two years.
Irresistible force: meet immovable object.
To keep those dragon-fire hot chips from melting that bead-blasted aluminum shielding, Apple is using more aggressive thermal management. The chips will still burst up to their turbo frequency maximums, which is great for short but demanding tasks, but tasks that light up all the cores and keep them lit for long periods of time will be met by fans and frequency management.
Some people have likened that to putting a Ferrari in traffic. A better analogy would be putting four or six Ferraris in traffic. Sure, you can't go full throttle forever, like you can on a race track, but you still have two extra Ferraris and that means you can still move four extra people in the same amount of time And with some pretty freaking amazing acceleration up front.
That is, if you don't have any problems changing gears on Highway Adobe…
Statement from Apple on the MacBook Pro (2018) thermal management bug
Since the macOS High Sierra 10.13.6 Supplemental Update, a wide range of testing has shown that the specific issue with Adobe Premiere has been fixed and other workloads have benefited as well to a greater or lesser degree.
With the saw-tooth frequency graph handled, and the lines now, for the most part, comfortably, tucked in at base, what does that mean for people who still aren't happy? Who prefer power over portability? Who don't really care for how Apple's product development process works, and just want a MacBook THICK with a couple of F-22 Raptor vents welded onto a 17-inch chassis with frequencies that stay as high as possible for as long as possible?
Brutally, nothing.
That's not an excuse. That's not an apology. It's just not and has never been the MacBook Pro Apple wants to make. It has an iMac or iMac Pro for that. And if you really want an Iron Man-style briefcase... er... laptop, you'll need to get it from a company with a high-end gaming line. In neon.
I'll leave the final metrics to AnandTech, which really understand how to do that stuff well. For me, all of my renders and transcodes have improved by several minutes. That's as much, and in some cases more, than the improvement I got going from the 2016 to 2017 model. (If you're going from an old to a new 13-inch, as an added bonus, the new architecture does finally give you all four Thunderbolt 3 ports at full bandwidth.)
Minutes of improvement might not seem like much to someone who only renders or encodes a couple of videos a week. To someone who renders a couple of videos every 15 minutes — which isn't uncommon in production work — it makes all the difference in the world. (Especially when you're on location and have a director, artist, or client on the other end of the line with far less time than money chomping at the bit to iterate and sign off on every shot.)
How much it will matter to you depends on how long it's been since your last upgrade and how constrained you feel by your current system.
For me, the speed boost is nice, but it's the new storage options that are really enticing.
The GPU improvements on the MacBook Pro (2018) are modest this year — Intel Iris Plus Graphics 655 on the 13-inch and Radeon Pro 555X or Radeon Pro 560X for the 15-inch. (The 13-inch also gets 128MB of eDRAM now — embedded DRAM — double the previous amount.)
More interesting is what you can do externally. There's already a wide range of existing roll-your-own eGPU enclosures that let you pair your choice of hot cards with big fans for a major boost. But, now, there's also a not-quite-so-hot but also nowhere-nearly-as-noisy integrated eGPU option Apple worked on with Black Magic.
I haven't had a chance to try it yet — and hardcore pros will no doubt prefer the traditional, modular GPU —but with a Radeon Pro 580, two Thunderbolt 3 ports, four USB 3 ports, and an HDMI port, others may love it as a docking station or as an easy way to plug in an HTC Vive for VR work or 360 video.
MacBook Pro (2018) and T2 + Hey Siri
The 2016 MacBook Pro brought ARM to the Mac... but not in the fanfic way some had been hoping. Instead of a new processor architecture, it was a new co-processor architecture. Intel continued to handle the heavy lifting but Apple's own custom silicon, called T1, offered a secure enclave to lock down everything from Touch ID and Apple Pay to the FaceTime camera light.
The 2017 iMac Pro escalated that to a T2. Here's what I wrote about it at the time:
It's easy to overlook just how significant a security upgrade this is to the Mac. To roll your eyes at the "only Apple" hyperbole and dry heave your snark into every comment section on the internet. But, it's true, and it also myth-busts another popular misconception: that Apple isn't putting any effort into the Mac anymore. It simply shows where Apple is putting in that effort.
T2 isn't a new Mac mini, sure. I feel that sharp roshambo-in-the-BYODKM just as acutely as you. But, it is something that'll benefit all Macs and all Mac users going forward. Especially as Apple keeps setting its own silicon pace.
The MacBook Pro also gets something from the T2 that the iMac Pro, at least thus far, has not: "Hey Siri".
Thanks to the low-power, always-on characteristics of the co-processor, the MacBook Pro now functions just like every iPhone since the 6s. Do you really need "Hey Siri" on a Mac? That's like asking if you really need "Hey Siri" on an iPad.
If you already have far-field Siri on the HomePod or near-field Siri with AirPods or Watch or iPhone, then no. Probably not.
If you're using your MacBook Pro, your iPhone is in your pocket, you don't have a Watch or are too busy typing to want to raise and rotate it, and there's no HomePod around you, then boy howdy does mid-field Siri come in handy. (And, if Apple ever gets its mesh together, it's one more node on your eventual personal Siri network.)
I've been using "Hey Siri" on the Mac to find files, check how to spell words, and search for information, all while type-type-typing away on this very review and it's worked a treat. My only frustration has come when it intercepted HomeKit commands I meant for my HomePod and then very politely, very rage-inducingly reminded me it can't handle the HomeKit. (Not until macOS Mojave ships later this fall.)
I'm a true believer in SiriOS being an integral part of the future and, to get there, Siri needs to be everywhere. This isn't the movie Her, not by a longshot, but it's another step closer.
MacBook Pro (2018) Memory & Storage
I don't mean to keep ragging on Intel in this review. Except, I do. Dropping the ball so always, from implementing the last couple of DisplayPort standards to getting LPDDR4 out the door, means companies like Apple have to come up with zany workarounds like a custom TCON — Timing Controller — to get 5K displays out the door for iMac, or going with less power efficient DDR4 memory just to cram more than 16GB into the new 15-inch MacBook Pro. And, ultimately, it's we the customer people that end up paying the price in convenience and compromise.
Let's focus on that memory part for a minute: For the last couple of years, the MacBook Pro has been limited to 16GB because the LPDDR3 memory it uses — the LP stands for Low Power — has been limited to 16GB and the next-generation version that supports more memory, LPDDR4, well, that's apparently gone on a bender somewhere and is nowhere to be found.
For the 13-inch MacBook Pro, that story hasn't changed:
8GB 2133MHz LPDDR3 memory
16GB 2133MHz LPDDR3 memory (+$200)
But, for the 15-inch MacBook Pro, there's a whole new story:
16GB 2400MHz DDR4 memory
32GB 2400MHz DDR4 memory (+$400)
That's right. Cradled in the fetal position of learned helplessness, Apple has had to give up on low power memory and go all in on full power. And, to feed it, Apple has increased the size of the battery. Combined with the extra cores, it all cancels out and you get the same battery life as previous generations. (For me, in my last week of tests, it's been slightly less than advertised, but still enough to get me through a workday of web stuff or a few hours of Final Cut Pro X.)
In the age of memory compression and blisteringly fast swap, it's arguable how many people really need 32GB of RAM. But, if running multiple virtual machines or keeping a ton of big media apps in memory is your thing and you have an extra $400 to spend, at least now you can get it. Enjoy.
Personally, for me, it's the extra storage that caused my eyes to Anime pop. Not just because they're fast. All recent Mac solid state drives have been fast. (So fast that some of my nerdier friends didn't believe the numbers they were seeing until they slapped open Terminal and ran three kinds of tests four kinds of ways. They're that fast.) But because this year, they're also BIG.
For the 13-inch MacBook Pro, you can get:
256GB SSD storage
512GB SSD storage (+$200)
1TB SSD storage (+$600)
2TB SSD storage (+$1,400)
For the 15-inch:
512GB SSD storage
1TB SSD storage (+$400)
2TB SSD storage (+$1,200)
4TB SSD storage (+$3,200)
Yeah, the gobsmacking number of zeroes behind those last few options burst my Anime eyes quick too. But, here's the thing: Apple not only sticks near-religiously to the absolute highest-end parts but typically pays extra for the absolute best binned of those highest-end parts. And that extra gets passed down in the build-to-order (BTO) options. It confuses and even frustrates a lot of people, but the simple truth is, Macs are market-priced, Apple just doesn't offer low-end alternatives with low-end parts the way other vendors do. With Apple, it's premium all the way down.
That said, SSD has been my main bottleneck for a few years now. Blame it on Final Cut Pro X being so damn thirsty. No matter how much space I think I have left on my current, sub-1TB drive, within minutes I'll start getting storage capacity errors.
Sure, I can and do fall back on optimized media, proxy files, and external drives. But, while they're not as bad as, say, I don't know, the stomach flew, they're certainly inconvenient. Especially the added overhead, complexity, and additional drives to manage — and potentially damage — on the go.
Unless you're doing the kind of high volume photography or long form video work where your MacBook Pro literally pays for itself over and over again, week after week, month after month, I wouldn't recommend 4TB to anyone. But, the 1TB or even 2TB drives could more than make up the amortized extra few bucks a day in anxiety-relief alone.
MacBook Pro (2018) Keyboard
Nothing, not the bezels, not the Touch Bar, not the return of branding below the screen, not the loss of the glowing logo, not the thermals, not even the hashtag dongles — nothing — has been as relentlessly controversial on the post-2016 MacBook Pro as the butterfly and dome switch keyboards. Some dislike the lack of travel. Others the loudness. Thanks to a mix of legitimate problems and reporting, and a hefty dose of social and blog fury, many simply worry about the reliability: That the flatter, better, precise-r, stabler keys could be rendered mute or maddening by a single grain of dust or debris.
Earlier this year, Apple announced an extended repair program for any MacBook or MacBook Pro that experienced any keyboard issues. Still, the company continues to stand behind the design, now in its third generation.
The version introduced with the MacBook Pro (2018) looks the same on the outside. Inside, though, there's a new silicone layer over the butterfly and dome switches. Officially, it's there to change the tone and loudness of the keyboard so you won't get so much side-eye in coffee shops or pillows to the head in bed. Of course, it also functions to make the keyboard punchier and to protect it from dust and debris, which should make it more reliable.
When I first tried it, I didn't like it as much as last year's model. It just didn't feel as crisp. You know how some people love, love the old IBM Selectric and Apple Extended Keyboard II? How, forget scissor switches, you better get the color of your cherry switches right? I'm the opposite of that. Give me a few minutes and I'll adapt to almost any keyboard, up to and including the barely-there Apple Smart Keyboard on the iPad Pro. Given my druthers, though, I prefer the butterfly and dome switches. I've used them long enough now that going back to scissor switches just feels… sloppy.
Now, two weeks, this review, and the human brains maddening ability to continuously reset what you consider normal, and I'm fine with it. Happy even. But, I'm not everyone and, as I've long said, when you have a single manufacturer you have to make sure the most critical features appeal to the broadest range of potential customers possible.
The second generation keyboard didn't do that. But this third generation just might.
MacBook Pro (2018) Apps + Accessories
If you're new to Apple and considering a Mac in general and the MacBook Pro in specific for the first time, know that it comes with a full suite of core apps pre-installed, including Safari, Mail, Calendar, Notes, Photos, FaceTime, iTunes, Apple Books, and more. It also comes with free licenses for Apple's iWork suite, Numbers, Pages, and Keynote, and iLife, which includes GarageBand and iMovie.
It also supports all the apps in the Mac App Store, like Final Cut Pro X and Logic Pro X, and the huge range of macOS apps available directly from all your favorite — or mandated — developers, including Microsoft Office and Adobe Creative Suite.
Best Mac apps
If this isn't your first MacBook Pro rodeo, the design is unchanged from the 2016 and 2017 versions, so it also works with all the same accessories, including bags, cases, covers, and yes, hashtag dongles.
Apple is even offering its Leather Sleeve, which debuted last year for the 12-inch MacBook, in 13-inch and 15-inch flavors now as well. I'm… not a fan. At $200 it doesn't look or feel anything like the luxury leather Apple has produced for Watch bands, for example, over the last few years. (But, yeah, god help me if a Hermès version ever goes on sale…)
macOS Mojave, coming this fall
MacBook Pro (2018) ships with macOS High Sierra but, this fall, will be receiving a free upgrade to macOS Mojave. Mojave jas some crowd-pleasing new candy, like Dark Mode and Desktop Stacks, for us to look at, and some non-trivial productivity boosts like Finger Actions and Instant Markup for us to enjoy. Under the hood, though, Mojave is serving as a testbed for one the biggest evolutions ever to come to Apple's desktop operating system — support for what were originally mobile apps.
MacBook Pro (2018) Pricing + Availability
The MacBook Pro (2018) is available now, worldwide. It comes in silver and space gray, and starts at $1,799 for the new 13-inch and $2,399 for the new 15-inch. (Only the Touch Bar versions have been updated — the 13-inch without the Touch Bar remains the 2017 model.)
AppleCare+, Apple's extended service and warranty program, is available for $269. It offers up to three years of standard coverage, and up to two incidents of accidental damage coverage, each subject to a service fee of $99 for screen damage or external enclosure damage, or $299 for other types of damage. I'm clumsy, so I always get AppleCare+, though it's six to five and pick 'em on who's lost money on who over the years.
Either way, Apple also provides free advice and education at Apple Stores on everything from video and photography to music and design. When you combine the typically lower support overhead with the typically higher resale returns, it creates value far beyond the sticker price.
MacBook Pro (2018) Conclusion
All design is compromise. You can have it all, just not all at the same time. Stop me before I cliche again. But, my point is this: Apple could have made a bigger, thicker MacBook Pro with more thermal headroom, more keyboard travel, and more legacy ports, but that's not the computer the company believes it should make. That's less laptop and more desktop sandwich, with all the hot and heavy dressing that comes with it. For Apple, portables, even pro portables, have to be incredibly and ever-increasingly portable.
Based on sales, that's something that resonates with a large and growing part of Apple's pro market. (Which, itself, is large and growing thanks to the very definition of "pro" expanding to include a wider range of use cases than ever before.) It's just not something that resonates with the traditional pro market, the one that feels like it worked to help put Apple through college and is now being left for younger, hotter products with bad iPhone and iPad influences.
Will the MacBook Pro (2018) change any of those minds? Yes and no. Objectively, Apple has addressed a range of concerns from performance to memory to storage to reliability, and heaped on top some a rather dazzling improvement to security as well. But, all of that phenomenal computing power is still constrained by its itty-bitty living space. And, just as objectively, that might still be too much for some to swallow. Ditto the continued lack of a touchscreen. (My guess is it'll convert way more people. Just not everyone.)
For others, myself included, the MacBook Pro (2018) is simply the best version of the best portable Apple has ever made. The chips are better. The keyboard is better. The memory is… whatever, and the storage — expensive as it is — also better. Plus, the new ARM+Intel architecture is one of the most exciting things to happen to PCs in decades. (Seriously, it's like Bondi Blue but on the inside.)
If you're already using a 2016 or 2017 MacBook Pro, you're going to really have to need either the increased performance, increased memory, or increased storage to pay for itself in order to justify the upgrade. (If you don't need any justification, you've probably bought already, haven't you?)
If you're still clutching onto your pre-2016 MacBook Pro with a "my-cold-dead-hands" grip, then you may want to finally consider easing up off it a bit and checking out just how far the new versions have come. You may still hate the butterfly keyboards, and you may still find USB-C / Thunderbolt 3 dongles somehow more offense than all the other dongles all pros have had to put up with all always, but you might also just find the advances more than make up for the annoyances. Or not. Two week return period. Make use of it.
If you need maximum portability, go for the 13-inch. If you need the biggest canvas possible for your picture and palettes, go for the 15-inch. I like the i7. i9 feels more about want than need, but if you really need it, you already know it. Likewise 32GB and 4TB. They're for the idle rich and real racecar drivers.
For me, the last two weeks have been exactly like I imagined a better Ferrari would feel on the highway: Real-time interactions are now so responsive it felt like I was getting echoes of a digital future until I got used to scrubbing more precisely, and renders completed faster enough that, when I made the inevitable goof-ups, I ended up cursing ever-so-slightly less before fixing it and hitting the share button again. The biggest thing for me, though, is 2TB on the 13-inch. Eliminating that pain point alone, given how much I travel and have to produce on the road, is enough to get me to hit the buy button. (Your pain points may vary.)
Ultimately, three versions in, my original recommendation remains the same: Apple has a very specific opinion about what makes a pro laptop, and it's still as much about portability as it is performance. If you want a thicker laptop with more thermal headroom, more keyboard travel, and more legacy ports, then this is still not that. If you want deleted bezels, a Face ID camera, and Taptic surface in lieu of keyboard, that's still the future and not the present.
If, on the other hand, you're all about pro-on-the-go, and you want your speed to be sexy, the MacBook Pro (2018) is the absolute best expression of that yet and will make you ludicrously happy.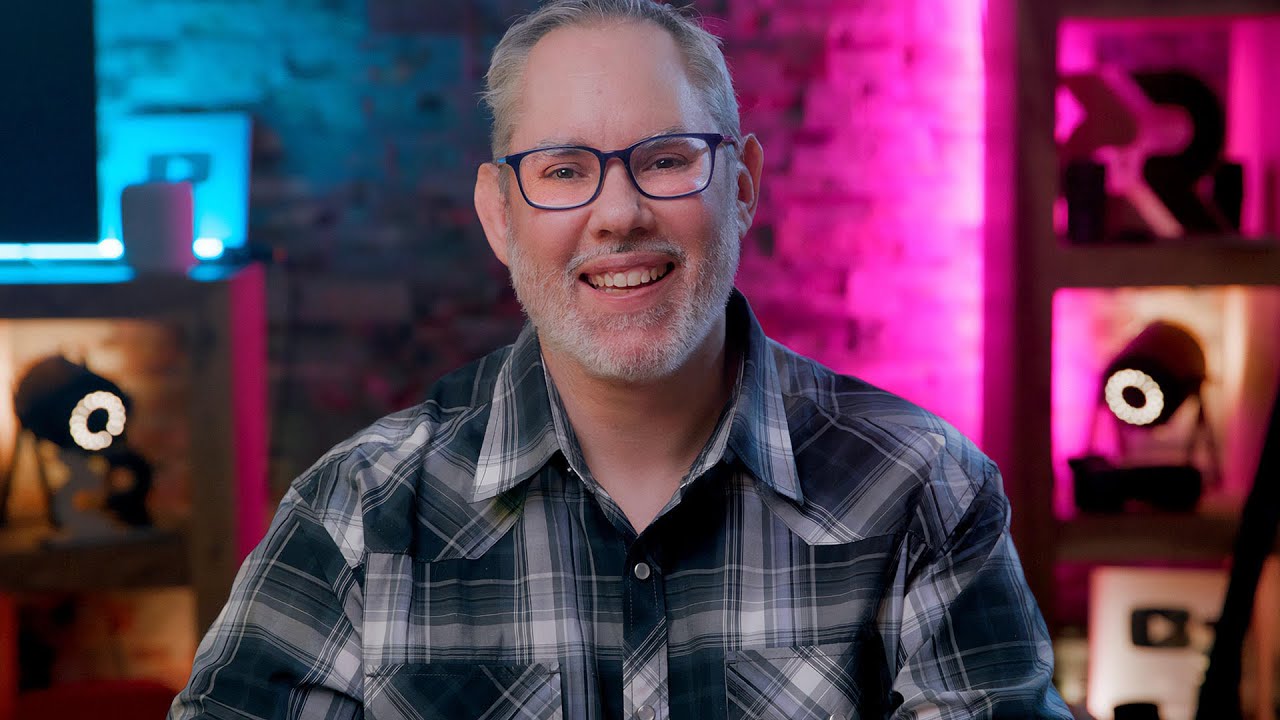 Rene Ritchie is one of the most respected Apple analysts in the business, reaching a combined audience of over 40 million readers a month. His YouTube channel, Vector, has over 90 thousand subscribers and 14 million views and his podcasts, including Debug, have been downloaded over 20 million times. He also regularly co-hosts MacBreak Weekly for the TWiT network and co-hosted CES Live! and Talk Mobile. Based in Montreal, Rene is a former director of product marketing, web developer, and graphic designer. He's authored several books and appeared on numerous television and radio segments to discuss Apple and the technology industry. When not working, he likes to cook, grapple, and spend time with his friends and family.