Marvel comics now available in iBooks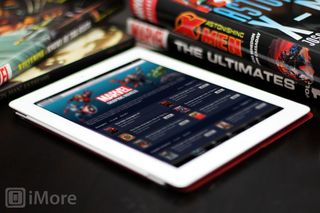 Marvel comics has just pushed out a large set of their collected editions to Apple's iBookstore. The contents is what you're typically find in their softcover trade paperback editions, and mostly more recent fare, but there's some great stuff included.
Pricing is decent, between $6.99 for shorter volumes and $16.99 for classic Masterworks. No sign of larger collections (for example, Joss Whedon's phenomenal X-Men run is offered only as Vol 1. of 4 right now, not the entire 25 issue set that was in hardcover), nor the amazing Omnibuses. But one step at a time, right?
Marvel also says more's to come, so we have a lot to look forward to. If you're not sold on the digital format, you can even test drive a free copy of Brian Michael Bendis' New Avengers Vol. 1 -- for a limited time -- to see how you like it.
If you're into Marvel and use iBooks, I heartily recommend Astonishing X-Men by Whedon, Eternals and 1602 by Gaiman, Planet Hulk, Iron Man: Extremis by Ellis, Thor by JMS, Runaways, and Wolverine Enemy of the State and Old Man Logan by Millar. If you have any favorites, add them in the comments below.
Full press release below.
Today, Marvel has entered a bold new era in digital comics. For the first time ever, classic stories—from the first appearance of the Avengers to the "death" of Captain America—will now be available for purchase on Apple's iBookstore.
With an iPad, iPhone, or iPod touch, Marvel fans across the world can now purchase over 80 graphic novels with fan-favorite characters like Thor, Captain America, Iron Man, Hulk, Wolverine, Spider-Man and more by launching the iBooks app or going to www.itunes.com/marvelgraphicnovels.
Marvel Graphic Novels on Apple's iBookstore
The following is a complete list of available graphic novels at launch:
Amazing Spider-Man Masterworks Vol. 1
Astonishing X-Men Vol.1: Gifted
Avengers Assemble Vol. 1
Avengers Forever
Avengers Masterworks Vol.1
Avengers: Disassembled
Avengers: Kree /Skrull War
Avengers: Under Siege
Avengers/X-Men: Utopia
Captain America: The Death of Captain America Vol.1 - Death of the Dream
Captain America: Winter Soldier Vol.1
Captain America: Winter Soldier Vol.2
Castle: Richard Castle's Deadly Storm
Civil War
Dark Avengers Vol.1: Assemble
Dark Tower: Gunslinger Born
Deadpool Vol.1: Secret Invasion
Earth X
Emma
Ender's Game: Battle School
Ender's Game: Command School
Ender's Shadow: Battle School
Ender's Shadow: Command School
Eternals by Neil Gaiman
Fallen Son: Death of Captain America
Fantastic Four by Jonathan Hickman Vol.1
Ghost Rider Vol. 1: Vicious Cycle
House of M
Hulk Vol. 1: Red Hulk
Hulk: Planet Hulk
Infinity Gauntlet
Invincible Iron Man Vol. 1: Five Nightmares
Iron Man: Extremis
John Carter: A Princess of Mars
John Carter: World of Mars
Marvel 1602 by Neil Gaiman
Marvel Zombies
Mighty Avengers Vol.1: The Ultron Initiative
New Avengers Vol. 1: Breakout
New Avengers Vol. 2: The Sentry
New Avengers Vol. 3: Secrets and Lies
New Avengers Vol. 4: The Collective
New Avengers Vol. 5: Civil War
Pride and Prejudice
Runaways Vol. 1: Pride and Joy
Secret Invasion
Secret War
Secret Wars
Siege
Spider-Man: Big Time
Spider-Man: Blue
Spider-Man: Brand New Day Vol.1
Spider-Man: Brand New Day Vol.2
Spider-Man: Brand New Day Vol.3
Spider-Man: Crime and Punisher
Spider-Man: Kraven's First Hunt
Spider-Man: Maximum Carnage
Spider-Man: New Ways to Die
Thor by J. Michael Straczynski Vol. 1
Ultimate Spider-Man Vol.1: Power and Responsibility
Ultimate Spider-Man Vol.2: Learning Curve
Ultimate Spider-Man Vol.3: Double Trouble
Ultimate Spider-Man Vol.4: Legacy
Ultimate Spider-Man Vol.5: Public Scrutiny
Ultimate Spider-Man Vol.6: Venom
Ultimate Spider-Man Vol.7: Irresponsible
Ultimate Spider-Man Vol.8: Cats and Kings
Ultimate X-Men Vol. 1: The Tomorrow People
Ultimates Vol.1: Super-Human
Ultimates Vol.2: Homeland Security
Venom vs. Carnage
Wolverine: Enemy of the State
Wolverine: Old Man Logan
Wolverine: Weapon X Vol.1: Adamantium Men
Wonderful Wizard of Oz
World War Hulk
X-Force Vol. 1: Angels and Demons
X-Men: Messiah Complex
X-Men: Phoenix Endsong
X-Men: Second Coming
X-Necrosha
And that's just for starters. Each week, more graphic novels will be added to the expanding Marvel IBookstore library, bringing to your iPad, IPhone, or iPod Touch a truly unique digital comic book reading experience that customers will never forget. But don't take our word for it. For a limited time, customers can read the first full issue of New Avengers Vol. 1: Breakout at the iBookstore…free of charge. For experienced comic book readers or casual fans alike, there's something for everyone: action (X-Men: Messiah Complex), suspense (Secret Invasion), mysteries (Castle: Richard Castle's Deadly Storm), literary adaptations (Pride & Prejudice), children's tales (Wonderful Wizard of Oz) and more!
Rene Ritchie is one of the most respected Apple analysts in the business, reaching a combined audience of over 40 million readers a month. His YouTube channel, Vector, has over 90 thousand subscribers and 14 million views and his podcasts, including Debug, have been downloaded over 20 million times. He also regularly co-hosts MacBreak Weekly for the TWiT network and co-hosted CES Live! and Talk Mobile. Based in Montreal, Rene is a former director of product marketing, web developer, and graphic designer. He's authored several books and appeared on numerous television and radio segments to discuss Apple and the technology industry. When not working, he likes to cook, grapple, and spend time with his friends and family.
WOW - Good move on Marvel's part. Now we need DC to join in.

After downloading the free sample issue of the New Avengers, I still prefer the good 'ol physical paper books. But this is a great way for me to sample other titles before buying.

And Dark Horse. I use their app but it is hard to buy within the app and the iBook version of the free intro issue is more clear than the newest title from Dark Horse.

I will return to the Marvel app if and when I can use a Marvel Unlimieted subscription with it. Until then, the prices for single and collected editions are just too high, and have no collectible value.

If they would stop dragging their feet and let their Digital Comics Unlimited subscription be used on the iPad, I'd be happy to sink the money into their pockets for digital comics. But they still have it as website only. Lame.

I read the comic (yay free comics!), and the iBooks interface just sucks for this medium. The Marvel app is far better, as is the DC and Comixology apps. The way the comic is laid out in the iBooks setting is very clunky and not very conducive to reading. I'll stick to the Marvel app and hope they integrate digital comics unlimited sometime soon.

I have to say that for the last few of hours i have been hooked by the amazing articles on this website. Keep up the wonderful work.

I have to say that for the past few of hours i have been hooked by the amazing posts on this website. Keep up the wonderful work.

I have to say that for the past couple of hours i have been hooked by the amazing posts on this site. Keep up the good work.

Only in the US book store? If so, disappointing... (can't find any in the Japanese store...)

I have to say that for the past few of hours i have been hooked by the impressive posts on this blog. Keep up the great work.

I'll bet that these accented voices start making appearances in games on both iOS and Mac OS, what do you think?

I have no idea how I missed this article the first time around. This may be the most significant piece of genre news I've heard all year. New Worlds was a seminal magazine that expanded the genre beyond anyone's wildest dreams. Here's hoping the reincarnation can do the same.

Hi, you have yo do it on safari, and hold it for a while. x

Hi there, You've done a fantastic job. I will undoubtedly digg it and I'll suggest to my buddies. Almost certainly they'll be took advantage of this site.
Thank you for signing up to iMore. You will receive a verification email shortly.
There was a problem. Please refresh the page and try again.