New WhatsApp update for iPhone adds a way to archive chats and more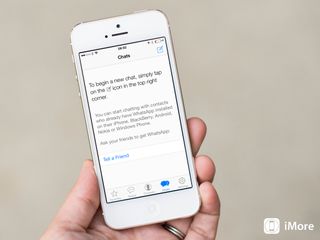 A new version of the WhatsApp Messenger app for the iPhone has been released, adding a way for users to achieve chats for the first time, among a number of new features, changes and improvements.
Here's the full change log for the new 2.11.9 version of the app:
Added ability to archive chats and groups
Add captions to photos and videos
Added fast camera access button for capturing and sending photos
You can now share slow-motion videos (iPhone 5s only)
You can now trim videos before sharing them
Share Location: add support for satellite and hybrid map views when sharing a location
Share Location: drop and drag pin lets you share a precise location
New media auto-download preferences: Settings > Chat Settings > Media Auto-Download
New Wallpapers: Settings > Chat Settings > Chat Wallpapers > Wallpaper Library
New Notification tones: Settings > Notifications
You can now attach screenshots when reporting problems
Keep in mind that while the app is free to download and use for the first year, it will cost 99 cents per year afterwards. What do you think of this new update to WhatsAp?
I have been writing professionally about technology and gaming news for 14 years.
anyone know if it works with iOS 8?

Yes! (For me anyway!) Sent from the iMore App

Same here (finally)! Sent from the iMore App

Yes! Because I have iOS 8 and it works nicely Sent from the iMore App

Yes, also they finally works on iOS 8 beta 5, so far no more crashes on chats

Waiting for the VoIP calls Sent from the iMore App

Good update except the 'Turn on notifications' pop up needs to go away...I don't need to see it every time I access the app!!!!

Im getting the same thing. I just turned on banners. Anyway else to get rid of it? I only keep app icon on.

It's driving me nuts... How do we stop it???

I agree! That's driving me nuts! Everyone I click the app the notification pops up.

Anyone have found a solution for this? Really annoying. This alone, could be the reason for me to completely remove WhatsApp and migrate to Telegram!

IT'S FREAKIN DRIVING ME INSANE!

Try clicking on "banners" for the alert style. Worked for me :)

I got more than 3 years with whatsapp and I have never pay one cent to renew it. My subscription say for life! Sent from the iMore App

I still cant send music and attach smileys in iphone 5...can somebody help plz!? Sent from the iMore App

Hi new update of whatsapp 2.11.9 is not supporting iphone 5 software version 7.1.2 how to resolve the issue some one please help
Me Sent from the iMore App

Pls post in iMore forums and you will get help. Thank you. Sent from the iMore App

All set for iPhone6 new iOS8 development at Http://www.linkites.com
Thank you for signing up to iMore. You will receive a verification email shortly.
There was a problem. Please refresh the page and try again.