OS X evolution: The long road to Mavericks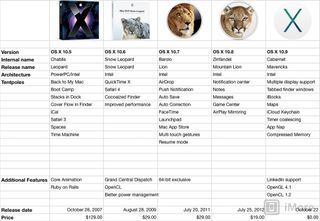 It was a long road to OS X 10.9 Mavericks. Mac OS X was first introduced as a public beta (codenamed Kodiak) in September of 2000, and beta it was - a radical departure from Mac OS 9, both in look (introducing the "Aqua" interface) and in operation. Mac OS X was built on a UNIX foundation, and was more closely related to the NextStep operating system that had been developed by NeXT, the computing company Steve Jobs founded between stints running Apple.
OS X 10.0 Cheetah gave way to OS X 10.1 Puma, and then OS X 10.2 Jaguar. Over the years Apple iteratively improved OS X, typically waiting until a major release before introducing major new features, capabilities and applications. Early on Apple cranked out changes to OS X on an annual basis, but once the company hit Mac OS X 10.3 Panther (Pinot), it slowed down, changing to a biannual upgrade cycle.
Apple wasn't standing still between those upgrades, either. By 2005 the PowerPC chip that had served as the basis for Macs throughout the 90s was pushing its limits. Fortunately, Apple hedged its bets, and had been working to keep OS X operating on Intel hardware as well. OS X 10.4 Tiger (Merlot) was the transition point, specifically OS X 10.4.4 Tiger (Chardonay). And so Apple was able to migrate successfully to a different microprocessor architecture without having to start over at square one.
Since then Apple's stayed the course. OS X 10.5 Leopard (Chablis) led to the "no new features" feature release of OS X 10.6 Snow Leopard, which lead to OS X 10.7 Lion (Barolo). With the introduction of Mountain Lion in 10.8 (Zinfandel), it was clear that Apple was resuming its annual upgrade cycle again, to iteratively make changes to the operating system to keep up with new technology and user expectations. And that brings us to today and the launch of OS X 10.9 Mavericks (Cabernet), the first installment of the operating system not to carry a big cat's name.
To that end, Apple has run out of big cats to name their operating system. So starting with Mavericks, they've switched to a nomenclature based on places in California, Apple's home state - places that Apple says its employees draw their inspiration from.
Mavericks is actually a surfing spot in Northern California, not too far from Half Moon Bay. That's a local spot for Apple employees, to be sure - it's in San Mateo County, only about 30 miles from Apple's corporate headquarters.
Apple's renewed focus on the Mac and Mac software is promising. If past is prologue, we should get our first look at OS X 10.10 (Syrah) in 2014. What features will it have, and what California landmark will it call home? We'll find out next year.
Watch/listen to the OS X Mavericks review podcast
Master your iPhone in minutes
iMore offers spot-on advice and guidance from our team of experts, with decades of Apple device experience to lean on. Learn more with iMore!