OS X Mavericks Preview: AV Kit simplifies QuickTime transition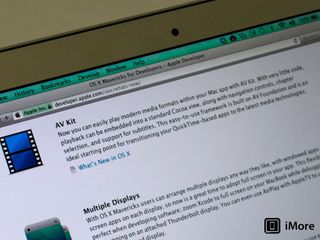 iOS gave Apple an opportunity to rethink the way application developers should support and deliver media content on Apple devices. The result of that is a framework called AV Foundation, which debuted on the Mac with OS X 10.7. Now Apple's continuing that effort with new Mavericks technology for developers called AV Kit.
AV Foundation effectively replaces QuickTime by completely reorganizing the way developers work with media content on the Mac, providing a framework that's more compatible with today's computers and today's operating system, more intuitive to work with and better, all around.
When I say "QuickTime," I'm talking about the underlying programming technology and system frameworks. Don't worry: QuickTime .MOV files aren't going away, any more than the industry-standard .MP4 format that uses QuickTime as its basis, or even QuickTime Player, the app that lets you play back movies. What is going away is the crusty old C language code used to control media playback.
In its place is AV Kit. AV Kit lets developers working with Apple's Xcode development environment to integrate media playback, editing and other features without having to write a lot of code to do it.
Here's how Apple explains AV Kit (opens in new tab) in its public-facing site for developers:
There isn't a lot more public information to share with you about AV Kit at this point, so we'll get back to you once Mavericks is public and details about some of the underlying technology are a bit more accessible.
In the interim, consider AV Kit like so much of the other advanced technology in Mavericks: it's there to improve efficiency and get more from less effort.
Are you a developer who relies on QuickTime? What do you think of AV Foundation? Talk to me in the comments.
Get the best of iMore in your inbox, every day!
I'm a developer who relies *heavily* on QuickTime for both mac and windows. But you see, while i rely on it for *some* playback, what i MOST rely upon it for is encoding. I want the ability to encode to a variety of audio and video formats. eg: Apple Lossless audio, or Apple Intermediate for video, or Vorbis / LAME (using 3rd party QT components). Apple seems to be focusing on making playback easy, while leaving encoding behind, especially on windows. eg: http://www.change.org/petitions/apple-do-not-abandon-quicktime-for-windows
-dave (kJams)

I thought already Final Cut X had something to do with new this direction in the core (I don't use it, don't like it). I think the video core change is a great thing, as long compatibility is maintained. Another topic, but related: I work with Quartz Composer, hope it will still be maintained for a long while....