OS X Mavericks Preview: easily access your LinkedIn account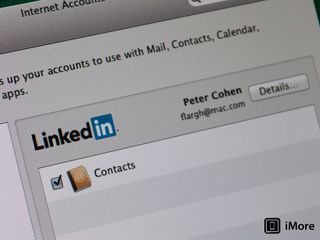 Whether you're looking for a job or looking just to connect with colleagues in your field, LinkedIn has become the place to do it for millions of users worldwide. Now Apple is building support for LinkedIn right into Mavericks to make it easier for you to connect.
LinkedIn is a professional network - part Facebook, part Monster.com. You can post your resume and search open job listings, but you can also connect to groups of professionals with common interests or backgrounds, reach out to influencers who might be able to help your career, and more.
To that end, LinkedIn has been wildly successful, building a user base of more than 200 million since its inception in 2002. Not everyone uses it, but like many social networks, you get out of it what you put into it.
Single Sign-On to the rescue
If you've ever set up a new mail, contacts or calendar account in Mountain Lion, you'll be able to link LinkedIn with your Mac the exact same way. Simply enter your user account information one time and OS X Mavericks will take care of the rest. It's Single Sign-On (SSO) for LinkedIn, and it works the same way as Facebook and Twitter connectivity does.
Third-party developers can then tap into those credentials to pull information from LinkedIn or to post new info to LinkedIn. Apple's provided a hook to LinkedIn through Notifications, for example, so you can post updates to LinkedIn without having to open a new browser window and start a LinkedIn session. What's more, Safari now displays a sidebar with links from your important social networks, including LinkedIn.
Lowering barriers to information
In so many ways, OS X Mavericks is about lower barriers between you and the information and services you need. Maps can send information to your iOS device, for example. Notifications lets you respond to emails, messages and more without needing to stop what you're doing and run a separate application. LinkedIn integration is another practical example of that barrier-lowering.
Not everyone wants or needs LinkedIn, but for people who have found it to be a useful resource, OS X Mavericks is making it easier to use.
Are you a LinkedIn user? Or have you avoided it altogether? Do you think single sign-on support for LinkedIn is a useful feature? Let me know what you think.
Get the best of iMore in your inbox, every day!
I've made lots of new contacts on Linkedin, but none have resulted in anything more than preliminary discussions about work I was either too busy to pursue or unqualified for. That said, it's certainly a decent framework for itemizing previous experience, not to mention providing a means for "helpful" acquaintances to capriciously append "endorsements" for work they've never personally seen me do. ;) I maintain the account in the hopes that it'll prove helpful someday. Single sign-on could be helpful, and I'm looking forward to trying Mavericks sooner after its release than I normally upgrade the OS.

I love this! LinkedIn is an awesome platform that has done wonders for my career. I love the idea of having my network of professionals built into my OS, just like with Android.

Well, I neither use much linked in, just a little bit, but anyway would like not to mix work and or public with private. I would love Apple to support different Adressbooks.