Technology, meet vacation: The 21st century road trip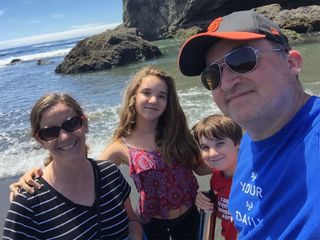 You know the drill when it comes to a summer road trip: The bags are packed, but before you leave, you've got to make sure you haven't forgotten any essentials.
Sure, there are probably stores in Oregon, but do you want to re-buy something you already own? Traditionally, I would be fretting about sunscreen or water or if I brought enough socks, but this is 2015, so instead it's about Lightning cables and power adapters and mapping apps and hotel Wi-Fi. Welcome to the 21st century road trip.
Vacation, meet technology
Last week, my family and I got back from a meandering, 2,000-mile journey from the Bay Area to just north of Seattle and back again. While a large part of the adventure was just what you'd expect from a classic road trip—mom and dad pull to the side of the road and then drag two somewhat unwilling kids out of the car to look at some allegedly interesting landmark—I was struck by how much technology has become a key factor in the planning and execution of these trips.
My wife said that she wanted to take a road trip, but I ended up doing the planning. That meant a lot of use of the Maps app and Google Maps website on my Mac. I didn't sweat the details too much, knowing that we'd be doing most of our navigation via iPhone inside the car. But I did need to pick general destinations and find hotels: I used the web for research on hotels and booked all of our stops online, as you do these days.
Groupthink planning
It's funny: When I book business travel, I use my own priorities to choose a place to stay. But for this, I was concerned not just with budget, but with my wife's request for an included breakfast and my kids' demand for good Wi-Fi. (Like most members of the younger generation, my kids are obsessed with YouTube. YouTube requires good Wi-Fi. Dad is bad if he does not provide good Wi-Fi at the hotel stop.)
Our itinerary was also strangely modified by the existence of Facebook. Between my home in the Bay Area and the Seattle area lie out-of-the-way towns in which friends of mine from high school and college live. I haven't seen these people in ages, even though we stay in touch on Facebook, because when would we ever be in the same place? On this trip, we visited two of them, with everything coordinated via Facebook. I can't say I'm the world's most enthusiastic Facebook fan, but this would not be the last time that Facebook made a positive impact on our trip.
Packing for power
When it came time to pack, in addition to the usual bug spray and sunscreen one brings with them on vacation, we had to supply power for our various Apple devices. My daughter has an iPhone, my son an iPad, and my wife and I have one of each. That's a lot of charging cables.
On most trips I bring along a Belkin 3-Outlet Travel Swivel Charger (opens in new tab), which provides three power plugs, two USB plugs, and pivots to fit in weird plug locations. Those two USB plugs also match up well with the Scosche 2-USB charger (opens in new tab) permanently placed in the power port in our minivan, so we can bring two Lightning cables without any associated power bricks.
My daughter packs her own charging cable, and we manage to split two iPad chargers across the three remaining iPads. You can actually plug everything into the Belkin power brick, which we often did. This made packing up after a night in a hotel easier, because I could pull out the power brick and all the cables would come along, ready to be packed away in my tech bag.
Ah yes, the tech bag. For this trip I used a long-discontinued Brenthaven backpack, though the company's Metrolite (opens in new tab) is the nearest analog. I chose a backpack because it could do double duty as something I could bring on a hike, like the one we took at Crater Lake.
On watches, photography, Maps, and music
This is the first trip I've taken with an Apple Watch. I enjoy my Apple Watch a lot, but I don't love the fact that it requires I bring yet another charger with me. I don't have a clever solution to share with you—I brought the watch charger and plug, big surprise—but I also brought along my Elevation NightStand (opens in new tab), and was glad I did, since it allowed me to position the watch charger somewhere visible and not forget it in the morning.
What I didn't pack—and this was a first for a family vacation—was my fancy digital camera. It takes fantastic pictures, but it's another heavy device to tote, with its own charging setup. I agonized about it, during and after the trip, but when I look at the pictures and video my family managed to take with two iPhones 6 and one iPhone 5, I can see why I opted to leave the big SLR behind.
Yes, there were times I wish I had my good zoom lens, but would I have really pulled the thing out and carried it onto Cannon Beach on a crazy-windy Saturday morning? Probably not.
Once we hit the road I navigated mostly using Apple Maps, which worked just fine, thank you very much. The current iOS 9 beta of Apple Maps is much better at finding nearby restaurants for food stops, but I also relied on Yelp (opens in new tab). We managed to never eat at a big chain restaurant or fast-food joint on our entire trip. (Excepting the one time we stopped at a Dairy Queen because my daughter wanted us to stop, and it's a vacation for parents too sometimes, you know?)
I've enjoyed streaming music on Apple Music since the service launched, and when you're driving down major freeways you almost never want for cellular data. But in rural California, Oregon, and Washington, our iPhones displayed No Service a lot, and we also spent a lot of time on AT&T's Edge network, too. So my daughter was glad that I showed her how to save music for offline listening, and I was glad that I had installed a new flash drive in the iPod in the minivan's glove compartment so that we had plenty of music to play on the ride, even when we were avoiding cows on the road outside Ashland.
A smooth ride
It turned out that my online research into hotels worked out pretty well, though a couple of the hotels failed the fast wi-fi test—making my kids a bit cranky. We didn't have a problem connecting to the wi-fi, but getting a fast connection was often out of the question. I see this at tech conferences a lot—unsurprisingly, flooding a hotel with heavy Internet-using computer nerds tends to generate a lot of Internet traffic.
But it's happening in real life, too. As streaming internet video becomes standard behavior, an Internet pipe that was suitable for a bunch of business travelers checking their email can become unusably small. Still, some of our hotels passed the Wi-Fi test with flying colors. I was even able to attach my Amazon Fire TV stick (opens in new tab) in a couple of places and stream video on the in-room flat screen.
Finally, we used our technology to stay in touch. Every day my wife bundled up a bunch of the photos she had taken during the day and posted them to Facebook, which essentially gave everyone who follows us a day-by-day journal of our trip. It was fun to see friends' reactions to our pictures, including travel tips and stories of what they had done when they had visited the same location.
I also used my tech to stay in touch, posting podcasts from the road via my iPad and iPhone, answering email, and the like. I tried to keep my work to a minimum—this was a vacation, after all—but I was able to keep things moving without it ever feeling like I was doing actual work.
One admission: Though I didn't mention it above, I did bring my MacBook Air with me on the trip. I pulled it out exactly once, to edit a podcast. Then it went back in the backpack and I tried to pretend it wasn't there. The laptop feels like work. The iPad feels like leisure. I tried to keep it that way.
In the end, our 2015 summer road trip was a success. Yes, there was lots of technology in the car. There were also running family jokes, beautiful sights, visits with friends and family, and everything else you'd expect from a road trip. Some things never change.
Great article!, too bad in my country this kind of "technological road trips" are nearly out of the question because of matters of insecurity (parading around with and iPhone 6 is liable to get you robbed or worse pretty quickly), lack of reliable cellular networks and overall expensiveness of such a trip, its a shame too, because here in Venezuela there are a LOT of allegedly and more than allegedly interesting sites and sights.

Very nice article... Sent from the iMore App

Sorry I missed you in Ashland! I would have been happy to buy you a Toasted Coconut Chocolate Porter at Caldera Brewery! But - I think you tried one while here anyway! Great story. The wife and I are traveling to Europe in two weeks for a backpacking trip through the Dolomite Mountains along the Italian / Austrian border. I'm facing the same dilemma - what tech gear gets to go and what stays home. After all, I have to able to carry everything in a backpack over 10,000' mountain trails. I am a professional photographer and my normal camera gear load exceeds 50 lbs. however - for this trip, I'm down to a new Sony RX-100 IV compact. I've got my fingers crossed!

Nice article. We took a similar trip to the same areas twenty years ago, dependent entirely on AAA roadmaps for our route and roadside signage for where to stop. Yes, cell service was very spotty back then too...
We just adore the Pacific Northwest!!

Great article. My biggest pain point for road trips is still movies. I have tons and tons of iTunes Digital Movies and my kids love to watch movies in the car on a road trip. Their iPads are not large enough to store movies and games and music. I am still desperate for a way to put iTunes Digital Movies on a hard drive and stream them in the car. I dont want to use a data connection. Just a local WIFI network in the car. Anyone have ideas?
Thank you for signing up to iMore. You will receive a verification email shortly.
There was a problem. Please refresh the page and try again.