The perfect Smart Home: What our editors are using!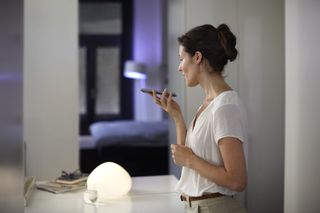 OK, Back to the Future was set in 2015 and while we're not at the stage of hydrating pizzas and video wall windows, we are living in a world where it's perfectly reasonable to connect our homes to our smartphones. None of this stuff is cheap, but it's also not astronomically expensive, meaning that every single one of us can feel just a little bit like we're living in the future.
The Smart Home market has grown a whole lot in recent years. Big names such as Nest, Samsung's SmartThings and Philips Hue have risen to become more mainstream products, and Sonos is almost a household name when it comes to wire-free, home-filling music.
But there's also a bunch of other stuff out there from less well known brands that's just as good and just as worthy of attention. We've rounded up some of the Mobile Nations editors to talk a little about what they're using in their own homes, and why.
So, without further ado!
Rene Ritchie - Philips Hue and iHome WiFi Smart Plug
At its very best, the future is indistinguishable from magic. It's what we've dreamt about since childhood and can't believe we can finally do. That's the feeling I get from Philip's Hue Lights (opens in new tab).
I have over a dozen of them now — in my studio, my living room, my kitchen, my hall, and my bedroom. And thanks to integration with Apple's HomeKit, I can control them all, or each one individually, with Siri and my voice. It's not "Tea, Earl Grey, hot" just yet, but it is "Hey Siri, turn my studio lights purple." It's also "Hey Siri, red alert" and "Hey Siri, crash the compound!"
Basically, it's any light in any color at any time I want. In bed at night, it's also any lights I may have left on instantaneously going off. In other words, it's the future, and it really is indistinguishable from magic.
I have Philips Hue and they're awesome, but I also have LED panels I use for podcasting that don't have the same built-in connectivity. So, I turned to the iHome iSP5 WiFI Smart Plug (opens in new tab).
With the iHome iSP5 WiFI Smart Plug, I can plug in anything — space heater, fan, fountain, massive bi-color LED panels, whatever — and have the same kind of HomeKit and Siri-powered voice control as I do with Hue. And, because I named them cleverly, I can say "Hey Siri, turn on the studio lights" and both Hue and the LED panels go bright.
It's amazing because, if I forget to turn the lights on before I strap the podcast mic and headphones on, or I forget to turn them off after I leave the room, I just speak to turn them on or off them, and I'm all set. It's not the Star Trek computer quite yet, but it's incredibly convenient, and almost indistinguishable from magic.
See at Amazon (opens in new tab)
Serenity Caldwell - Nest Cam
I picked up a Nest Cam (opens in new tab) over the holidays, and over the last few months, it's become one of our most-used gadgets — more than my Hue lights, thermostat, Sonos system, or smart plugs. Why? Puppy-watching. While we ostensibly installed a Nest Cam in our house for home security, in reality, the always-on HD camera quickly became a way for my fiancé and I to watch the antics of our two rescue dogs when we were away.
The Nest Cam offers 1080p wide-angle video, audio, and a remote microphone and speaker — though after one attempt to tell our dogs "Off!" the couch that resulted in both of them wandering around for an hour trying to figure out where the mystery voice had come from, we haven't used that very much. Its night vision options and "enhanced" zoom picture not only let us scout for intruders while we're on a trip — they also allow us to take obnoxious screenshots of our dogs in various sleeping positions. (If you have animals, night vision is especially hilarious: Rather than red-eye, pet eyes turn a blinding white, giving them a demonically-possessed look.)
Notifications that send on motion and sound let us know when the pups are up and barking, and Nest's (paid) video archive gives us the peace of mind that if a burglar does get in (or a puppy does something cute) we've got it all on tape.
See at Amazon (opens in new tab)
Georgia Dow - Ecobee3
The only thing better than controlling my Ecobee3 Wi-Fi thermostat (opens in new tab) with my iPhone is... controlling it with my Apple Watch! Even though it's still early days and there's lots of room for improvement, being able to control my thermostat from my iPhone or Apple Watch is also absolutely amazing.
The idea that I can monitor and control the climate in my house from the kitchen table, from bed, from the back porch, or from far away is something straight out of science fiction.
See at Amazon (opens in new tab)
Kevin Michaluk - Sonos
Life with background music is simply better. The problem is, I don't have the time to figure out what to listen to, and even if I did put in the time to build a music library of all my favorite playlists I'd probably end up divorced because my high-school favorites would be judged as pretty atrocious in 2016 (don't be surprised if you catch me whistling Aqua tunes from time to time).
I've been living with Sonos (opens in new tab) since 2012, and in my first full year with it I listened to more music than I had the previous 15. I could never go back to life without it. Both at work and at home, I love having background music playing all the time, which I can crank up to 11 from my phone or computer whenever the need arises. With Sonos' app supporting services like Google Play Music (which now has Songza's playlists integrated into it) or Spotify or Apple Music (now supported by Sonos) it's easy to pick out playlists or genres of music to suit every one of my many moods in an instant. I'm not picky in one I listen to. I just want good music, and I like hearing new music I never heard before.
What really sells Sonos for me is that my wife loves it. She has zero patience for tech that's annoying or difficult to use. Sonos connects to a lot of music services, but in doing so is still easy to control. Plus, with different music in different zones, she can listen to her music while she's in the bedroom while I'm upstairs on the treadmill listening jogging to Barbie Girl (don't judge). :)
See at Amazon (opens in new tab)
Ara Wagoner - Philips Hue
Hue lights (opens in new tab) are an easy way to ease into home automation, especially since they use regular lightbulb sockets and have a lot of compatible apps, such as the app I use: Hue Pro (opens in new tab). I have mine in the bathroom, and I have modes set up so I'm not blinding myself turning the lights on while getting ready for bed.
They're also a godsend when I have a headache, because I'm not fiddling with the lights trying to find a dim profile. They're expensive, but they're easy and well-supported. While there are cheaper smart lights out there, Hue has a 'it just works' factor to it. It has cross-platform support on the programming side, and works with several home automation services, including Amazon Echo (opens in new tab).
See at Amazon (opens in new tab)
Adam Zeis - SmartThings
For years I stumbled around with various smart / connected home devices, but it wasn't until I found SmartThings (opens in new tab) that I really got carried away. The SmartThings Hub not only works with SmartThings devices, but a slew of other connected devices as well. In addition to the door sensors, motion sensors, water sensors, locks, temperature sensors and proximity sensors, my SmartThings hub also works with my Hue lights, Sonos, Amazon Echo and other connected devices in my home.
For me, SmartThings really changed the way my connected home works, and the possibilities for getting things done remain endless as new devices are added to the SmartThings portfolio.
See at Amazon (opens in new tab)
Simon Sage - Philips Hue
Hue has a lot of smart lighting products, but the LightSrip Plus (opens in new tab) has been my favorite to date. In addition to tying in with whatever other hue bulbs you have around the house to create a cohesive atmosphere, the LightStrip can provide even, consistent, and indirect lighting from around corners. The Plus model manages whites better than the previous LightStrip, and can be extended out to 10 meters.
When it comes to the Hue system overall, it's easy to get swept up in the novelty of it all. After all, it's easy to convince visitors that you live in the future when you turn your entire living room into a lava lamp with a few taps on your phone. The more subtle conveniences bubble up over time, though. Turning on all of your lights at once without fiddling with single switches is convenient, especially if you rock the dimmer switch.
The difference between working in an environment with cool white light and warm light was a lot more noticeable than I was expecting it to be. It's gotten to the point where I can't imagine having a home without Philips hue in it.
See at Amazon (opens in new tab)
Russell Holly - Nest Smart Thermostat
The Nest Learning Thermostat (opens in new tab) does exactly what it promised to do. The schedule it has built based on my usage keeps my home comfortable and saves me energy almost every month. The only time I mess with is to turn it off when the weather is so nice outside I'd rather open all the windows. It took a couple of months to get there completely, but never needing to mess with my thermostat is exactly why I bought Nest.
I've also found Nest is the central point in my connected home. It tells my Hue Bulbs to occasionally turn on and off when I'm not around to make it look like I'm home. Using my smart deadbolt tells Nest when I'm not home automatically. I'm only scratching the surface of what I can connect to Nest in my personal setup, and that excites me. I can expand at my own pace, and know those products only make my Nest smarter and more capable.
That's really what it comes down to for me. A gadget that doesn't need to be babysat, and makes my life easier. It's only of the few "Internet of Things" devices that actually delivers on that promise consistently.
See at Amazon (opens in new tab)
Phil Nickinson - Ring Video Doorbell and Amazon Echo
One of my current favorite connected home product is also the newest in my home. The Ring Video Doorbell (opens in new tab) (which has been marketing the heck out of itself lately) is worth every penny of its $199 price tag. (And $30 a year for 6 months worth of backup recordings.) Yes, that's a lot for a doorbell. But what it's bought me is piece of mind. Installation was a breeze, and the Ring slow-charges just fine on my existing low-voltage wiring from the previous doorbell.
With the Ring I know when my kids get home. Or when they get close to home. Or when they're trying to escape the home. I know when anyone comes near the front door, at any time of day, from anywhere in the world. When packages are being delivered. If someone tries to swipe something off my porch before I can get to it. But more important is that when I'm traveling my wife and kids can see who's at the door without actually having to open the door or look through the window. That's a big deal, and it's better for my piece of mind than I thought it would be.
This isn't quite as serious a dedicated security system, but it's a perfectly easy way to keep an eye on things.
See at Amazon (opens in new tab)
The Amazon Echo may be the best — and most important — connected device you can have in your home today. While companies such as Google and Apple have things like Brillo and Weave and HomeKit, nothing's really taken off. Meanwhile, Amazon has swept in with a singular product — a Bluetooth/Wifi-connected speaker that gains new functions weekly.
And Echo has personality in the form of "Alexa," the default female voice you interact with. That goes a long way toward moving Echo from a member of the Internet of "Things" to a truly connected experience.
And in March 2016 Amazon unleashed a couple new devices in the Echo family — Dot, which is a smaller, Alexa-powered, speaker-less controller; and Tap, a portable Alexa-powered Bluetooth/Wi-Fi speaker.
If you had to pick just one connected device for your home, this would be what I'd go for.
See at Amazon (opens in new tab)
Daniel Bader - Kwikset Kevo smart lock
Your front door lock is the first thing you touch before coming home, and the thing that protects you while you're away. That's why Kwikset's Kevo (opens in new tab) smart lock has become such an integral part of my quickly smartening home.
What's so good about the Kevo is that it looks and functions like a regular front door lock. You can use a standard Kwikset key inside of it and never have a clue of its potential.
But when you connect it to your phone, the magic begins. You can assign people permanent or temporary eKeys while you're away, so all they have to do is have their smartphone nearby and touch the doorknob to engage the lock. Similarly, when your smartphone is within range, the deadbolt can be triggered from within the app.
The Kevo isn't perfect, but the beauty of cloud-enabled smart home equipment is that it can be improved with firmware updates. The Kevo hasn't let me down yet, and it's become a valuable member of my smart home.
See at Amazon (opens in new tab)
Get the best of iMore in in your inbox, every day!
I am really getting into smart home things. My most recent purchase is Hue lights. I also have a Nest but really want to switch to Ecobee as soon as I can sell it. Ring doorbell also. My ADT has camera and can connect to a couple other things if I wanted. I'm not quite there yet on a smart door lock. But I'm really waiting impatiently for a HomeKit compatible garage door opener.

Why do you want to switch the Ecobee?

Mainly for HomeKit compatibility but also because they use room sensors. I can't use auto away on nest because of where my thermostat is in the hall plus it reads 2-4 degrees off the actual temperature in my living room and kitchen.

Oh also, hue announced this morning that they are coming out with white bulbs you can control the temp of. This is great because the current ones are too warm (2700K) for my taste. I like daylight (5000K) tones. And I want more controllable bulbs not necessarily color in all places.

I am currently using the Lutron Smart Bridge Pro. I have no need for color at the moment so the Lutron dimmers and switches do what I need. I also use it to control some shades. I have a Schlage lock and an ecobee3 thermostat. I have one iDevices switch because I wanted to control a 3 prong plug. Waiting for HomeKit support of Sunrise/Sunset.
I looked at the Smart Things hub but decided against it, as it is not HomeKit enabled. Samsung doesn't seem to have any interest in supporting HomeKit at the moment. (not surprising)
With my Apple Watch I can control everything using Siri.
Would love to have Amazon Echo control also. Hoping that will come.
Also waiting, along with may others, for Chamberlain to get their act together and release HomeKit support for MyQ Garage that they have been promising for over a year.

Hi Sirlra, our new Chamberlain garage door opener has a link for iPhones which is also available as an add on to existing Chamberlain openers from what I read in the installation manual.

I believe what you are referring to is iPhone app control of the opener. That is not the same as HomeKit integration. It doesn't give you Siri control of the opener or the ability to include the opener in a HomeKit scene or trigger.

I mentioned in the comments for the new Hue bulb announcement the problems I've had with Hue, but I wholeheartedly recommend the iHome SmartPlug. I've got two of them and they have worked flawlessly for me since day 1. I use both of them for controlling fans, a desk fan in my bedroom/computer room and a pillar fan in the living room. It's great when sitting at a computer being able to just tell Siri to turn the fan on, and to turn them off when going to bed. Over the winter I used the living room SmartPlug to control a humidifier instead of the fan which was great for the times when I forgot to turn it off before leaving for work. This year I am looking at getting a smart thermostat, I've already gotten proficient at configuring the programmable thermostat that the local power company installed for free last year, but it would be nice to have something that could be controlled remotely.

Having a Canary for our new puppy has helped my other half see the benefits of home automation. I see Phillips Hue and Wi-Fi thermostat in further home developments.

Definitely will consider Canary when my ADT contract is over. Is it monitored by police?

i just bought the Hue Light's starter kit today. I'm already in love with it. i do wish however that it would let you control each individual light bulb with siri.

And none of you are using Indigo? <headshake>
Indigo Pro with Homebridge and Siri is like having Hal 9000 in the house.

I have Iris by Lowes I have changed all my light switches and electrical outlet and I have contact sensors on my doors and windows I have the chamberlan garage door opener and controls for my irrigation system in my garden I have scenes set up for when I wake up it turns on the lights I want, and disarms the alarm system, and when I go to bed I tap good night and it turns off all the lights and the lights for my fish tanks lol turns the alarm system on and turns on my fan and turns my thermostat to the temp I want. it has its problems but I am really happy with it
Thank you for signing up to iMore. You will receive a verification email shortly.
There was a problem. Please refresh the page and try again.