Philips Hue — Everything you need to know!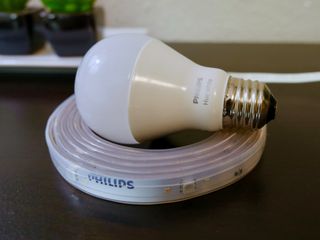 (Image credit: iMore)
The Philips Hue line of smart lighting and lighting accessories are some of the best smart products money can buy. Check here for information and updates on the Hue app and updated and upcoming Hue products.
What's new with Philips Hue?
February 15, 2018 - Philips' new Hue White Ambience Cher light fixture is now available for pre-order!
Philips announced (opens in new tab) today that a new addition to their Hue smart lighting system is now officially available for pre-order. Called Cher, the new LED light fixture comes in both flushmount (opens in new tab) (priced at $160) and semi-flushmount (opens in new tab) (priced at $175) suspension styles, allowing you to find the perfect fit for any room.
Cher is designed specifically to distribute customizable, natural-feeling light evenly throughout your home. Outfitted with Philips Hue's signature White Ambiance bulb, Cher's light ranges from cool to warm white, and can be adjusted to fit every activity from reading to entertaining. Aesthetically, both the flushmount and semi-flushmount fixtures are sleek and classic, and stylistically versatile enough to pair with any decor.
In addition to the Cher fixtures, Philips also announced the Hue Ambiance 5/6" Retrofit Recessed Downlight (opens in new tab), a new subtle downlight that fits directly into your recessed lighting cans. These lights offer the same gentle, natural lighting as the Cher fixtures, making them a solid addition to your daily smart lighting system. As with all Philips Hue lights, they're dimmable, so you can select the ideal setting for any mood or activity.
Both the Cher and Retrofit Recessed Downlight fixtures require the Hue Bridge (opens in new tab) for the full Hue smart lighting experience. If you already have Philips Hue lighting, you won't need to make any extra purchases in addition to your pre-order.
June 20, 2017 - You can now pre-order Hue White Ambiance Candelabra bulbs!
Not long ago, Philips announced plans to add new bulbs and fixtures to the Philips Hue line. The company's flushmount LED light and table lamps were already available for preorder and the Hue White Ambiance Candelabra bulbs just joined the mix!
You'll be able to get your hands on Philips' new candelabra bulbs on July 2, 2017. The white ambiance bulbs (50,000 shades of white from warm to cool white) retail at $29.99 a piece. It's a little on the pricey side if you plan to replace several candelabra bulbs in your home (my home, for example, has four fan & light fixtures with four bulbs each), but I'm hoping Philips will eventually offer candelabra bulbs in the less-expensive Hue White model.
Until then, you can get your pre-order in over on Amazon! Amazon says it'll ship 'em out on the July 2 launch date.
See at Amazon (opens in new tab)
May 2017 - Philips announces three new Philips Hue lighting products
Philips announced three new lighting products, including a flushmount LED light and two table lamps. The company also plans to offer candelabra style (E14 base) bulbs, bringing the Philips Hue line to 80% of fixtures.
The new lighting products are expected to ship as early as mid-June. Philips has yet to offer pre-orders for the candelabra bulb.
| | White Ambiance Being Flushmount | White Ambiance Wellness Table Lamp | White Ambiance Wellner Table Lamp |
| --- | --- | --- | --- |
| Lumens | 900 - 2400 lm | 400 - 800 lm | 400 - 800 lm |
| Light Temperature | 2200 - 6500K | 2200 - 6500K | 2200 - 6500K |
| Bulb Life | 25,000 hrs | 25,000 hrs | 25,000 hrs |
| Colors | More than 50k shades of white | More than 50k shades of white | More than 50k shades of white |
| Price | $199.99 | $99.99 | $99.99 |
Philips Hue - Everything you need to know!
Lightbulbs — particularly the Hue line from Philips — are among the first connected-home products people buy. Controlling light with the sound of your voice or a tap of your smartphone is more than just an awesome feeling — it also makes for a great demo! When you're trying to show your friends and family why you just spent a not-insignificant amount of money on lightbulbs, it's nice to be able to clearly show off your new superpower.
Whether you're deciding on your first home automation gizmo, or you just want to add another internet-connected bulb to your automated home, this piece aims to help you better understand the difference between Philips various light bulb offerings.
Illuminate with Lumens
Before we get into the different bulbs, we need to talk about lumens. It used to be when you'd go to the store to buy a light bulb, you'd choose your bulb based on watts. Most of us know — relatively, at least — the brightness of a 60-watt bulb compared to a 100-watt bulb. But watts measure how much energy a bulb uses to produce light, not how bright the light is.
That's where lumens come in! Lumens measure the brightness of a light source and provide a more accurate representation of how much light your bulb can produce. As bulbs become more energy efficient, watts become less relevant — a 10-watt LED bulb could produce some 800 lumens of light!
The U.S. Federal Trad Commission has a handy guide for watt to lumen conversion.
Onto the bulbs!
OK, now that you're well aware of the difference between watts and lumens, let's talk about Philips Hue bulbs!
The bulbs are split up into three main categories:
Philips Hue White and Color Ambiance
This is the Philips Hue bulb most people are familiar with — it's the dimmable bulb that can turn all sorts of colors. You can set the mood for a horror movie with deep red lighting, pump up a party with bright blue lighting, or just start your day with a soft white light.
Here's what you need to know:
| | |
| --- | --- |
| Lumens | 800 lm (60 w equivalent) |
| Light temperature | 2000 - 6500K |
| Lifetime | 25,000 hours |
| Colors | 16 million |
| Price | $49.99* |
See at Amazon (opens in new tab)
Philips Hue White Ambiance
The White Ambiance model produces white light in thousands upon thousands of variations. This bulb does not produce colors — only different white color temperatures. It can produce soft orange light, bright blue light, crisp white light, and any shade of white in between.
Here's what you need to know:
| | |
| --- | --- |
| Lumens | 800 lm (60 w equivalent) |
| Light temperature | 2000 - 6500K |
| Lifetime | 25,000 hours |
| Colors | More than 50k shades of white |
| Price | $29.95 |
See at Amazon (opens in new tab)
The Hue White model is a dimmable bulb that produces a soft white light (2700K).
If you're just looking to control your lighting with your voice or your iPhone and you don't need any extra colors or shades of white, this is the bulb for you!
Here's what you need to know:
| | |
| --- | --- |
| Lumens | 800 lm (60 w equivalent) |
| Light temperature | 2700K |
| Lifetime | 25,000 hours |
| Colors | N/A |
| Price | $14.95 |
See at Amazon (opens in new tab)
Philips Hue Lightstrip Plus
The Philips Hue Lightstrip Plus is a strip of multicolor LED lights with a sticky backing. You can peel and stick the 6.6-foot lightstrip on most surfaces to provide illumination and color. Philips Hue Lighstrip Plus can be used as down lighting for cabinets, bias lighting for an entertainment center, or any number of other applications where you want to add a splash of color and light.
Here's what you need to know:
| | |
| --- | --- |
| Lumens | 600 - 1600 lm |
| Light temperature | 2000 - 4000K |
| Lifetime | 20,000 hours |
| Colors | 16 million |
| Price | $89.99 |
See at Amazon (opens in new tab)
Questions answered?
If you're left with questions after reading this, please give me a shout! I love talking about home automation — I'd be happy to tackle your inquiry!
Mikah Sargent is Senior Editor at Mobile Nations. When he's not bothering his chihuahuas, Mikah spends entirely too much time and money on HomeKit products. You can follow him on Twitter at @mikahsargent if you're so inclined.
Do the color lights still default to white when you turn them off? This has always been an issue with all their lights. You get the perfect color and dim for a room and each time you turn off the switch - you are back to white the next time you turn on the lights. I do not want to pull out my phone each time to go back to my last setting.

If you get the hue dimmer switch, this will solve your issue as the on and off will default to whatever scene you set it to. A second, third, fourth and fifth press can select other scenes. You can also dim and brighten each of those scenes.

I've tried every smart bulb and app on the market and there is not a single product that works as consistently as these. Everything is just so simple and every time I add a bulb, a strip, a dimmer switch or motion sensor etc .. it takes 5 minutes to set up and then it literally just works as if it has been in my hue ecosystem the entire time.. I never have to reset it bc of an issue or reconfigure the settings bc it lost its connection to the hub or switchs connection to a certain bulb. They ALWAYS answer my questions and walked me through my issue when I first started using smart bulbs.

Hey Brian! Philips has fixed this issue. That had to have been so annoying! I turn on my favorite scene every time I turn on the living room lights (2 lamps are deep Purple, 100% brightness, Hue strip behind the tv turns Royal Blue 100%, then the other 2 lamps are a really subtle orange... almost white but with a touch of peach 70% brightness) This is always my starting point. Open the app and click that scene.... but I almost always tweak the lights a bit depending on my mood..soften the purple lamp..dim the orange lamps, change the royal blue Strip to light blue etc.. I won't save this as a new scene but if I turn of my lights the way they are...then next time I just turn the bulbs on they return to their last state. They remember and return exactly where I left them until I hit my scene again like I always do to return to my favorite starting point.. Philips have been constantly working and improving their hardware and software. It sounds like you tried their products awhile ago but weren't impressed and you no longer have or use Hue bulbs? I would highly suggest trying again... every issue I've had or feature I've wanted has eventually showed up on the app.. I get app updates quite frequently. If you suggest a feature to them and are just a little bit patient.. you will see that feature eventually pop up in an update..

I really like the idea of Hue but I just find it all SO expensive!! I'm the King of Justification but I just can't even pretend that the cost to outfit your home with these has enough pros to make it worthwhile. And that make me sad...

I contacted Philips and the new bulbs (not strips) STILL have the same issue. They are still calling this a FEATURE.. Strange, because if having a bulb turn a color is a safety concern - why sell bulbs that change color? Here is their response: "If the light bulb is power Off by the wall switch or in an power outbreak, for a safety reason, the light bulb will consider that as a reset and will come back to the default color setting. If you turn off the light bulb using the app, other 3rd party app or wireless dimmer/tap switch; the light bulb will remember the last color setting" There is a large forum thread where people are unhappy with this "feature" https://developers.meethue.com/content/there-way-change-startup-color

This article doesn't tell you "everything" you need to know. Like how to setup, need for a hub, if the bulb dies, do you need to replace everything? How many bulbs can a single hub control? And since this is iMore, how do you set it up with Homekit?
Get the best of iMore in in your inbox, every day!
Thank you for signing up to iMore. You will receive a verification email shortly.
There was a problem. Please refresh the page and try again.