Quick comparison: iPhone 6 vs OnePlus 2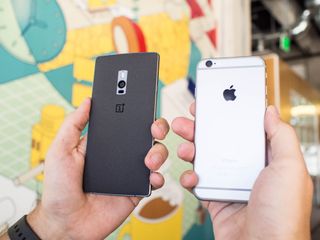 We don't usually get too far through a day without seeing at least one person claim an Android phone assumes dominance over the iPhone for one reason or another, but rarely do you see the company making the hardware focus their energy on the same claim. OnePlus is such a company, and they don't just focus on claiming their hardware is better than Apple's. OnePlus is in the Flagship Killing business, it seems. Not just this year's devices, either. The branding attached to the launch of the OnePlus 2 makes it clear this phone is going to be better than all of the phones that come out next year as well. Brazen doesn't even begin to cover it.
By OnePlus logic this new phone should leave the current iPhone in a heap of molten slag in the corner and leave Apple seriously considering scrapping their entire 2016 launch plans and starting over. It seems only fair that we put the two phones side by side and see just how true that is.
Lets start with the basics. With it's 5.5-inch 1080p display and 3300mAh battery, the OnePlus 2 starts out sounding like something we should be pulling out the iPhone 6 Plus to do a proper size and spec compare with. When you realize that larger display and higher capacity battery comes with 175g and 9.85mm of bulk, it really doesn't matter either way.
This phone is not only slightly heavier than the biggest iPhone, it's well over two millimeters thicker than both. OnePlus co-founder Carl Pei explained in a conversation with Android Central this decision was made to keep the large camera sensor from protruding, but the end result is the same. Side by side with any iPhone, the OnePlus 2 is just plain chunky.
Despite the obvious downsides to having a thicker, taller phone, OnePlus gets points for style. The bottom port is the first USB-C to appear on a smartphone, though it currently lacks the increase in data transfer or power output we've seen with the new MacBook. On either side of this reversible port you get a pair of symmetrical holes, one side for mono audio, the other for the microphone. While we'd be lying if we said the design didn't seem familiar, OnePlus succeeded where Samsung failed in making this design choice actually look nice.
Additional style points are awarded for an overall sturdy construction thanks to the aluminum chassis and user-replaceable backplate. OnePlus is making five options available at launch, including three wood panels, a kevlar panel, and a sandstone panel. It's a shame one of those panels doesn't offer the same polished metal feel the sides of the phone offer, but the ability to choose is something we've seen more and more Android manufacturers do recently.
OnePlus also included a touch fingerprint sensor in this new phone, and it is by far the fastest way to unlock any smartphone. This feature currently lacks the flexibility and interoperability of TouchID, but when it comes to just unlocking the phone it works well. Part of what makes the OnePlus version of fingerprint unlock just a hair faster than TouchID is the lack of a physical press in the unlock process. The fingerprint sensor on the OnePlus 2 isn't on a push button, and the touch sensor wakes up even when the screen is off. By removing the added step where you physically push in the home key or power button to wake the phone, you get a slightly faster unlock.
Also found on the side of the OnePlus 2 is a physical switch for muting and unmuting the phone. This isn't something you ever see on Android phones, and unlike the switch on the iPhone it slides vertically into three stages. These stages currently are set to the three modes for Android notifications, All, Priority, and Mute, and seems to work well. Functionally it serves the same purpose as the switch on the iPhone, save for the ability to set the switch to do something other than handle notifications.
Image 1 of 3
The 13MP camera on the back of the OnePlus 2 includes optical image stabilization and ƒ/2.0, using a dedicated laser sensor for autofocus instead of the phase detection found on the iPhone. We've not been able to take these two phones around the city and do a quality compare just yet, but the sample photos we've seen so far reveal a sensor that could compete with the current iPhone, not blow it out of the water.
Finally, the software. While a direct comparison between iOS and Android would take an entirely separate series of articles, there's one clear point where a compare is appropriate. Android phones made by big companies often struggle to update in line with Google's release cycles, but OnePlus has built a version of Android close enough to Google' version that rapid updates aren't likely to be a problem. The phone will never update the day something from Google is released, like you'd see from an iPhone, but in theory it's a significant improvement over the months long wait time usually seen with popular hardware in Android land.
As you can see, the OnePlus 2 is a phone that might give the iPhone 6 a run for its money if someone was seriously considering a switch away from iOS, but against the iPhone 6 Plus — and, perhaps more important, whatever Apple releases next — there's nothing here that is "killing" anything. It's a nice looking phone, despite being a little thick, but overall the bark is way worse than the bite.
Get more iMore in your inbox!
Our news, reviews, opinions, and easy to follow guides can turn any iPhone owner into an Apple aficionado
Russell is a Contributing Editor at iMore. He's a passionate futurist whose trusty iPad mini is never far from reach. You can usually find him chasing the next tech trend, much to the pain of his wallet. Reach out on Twitter!