Updated: Pre-Order your iPhone 4 now in the online Apple Store!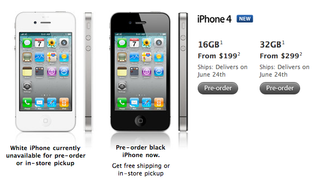 Those of us actually awake here at TiPb - namely me - wanted to give you a heads up and let you know that you can now pre-order your black only iPhone 4 in the online Apple store. Head on over to the Apple online store (opens in new tab) and get your order in to guarantee your device arrives on June 24th!
And what happened to the white iPhone 4 is a pretty good question that hopefully Apple will answer sooner rather than later...
Update: If you've unsuccessfully been trying to order your iPhone 4 via the Apple site, hit up this AT&T link (opens in new tab) as many of you are having much better luck there.
I wonder why the White isn't even available on Apple's site

NOOOOOOO!!!!!!!! I WANTED WHITE! ordering black now....dangit.

Ugh, I stayed up for THIS! No white! Looks Like I'll be waiting in line!

I just read somewhere that white isn't even going to be available till sometime summer

I stayed up all night and no white iPhone im going to bed apple better have a great explanation.

and it's not working! it's kicked me off or out 3 times now. 1800myapple isn't working! dangit!

i keep getting "your session expired." ugh!

@Ethan: oh good, I'm not alone

mine has been processing information for 10mn.

I figured the website would get overloaded and it time out on tons of people. Reading comments all over the place about no white phones...

Yes, I too get:

Please wait while we access your AT&T account information. <

And then the ball just spins and spins and spins...

If this is how it is at 1am/4am, imagine what it will be like during "business hours"!

can i sue apple if i get to dizzy and fall from the spinning ball? hhmmm........

The spinner just keeps on spinning for me too. Been like, 15 minutes now.

The only article about not having the white iPhone mentioned that it was only AT&T that would not have it for pre-order, but now it looks like Apple wont be selling it either. I can only assume that Apple did not manufacture enough of them and they will be selling them at the stores on the 24th as first come first serve.

This whole "no white" thing is not cool. Ordering a black one though

It gave me the option to pick it up in the apple store day of launch, but that's 50 miles away...I will do it if it brings it up again, but I'm stuck on the spinning logo.
Something tells me this entire ordeal will be a huge royal F*#& up.

Would you people get off of here so I can put my order through.

loading is taking foreverrrrrrr
ACCESS MY INFO ALL READY!!
i better get one..

finally my information is being processed...waiting...waiting.waiting

same messages as everyone else, one time I got to where it told me the price, then timed out....had to start over now spinning again....

I was kicked out for "session expired" about 8 times in a row... and now I'm spinning at the "processing..." screen. =(

maybe it just spins until its ur turn in line. kind of like listening to music on the phone, just a whole lot more annoying.

This is ridiculous....i'm going back to bed

Is anyone else getting the "Please wait while we access your AT&T account information" screen on Apple's website while trying to pre-order the iPhone 4?????
After loading this page it tells me I have timed out and to try again!!!!!!

did anyone get the e-mail that they were ready to order?

Has anyone actually be able to order one? I mean come on Apple, you didn't know that your site would get hit at 4 a.m.?

I finally made off of the checking my info page.

Will Apple bill my card now or when they ship the phone?

i got a 32gb one coming to my house on launch day... with a bumper.
we'll see how nice it looks
i cant wait!!
how the hell am i supposed to go to sleep now?!?!?!

i jsut got a session expired by clicking continue on the session expired screen...

@Ker~Man: i hope not that would not be good

Anyone can have the name AT&T Rep, just people trying to get you to not access the site so their order goes faster...

Those messages spreading false info. have been deleted.

@At&t Rep HAHA and Im Steve Jobs order keeps trying I say
No go I wanted white dang it. :( Apple you have some explaining to do.

Yeah right AT&T rep... just another user trying to spread rumors so that all of us will stop trying and they can get one. :)

AT&T Rep,
Why couldn't AT&T be prepared? Did you really think no one would try hitting the Apple site to order one as soon as it was up? Kind of ridiculous, you guys are never prepared for anything.

im ont att.com and it says preorder and they take me to a place where there are 3GS's only -.-

Don't let these guys bs you they just want you to give up so they can get their phones

processing forever!! WTF?!

HAS ANYONE been successful in ordering one yet??? or are we all just getting the "wait while processing"/ timeout ??

While I'm waiting for the server to start working better, does anyone know the billing policy? I can't remember what happened last year. Do you pay right away for the pre-order, or does they charge you when it ships?

I'm sure that its not even AT&T's site as much as its Apple being hammered right now. The more iPhones they sell the more likely things like this will happen.

has anyone tried transferring a verizon account phone number? i've been on the processing window for almost 20 mins now

my order took about 20 minutes to process and a number of "Oops" pages but i finally got it to go through. I had more luck when i added the bumper to my cart and then checked out. Just got my "Order Acknowledgment" confirmation email.

questions ....
1? when will the white one be available?
2? when will i have to pay and how much to pre order?

just FINISHED ordering mine from at&t...worked flawless

On the same boat as you guys. Been on the "processing information" page for a while. Ugh!

It's funny. At 4:00 AM exactly, I got almost to the checkout screen before it timed out. Now I can't get past the "checking AT&T" page.

"Ships: Delivers on June 24th"
IT FREAKIN BETTER!!!!!

this is bad. 43 minutes now and i have yet to get one.
I keep getting all the way to the add to cart page and then it times out. HOW CAN YOU TIME OUT AFTER ONLY 5 SECONDS!!!
laaaaaame

Been on procesing information for 15 minutes now. I have to pages going with processing information, dont know if I'm just wasting my time.

I got past the "processing" screen once, but it said it couldn't access my account information and pushed me to in store pickup. With that being said, on the "review" screen it said the location and $699 (full price), so I was hesitant to confirm it.

Had to go through the steps multiple times because of server timeouts, now stuck on the processing your request screen like everyone else... has anyone actually bought one yet?

Ditto. Processing for over 20 minutes now. =\

Did the exact same thing, Peter. Haven't been able to get one yet. Damn you, Apple!

same here -- stuck in "processing info" for about ten minutes so far.

I'm not so much in a rush as much as I just want to get it done so I can go to bed. Otherwise, I'll get one on June 24, no matter how it happens.

Ugh this is ridiculous I have to be up at 6am yet I don't wanna stop trying. I keep getting kicked out/ eternal spinnyness as well. I just want to order a phone and go to bed is that too much to ask for?

WTF Apple
why do you make this so hard?

finally now gets thru the "accessing at&t info".. started timing out after that.. and now is only giving me option to reserve at store...
arrrghhh..

they thought they could get away with a 1am start time. NOPE! they should have done 2:45am

I got to the you're qualified screen finally....and now another spinny wheel

yeah, I keep getting to the "you've qualified".. then time out again.....

i tried calling apple and a while ago it said business opens at 5am

Don't type in the wrong card info lol

anyone have any luck calling them?

AT&T pre order worked great. Apple kept saying "could not complete setup online" and to make a reservation for pickup in a store. FAIL.
Just order from AT&T and be done.

spinning,spinning,spinning,spinning,wait... no, more spinning.

Ditto - tried several times only to get a "Processing information." screen or time outs or reserve at a local store at full ($599) retail. I knew it would be too good to be true (to order seamlessly online that is).

If you order from AT&T will it be delivered on the 24th?

Yeah, mighty tough getting through. Got to the order part once, entered the credit card, etc. But then the cart died. :( Finally just set it to reserve a spot at the local Apple store. The shipping only goes to the billing address anyways (so I can't have it delivered to my work address... :( ).

@Andy I tried the AT&T PreOrder... I am a Premier account holder and when you click on PreOrder it doesn't list the iPhone 4 in the "store". This Premier account has screwed many people before on upgrades for the 3G too...

This is getting frustrating. Why was Apple not ready for this? If I can't get it on the next try, I'm getting an Evo!

lol, EVO's are sold out dude. Poor threat to make there...

Yeah well, I didn't really mean it anyway. lol

after 1 hour, i decided to try ordering in a separate safari tab without trying to transfer my verizon information...now in ADD TO CART! ...ONLY TO GET BUMPED AGAIN! ! ARGH!

I want my white iPhone 4!!!....

@bp123
That is bizarre. I am premier too which is why i think it wasnt working on Apple's site. the iphone 4 was listed at the very bottom of the page. They charged me an $18 upgrade fee which i think is supposed to be waived but i will fight that battle another day.
I did get a confirmation with my activation codes and order confirmation, etc.

I got mine, email and all from the Apple website!

Not trying to be a jerk here, but there have been problems like this since the first iPhone back in '07. Should Apple have figured out some of these problems by now? Of course.
But should we be surprised by any of this? Nope.
Still gonna pre-order the sh*t out of the iPhone 4, though.

UG I am stuck at processing your request.....GRRRR

AT&T did not work for me. They offer a "click to pre-order" link which takes you to NO iPhone 4's! I'm also (apparently) a "Premiere" customer...

Stuck in the processing info on Apple but AT&T it's easier to order, but I don't trust them to ship on the 24th, below is what I found, i'll keep trying Apple but might do AT&T as a last resort
Pre-orders for iPhone 4 and iPhone 3GS 8G will be processed to arrive as early as June 24, 2010, if submitted by 2 p.m. ET, June 22, 2010. The actual shipment date and receipt of your order is not guaranteed and may be subject to delays for reasons that include, but are not limited to, product availability, inventory, credit issues, number porting or carrier delays, and completion of other required AT&T business processes.

i've been trying over an hour! this is ridiculous.. my very first try is the closest I came to ordering one.. and now I can't even get it to verify my at&t info without timing out!

Any particular browsers doing better than the other? I've tried everything.. safari.. chrome.. IE.. firefox.. and even my iphone3g, haha. nothing!

processing information... like everyone else :(

Hmmm. Frustrating indeed but I expected it to be this way.

maybe the at&t rep was right?!

EVERYONE. My old contact (which ended last month) had me at 99.99 for unlimited voice which they are trying to stick me with AGAIN, I can see no option to change my voice plan even though I am out of contract. The new price for unlimited voice is 69.99 isn't. BE CAREFUL NO ONE AGREES TO THIS 99.99 CRAP THAT THEY ARE TRYING TO SLIP PAST YOU.

I've gotten to the "add to cart" page 3 times now and it times out. Hahahahahha.

well no email, but money has gone from my account and the order shows as being processed in my account... always disconcerting when your browser craps out at the last stage of a purchase ... :S

Also, there was no Enterprise unlimited plan either. So another reason why I probably couldn't complete my order.

I have been trying for an hour now. Now Apple's site gives me
"java.lang.reflect.InvocationTargetException"
with a list of errors when I select a phone

tried going to att. got through it smoothly all the way up to shipping, which is where i lost my nerve. i dont trust them to have it to me on the 24th..

been at this for 90 minutes and STILL havent gotten to order one yet :(

I watched the spinning wheel for 45 min on Apple's website. Then I went to AT&T's site, and bought the iphone 4 in about 4 minutes. Forget apple, go to AT&T now.

I'd purchase from AT&T if there was any guarantee it'd be delivered on the release date..

I'm right there with you Csullivan1980. I just reached the 60 min mark and it's still processing information. =\

As usual, a mess. Apple doesn't have the white for pre-order and my "premier" account with AT&T won't let me pre-order on their site.
So, I guess I'll be in line on the 24th.

Glad to see I'm not the only one having problems. Obviously an AT&T network issue (no surprise). Been kicked off multiple times when it's trying to access account information and now it's spinningon processing information. AT&T is going to lose it if people start tethering a lot.

And just think... this is just preorder... imagine the activation woes we will all be having :)

i have a premier account and i was able to pre order a 32gb iphone 4

FYI - With my Premier account, I have gotten to the page that says I am qualified on the Apple site. So it looks like we can order from there. Now, if I only can get my session not to expire hahaha.

Have been attempting to pre order from apple's site since 4am/EST and continue to get website connection errors. its almost 5:30am and the issue is still present.

i pre ordered 3gs last year from at&t and it came on release date.

It said I reserved mine at the Apple store so does that mean its preordered? It didnt ask me for any payment.

I ordered mine on AT&T and it went right through after 1/2 hour on apple with no success.

I got through and reserved it at an Apple store. Now I am just waiting for the confirmation e-mail.

Haha suckers!!! Drink my kool-aid.
Steve Jobs Sent from my iPhone 4

I never could get it to go through on the apple store but on the AT&T site it went right through! Who'd of thought....

AT&T won't let you pre-order if your billing address and shipping address do not match.. wtf.. I want it delivered to my work!!

YES!!! finally got the in-store reservation. Took ****** long enough!!

So reserved=preordered correct? Im slightly confused. I thought that it would have me enter credit card info?

ATT didn't work for me. I'm trying to switch from Verizon. Said something about couldn't process my request to go into a store.

Wow, Apple won't let me buy it. And AT&T won't let me log in. I guess they don't want my business today. I outta here.

If you wait for Apple to process the order, you might still be watching the spinning wheel on the 24th.

aargh... looks like it works now, but session keeps expiring.

The Apple site sent me to a reserve to pick up at store page. I did, the it told me I would be picking up my $599 blk 16gb iPhone 4! WTF?!??!?! I qualify for the 199. F**K them, they can feal with it when I get there. But thier getting a call from me when I wake up laters!

From what I understand, it's this:
"Reserved" means you have reserved it to pick up at an Apple Retail Store on release day.
"Pre-ordered" means you have ordered it, entered payment information and it will be delivered to you on release day.
That makes sense, yeah?

okay, got the processing information page, again. it was speedy, now let's see....

Not sure if Reserve=Preorder. I have been on that screen a few times now and it is generally due to the fact it can't access your account information. You will notice it will show the full price of the iPhone too on the reserve.

@Peter:
So essentially you cannot pre-order an in store pick up? You can only reserve? I have no issue with paying for it on that day vs now but I want to be sure that it will be there for me.

man... now an Ooops error on store.apple.com?!?!

AT&T Premier site worked in less than a minute in case any of you has FAN account and are waiting on apple.com....in for one!

alright, i took the reserve at a store for full price. hopefully when i get there i can get the upgrade price since im eligible.
ill stop in at apple and pick it up on the way to work. all i gotta say is it better have my name on it and be there waiting for ME!

@bp123:
It gave me the full price reserve option a few times but finally it gave me a reserve option for the $199.00 16GB.

I was able to have it shipped to my job jockey. Maybe case of the premier ordering.

Spinning again after I select my voice, data and text plans...

@StayThirsty thanks for the info, yeah probably because of premier account, I'll just stick with Apple.

I did it with ATT, it took me 2 try, but I got it.

btw for ppl thinking about reserving at a store. confirmation message says
"Thanks for reserving your iPhone for pickup at the Apple Retail Store on June 24 starting at 7:00 a.m. You'll receive an email confirmation shortly and we'll have your iPhone ready and waiting for you when you come in to the store to pick up and pay."

I finally got through to reserve the phone and it says There are no reservations available for apple store pick up. So the only option is shipping. But I don't want it shipped!! I'm pissed!!

AT&T Premier customers having difficulty upgrading online need to call 611 or 866-499-8008 after 8AM EST to have their pre-order upgrade processed. AT&T customer support said some Premier accounts are having issues upgrading online - so call if you are one of them.

Sweet just got my in store reservation completed for the 32gb iPhone4 at the upgrade price of 299 now I can go to bed after I get the confirmation email that is :-)

OMG now it just says opps goes no where after clicking preorder from apple store! Jesus Mary & Joseph

WTF do they mean OOPS!!! come on APPLE!!!

ATT Site have processed my order, Apple site says Oops!

Everyone,
Please do me a favor and please turn off your wireless station.

I get all the way to the "add to cart" page and then:
OOPS! an error has occurred

WTF ... got all the way to add to cart then OOPS

@Chris (1st post) - Just order it thru AT&T....Premier DOESNT WORK on Apples site for the pre-order....and AT&T STATED that already. Don't blame AT&T for your stupidity.

It's amazing how they get away with it, sometimes.
It's like when Jobs was having problems with the WiFi in the Keynote last week. How were they not prepared for that many people being connected? How did they not have a dedicated connection for the iPhone demo?
Same thing here, how do they not know how many people will be doing this now?

If you are ordering right now 5:30 AM EST.....do it thru AT&T and not Apple....they are having server issues.

Damn. Almost got to checkout before another "oops!" it seemed to be moving faster ... guess not.

I got the confirmation e-mail but it says the price is $699. I know I am eligible for the upgrade price of $299 (32gb). Will that change when I go pick it up in the store and Apple can verify the upgrade price?

After a hour and 40 minutes, my two are finished! Thank God I want a black phone and think white phones are as bad as white shoes and white cars. YAY for Black Phones!

I gave up on Apple and went through AT&T, ugh. I hope that I'm not disappointed next week.

I keep getting Oops, an error occurred!!!!!
GRRRRRRRRRRRRRRRRR

Thanks, Tim. I think I'll stick with Apple. Even with server issues, I trust them more. Worked for me last year, it'll work for me now.
Also, everyone continuing to tell us to use AT&T, we're all in the same position, aren't we? We're all both trying to pre-order the iPhone and checking these comments at the same time, right? We obviously know our options at this point, and have made our choice to either stick with Apple ordering or try AT&T.

Apple store having problems but went to Att website n got mine

Hey, for those who pre-ordered through Apple already. You pay for it now, right? Or does it charge when they ship?

Any other ATT premier customers get charged the $18 upgrade fee when it previously said you were eligible to have that fee waived?

ATT only gives me the upgrade option of 3GS. 4 not even there when I log in to upgrade. Apple still stuck on OOPS

Why do you keep saying to order through AT&T? It says upgrade now, but then it is nowhere to found. Just 3Gs and 3Gs.

att won't even show me the iphone4 for upgrade, with no note or anything to say why or when (after following preorder link). apple hasn't gotten further than selecting phone and now seems to completely be down. been trying for about 2 hours now. swell.

omg im so bouta give upp ATT is not working and so isnt APPLE =(

Omg just order it at www.att.com it went through first try for me after 3 hours on apples sh*t site. Confirmed email and all goodnight

FINALLY. I pre-ordered on Apple w/confirmation. It took lots of refreshes (hitting the refresh arrow in Safari). For delivery on the 24th at the upgrade $299 price.
That only took 2 hours... Time for bed.

Uk store has unlocked iPhone, thatz where i am headed

Noooooooooooooooooo! I just got the sticky note back saying "We'll Be Back Soon!"

omfg!!! i got alway to the damn check out chart on apple just now all to say theyre down again!!!

Apple's web site is an epic fail.
AT&T FTW
Never thought I'd utter those words.

Damn... i got through to the Add to cart page again, didn't work and now they put up a "We'll be back soon" page!!

What a nightmare!!! At 1:00am I spent 1 1/2 hours getting non responsive loops, timeout errors (that happen after only a few minutes) and Apple OOPS! Errors. After trying again and again and again 50 times (really) I was finally able to get my orders to take. This is BIG BIG BIG. If you want this gem, I suggest you order as quickly as possible. I suspect once the east coast wakes up it's going to get much much worse.
Just don't give up. If it takes more than 2 minutes, start over. It works if you start over rather than just waiting for a response.

LMFAO. Now it says "we'll be back soon"
Guess they weren't quite ready.

@Peter - Sounds like you are a hardcore fanboy. You should not pre-order and just get in line at the Apple store to get the "experience" or whatever.
Everyone else, why are some of you fanboy's so crazy that you wouldn't order the same product from AT&T (or anywhere else)....Don't be like Peter....break out of your everything Apple store cycle, because in the end, its the same result! :-) I got nothing but <3 for you Peter

TWO HOURS! FOR THIS?! I am very disappointed.

The Store "Will be right back" is on display at 6:00AM ET. Bummer!

I don't recommend ordering via ATT. When you need service later, Apple gives you the kiss off. You get all around better treatment if you order your phone via Apple rather than via ATT. At least that's been my experience.

This is crazy. I'm on the East Coast and have been at this since 4:00 AM.
Probably not the smartest thing to do with a 9:00 AM root canal scheduled.

Cant believe no White!! Really pissed off. Apple help line don't know why as well. I think they should have an explanation why. Steve told us we can pre-order today!!

Anyone got the "We'll be back soon" sticky for the apple store?

Yep - got the same We'll be back soon" sticky for the apple store?

@Timber Some of our "Premier" AT&T sites don't display the iPhone 4 as an option, so right now I am forced to order from Apple regardless of fanboy-ism. :)

Wow, looks like I snuck my order in before the server blew up...

"We'll be back soon"
In the UK!

I don't know who @Timber is, but apparently he's a fan of mine.
Dude, I'm not a fanboy. I just happen to be up, so what the hell else am I going to do with my time if I can't sleep? You'd never see me anywhere near a line. Couldn't pay me.
Only reason I'm sticking with Apple is because it worked last year and I got my phone in time. I, like many others, have had bad experiences dealing with iPhone issues through AT&T. It's called using prior experience to inform my current decision.

Just got upgraded @ ATT after 2 hours of trying Apple.com. ATT took maybe 5 minutes to upgrade to two iPhone 4's! Yes!!

For people who pre ordered through AT&T, do they say it will be delivered to your door on the 24th???

att does not show iphone 4 for me :(
anyone have a link?

We are working on a database issue between our servers and Apple's. Due to unforeseen issues, if you attempted to place your order prior to 5:30am ET then you will be unable to place another order until June 16 (provided supplies last).
All AT&T orders placed today will be fulfilled and shipped for June 24

Peter....here in Philly in the wry same boat!!! Since 4 A.M. And no luck!!! This Blows!!

I tried Apple website multiple times. Saw one of you guys mentioned att site. ATT worked like a charm and it was great becasue i haev 2 lines so i needed 2 phones one for me and one for the wifey. It was very easy. Hope it shows up as published.

DUDE WTF?!? I've been up for so long and now this b.s. from apple is really pissing me off! Hey, does anyone know what information I will be required to give to the apple website for the RESERVE.
PS: Peter you sound like a little apple loving prick.

There's that pesky AT&T Rep liar again... :)

I just ordered my through AT&T. Took 10 minutes.

@patrick
The confirmation says will be fulfilled on June 24 and shipped on a first come first serve basis.
My guess is there is a good chance it does not arrive until the 25th. So depends on how hard core you are I guess. For me, being premiere AT&T, I have no choice since I won't wait in a line on launch day (have to work).
My local AT&T rep said he could have my unit at the store late on June 24 if I chose. But I'm fine getting it that Friday.

Now I remember why I stopped commenting on websites back in the 90's. Apparently I'm a prick now for responding to someone's comments of me.
I'm too old for this stuff. Good luck with your ordering, folks. Hope everyone has an iPhone4-filled June 24th.

From my AT&T email:
Thank you for your purchase from the AT&T Premier Online Store. We're pleased with your choice of AT&T as your wireless service provider.
Pre-orders will be fulfilled beginning June 24, 2010. Orders will ship on a first-come, first-served basis. We will notify you by email when your order ships. Your order may be subject to AT&T eligibility and credit requirements. If we have any questions about your eligibility or your order, we will contact you via email.
then they gave a bunch of links and activation codes.

Please ignore anything I'm writing. There is afalse predator on the loose.

I managed to get mine reserved right before 3am PST. I had both my mac and PC trying to reserve. The mac went thru while the PC was on the damn Spinning wheel for over an hour and nothing.

"on June 15, 2010 at 6:11 am, Patrick asks:
For people who pre ordered through AT&T, do they say it will be delivered to your door on the 24th???"
A person posted earlier this caveat from AT&T:
Pre-orders for iPhone 4 and iPhone 3GS 8G will be processed to arrive as early as June 24, 2010, if submitted by 2 p.m. ET, June 22, 2010. The actual shipment date and receipt of your order is not guaranteed and may be subject to delays for reasons that include, but are not limited to, product availability, inventory, credit issues, number porting or carrier delays, and completion of other required AT&T business processes.

I'm an AT&T Premier customer, and I can't even see the iPhone 4 on the upgrade page on AT&T's website. Yet, if I want to sign up as a new customer, it's the easiest process in the world. Anyone find it funny that AT&T can't handle the customers who use them the most?
Apple has been a massive disappointment the whole night. Somehow I was able to reserve one at the store for the 24th, but I want it shipped to me. (7am sucks.)

Just did Pre-Order from Apple.com pissed that the white version isnt available. Oh well, got a black one. Going to Apple store later to confirm my pre-order because last time I did a pre-order on line and went to pick it up they sat there scratching their heads had no clue what I was talking about, dont want to risk not getting one, so as soon as the mall opens I'll be there making sure my pre-order REALLY exists this time!! Ugghh incompetence!! WHERE IS THE WHITE VERSION :-( I really wanted that instead.

After hours of nothing but failure on Apple's site, I waltzed over to AT&T's site and had my preorder completed in 5 minutes. Confirmation email with activation info arrived immediately.

Oh shut up already. No one cares about your geezer ass. And if you decided in the 90's that you weren't going to comment on website, then why are you still doing it? So how about you quit riding Apple's dick and get a life. And I hope you're aren't able to get an iPhone 4 on the 24th. Just so you can't brag to all your friends about being the "first" to have it, because you know that's your sole purpose to get it on day one. Good day, Dr. Faggot.

Yes people... we know it takes 10min to order from AT&T...
* Some can't order from AT&T because the iPhone 4 doesn't display as an option
* Some want better guarantees getting the phone on 24th and hence order through Apple
We are all proud of those that realized you can order from multiple places. Pretty soon phones will open, stores will open as other options to preordering.

LOL Jay, why did you waltz to the AT&T website? Maybe that's why you're having problems since you're waltzing all over the place :))

Same crap...get OOPS on add to cart

Damn.. still cant add to cart... this is annoying!

FUUUCCCKKKKKKK YES!!!!!!!!! SUCCESSSSSS!!!!!!!
Sucks for you guys. Just did it on the apple website as soon as it went back up. Reserved 16GB black.

why is the iphone 3gs a Pre-Order too?

at work now, been trying since 1am PDT...changed computers, finally got the option on att.com to upgrade (after many many many tries). good enough for me. luck all.

now i cant past the Oops screen!

Got all the way to it being in the cart, then it timed out. Unfreakingbeliveable.

oooh, there has to be a app for this! this is too much fun :(

for the almost 3 hours i've been trying to get an iphone 4 i hope i get something out of ths

Scored my reservation after 3 attempts at 2:30 am PT. A friend just emailed me his iPhone screen snap of the Apple.com reservation page showing the error page "Oops!".

Oops! Apple can't handle a pre-order or have stock of both colors of the iPhone! LOL

VERY SLOW!!! I would love to know how many pre-orders they get today. Apple.com was moving at the speed of erosion...and the first few times it stated "cant access your information at this time". BUT gave me the option to put one in my cart for $699....how nice of them. Anywhoo.....I kept trying and it finally let me thru. Stores open at 7am.

ughh WTF is going on its never been this hard to get an iphone on a pre order day =( im gettin mad why wouldnt they be prepared for this stuff!

This changes everything; Yea Right!

I got my iPhone 3G at the Apple Store B&M...I got my 3GS at AT&T B&M and now I am getting my iPhone 4 shipped from AT&T....the experience hasn't been different pre or post sale for me getting from either place...good luck to everyone else ordering this morning!

Great blog story headline: "Oops!"

Here we go again... We'll be back soon

STORE DOWN AGAIN?? this makes 3 times!!

this is an odd question but is anyone else experiencing playback issues with youtube videos or anything like that with safari 5. i've had a lot of time on here and just noticed nothing is playing

ARGH the site is down again!!!!!

Apple has never been this bad at anything before. It's amazing.

No problem using AT&T site. Took 5 minutes - if that. Delivery on June 24.

Has any premier AT&T customer actually been able to choose iPhone 4? I sure as hell can't.

this is HORRIBLE DOWN AGAIN!!! and i still cant get the iphone 4 to show up on ATT

still dont even have the option to preorder under premier site...

Store down after trying several times and still no luck!

@bsangs You aren't telling anyone anything new here... read the previous comments.
@Ian I have a Premier account and I was able to get past qualifications and to the cart before I got the Oops page and the site went down. AT&T doesn't list the iPhone 4 as an option on the Premier site. Some people have reported that it has worked for them.

Im a premier customer and I havent been able to get past the add to cart screen.

yep premier customer here too , nothing to upgrade to. wonderful

@Rich before the site went down for the 2nd time (not the current time), I actually saw my cart being a Premier customer. I took a risk and tried to add Apple Care right before the site down... Now I am wishing I would have just checked out. :)

I reserved mine on Apple.com It took 1 1/2 hours starting at 4 am EST, but after many reloads, refreshes, time outs, etc I was finally able to complete an order. It's 7am now, looks like apple.com is down.

Just ordered two off att's website. Heck with apple. Why no white? That's what I wanted. Oh well, I like black too!

Apple store still says "We'll be back soon" from my home PC, but was perfectly functional and relatively fast from my iPhone over 3G. Was (finally) able to get one ordered.

iPhone 4 not showing up for me at AT&T.

as a premier i cant do a thing on atts site but on apple it goes through shows my pricing perfect and all but when i choose shipping or pickup, oops

I can't see the iPhone 4 either on AT&T's website

Now I can't order through AT&T . Premier store will not let me order!

I wonder if the AT&T Premier site requires the company/org to allow the listing of certain phones? If that is the case, then I wont see the iPhone 4 on their for a month with my company!?!?! :)

@sting7k
same problem here

I ordered via AT&T and, as back up, reserved one at Apple store. Being premier Apple would not let me place my order online. I doubt I will be able to get to the store since it is a work day.

Here's what you guys can't have (confirmation e-mail screen shot): http://img193.imageshack.us/img193/3341/croppercapture75m.jpg

@Andy The Premier is working through the Apple site and have confirmed that. Now everyone (not just Premier) can't get past the cart with the last issue. I do kinda wish my AT&T would show it as an option though.

For some reason when I select which line I want to upgrade it takes me to the AT&T premier site and I just have a regular account as well.

@emtp563 alot of people have been able to do the reservation (including me), but do you really trust it?

@sting7k you have two separate accounts or phone numbers? I have two phone numbers but they are all in the same account and hence the reason why I am taken to the Premier site regardless.

Three guesses says the site is down until 5am PST.

I don't want to reserve it at a store but I don't want to miss out on my opportunity to preorder. Ugghhhh
"We were unable to complete set up online."

Sure, I trust it. I sure as hell don't want to order through AT&T. I just don't trust them.

Well emtp563... those are not braggin rights. I could have went that way as well and picked it up at a store. What people are having trouble with is adding it to the cart to be delivered to their door you retard

@emtp563 I guess what I mean is that everyone has been able to do a reserve, but they just as for your userid/pass to confirm your reservation. You have not actually placed the order yet and exchanged money and etc.

@emtp563 Did you get the activation codes sent to you, for example?

@bp I'm on a family plan with my bro. I guess I may actually be at the premier site correctly bc we are using his gov. discount through the army. My line is the only one able to get an upgrade since I last got an iPhone 3G at it's launch. iPhone 4 doesn't show as an options, the buttton "Preorder iPhone 4" is right there though.

It was 2:20 AM and I got word from a family member that the flood gates were open for the pre-order of the iphone. well sure enough i logged in.
the system hung up and i did a refresh and my order was completed in just 3 minutes on my first try.
within 30 minutes both the ATT and Apple site went down and was not accepting any more orders.
I would strongly suggest that everyone that pre-ordered the new iphone that they stop by the apple store to make sure the order in the system.
9 days till we have christmas in June. LOL

This phone is seriously tempting me to switch from the Pre. Just add a real keyboard and I'm bought.

Anyone hvibg a problem on AT&T site where it doesn't show existing so you dont need to change a current plan?

@sting7k Yep, unfortunately you are seeing the exact things I am seeing. Some people have reported that it eventually shows up after a period of time, but I have been watching it for 3 1/2 hours now and it hasn't showed up for me on that site. Even though Apple site is down, I have had more success there... If you can base success on the fact I still don't have my pre-order :)

Oh well, looking like I just might be showing up at radio shack on the 24th. Maybe I'll give Best Buy a call right now and see if they are taking orders.

Has anyone been able to add an iphone4 to their cart and successfully checkout with the purchase? I'm curious as if it keeps going down because they can't get the checkout to work with product selected "iphone4". It may be everyone is having this problem when you try to purchase vs reserve.
And when I refer to the purchase I mean using Apple's store not AT&T website.

ive been trying to pre order since 1 am PT (when the store went back online) still no success :(
FML
I FEEL LIKE DYING

I saw the apple store come available 3 different times at different time frames almost 15 to 20 mins apart.... yet every attempt has taken me to the very end when I choose to add that item to the cart and it won't accept it.
Could it be that Apple is having issues where the product is not being recognized for purchase to allow it in the cart.
Anyone with success of purchase please provide input so we know someone atleast got one to work.

@spanishcop, the store is completely down right now. So nothing will work.

I understand that Sting7k... I'm referring to when it was up. Has anyone been successful yet with purchasing it. I've made it to the end like 3 times and just as I selected the item to be added to the cart instead of reserve.....it gives me an error.
I know its down again....... but its been up and down all morning.

The AT&T site removed the option to preorder. The link is there, but when clicked, it redirects you to iPhone 3GS and 3G pricing. No iPhone 4. Bummer. Guess that's the universe's way of saying "Wait until the white one is available".

Seems like I got lucky. I pre-ordered online, but they won't accept a PO Box address(gotta use PO Box in the Virgin Islands), so I switched to my work address and gave it a shot. I thought it won't go through since the billing address didn't match the bank statement, but I guess it did since I used a debit card instead of credit.
I'll keep checking the order status throughout the next few days incase it gets canceled.

My feeling on the white is that Apple doesn't want to "waste" units making them white and then have them sit on the shelves because most want black.

Got AT&T premier to work after 5-6 tries. Booyah!!!

Lol. The site's still down as of 7:40 AM EST. And whats with no white iphones for pre-order? Does that mean if i don't pre-order and take my chances at, say, Radio Shack or WAL-Mart, that I might be able to get the white one? What gives, Apple?

AT&T has pre-orders available for iPhone 4
16 and 32GB.
http://www.wireless.att.com/cell-phone-service/packages/iphone-packages.jsp

Finger is sore from hitting refresh..... its been a long 12hr shift and had high hopes of getting my iphone preordered when I got home from work... looks like I'll deal with this when I wake up later.... that is if Apple can fix the problem and let customers get their order in... you would think they would have made arrangements for a smooth process.

Apple also released a new Mac Mini which is why store is down now. Not great timing to have to update site for new mac mini same time people want their iphone pre orders

Apple US store is back up.

Online ordering said it couldnt process my request! Says to try again "Later" but i can reverse for pick-up, but i cant pick it up that day :(

I'm still getting an OOOOPS error when I try to add the iphone to the cart.

The Apple Store this morning SUCKED!!! At around 2:30 PST, I tried 5 times to complete my iPhone 4 order but was booted with a "Timed Out" screen. Then later the store had a "We'll Be Back Soon" message. Apple.com can't deal with this type of traffic, yet? Geez, and they criticize AT&T! I ended up having to go to AT&T online to put an order in reliably!

Now im no longer eligable for an upgrade untill 06/2011... I dont understand whats going on... Happen to anyone else?

Oh, I guess my order went thru??? I ordered thru AT&T I went to my email and it says my order has been canceled (7:50am est) but its now 8:08 checked my order status and it says its in progess... Am I okay???

is it safe to say that the hype for iphone 4 wore off?

This has been incredibly mishandled. In every possible way. By both Apple and AT&T.

So wait, I missed out...I have an existing iPhone 3G. If I order a new iPhone 4, what happens with my SIM? Do I get a new one from Apple or will I have to go through AT&T to get a new MicroSIM?

tried At&t, I clicked on the preorder iphone 4 link and it takes me to a screen with only the 3g and 3gs available. apple of course doesn't work either. booo

i am trying order by phone and 3 times i cannot get through. just and automated message

DOWN DOWN DOWN AGAIN! WTF?!

Guys -
Stop trying to get on the site so I can order my phone. Take turns damn it! I was here first!
F U

I will be on vacation next week. Does anyone know the best way to preorder the iPhone and have it delivered to my time share down south. ATT will only ship to your billing address. I was going to call an ATT store close to my vacation spot and see if I can preorder over the phone and have it shipped to that store. I was also thinking RadioShack may be able to do this. Anyone have any tips?

HIGH CALL VOLUME...NO $HIT

So... no pre orders for premier customers on att's site and no pre orders period on apple. ps- no white iphone. I'm going to work, this is a bit much

for once i wouldnt mind being placed on hold to get someone...ANYONE!

I reserved mine with no problem.

LoL agreed!!! who cares about reserved

Just tried on AT&T's website and it is down so can't preorder one right now! Hope it comes back up soon!

I just spoke to a live person at Apple. They are NOT taking phone orders?! WHAT THE HELL IS GOING ON?! I told her I've been trying since 4am EST and she chuckled replying "Oh, getting a head-start?" Yeh, along with the rest of the country.

So my question again is.... Has anyone successfully got an iphone4 added to the cart (Not reserved) I'm talking about Pre-Order using Apple's store. I'm aware it is down now.....but it has been up several times...
Just curious if apple is having problems with the iphone4 option going into the cart system.....as I have made it now 4 times to the option of add it to the cart and then I get an OOOPS error.
Nothing shows up in my cart either......it then tells me "My session has time out" and re-try this crapp again.
I just want to know has anyone been successful pre-ordering on Apple Store or is there a freakn problem. I have yet to hear anyone being successful.

Spanishcop,
Don't try Apple.com. Everything you're describing happened to me at 2:30AM PST but luckily while I was doing that, at the same time I was ordering through AT&T online to see which one would go through without issue and theirs did. So for others having no luck with Apple, try AT&T when theirs comes up again. ;)

Glad to hear Dexter... Congrats..... that gives hopes.

Can we order in the AT&T store or is it only online. I'm on the Apple site but it is stuck on processing. Probably will time out. Frustrating.

Hi all..
Well, I stayed up till 12AM EST to try and pre-order online. No luck. Tried to keep my eyes open as long as possible, but the last time I saw the clock at that point was about 12:35AM EST. I was frantically refreshing the page of course trying to look for that beautiful shinny "Pre-order Now!!" button to appear, but no luck.
Woke up in a cold sweat at 3:25AM EST like, "What I miss!"... Went back to my refreshing brigade and noticed on AT&T's website, it now stated that you could pre-order the iPhone 4. Victory, right? Not really. When I went to the upgrade page for the iPhone, only previous models were there. Epic failure. But hold on, now the Apple Store stated that it was "Busy Updating the Store." Surely this meant at 12AM PST (or 4AM EST), the Apple Store would spring to life and allow me to pre-order my shinny new iPhone 4...
Sure enough, as predicted, at 4:01AM EST, the Apple Store was back open for business. Please note, all the time I was sitting there pressing F5 (refresh) on the AT&T page unsuccessfully trying to get the iPhone 4 to show up. So I click on the Pre-Order button for the iPhone 4 on the Apple Store site and it asks me if I am adding a line or am a new customer. I say upgrading phone, so it asks me for my number, zip and last four of SS#. As I input this information, my palms start to sweat, it is 4:02AM EST and I am almost there! So I click Continue and it brings me to a page that says Retrieving your information or something like that. Finally it brings me to the next page, which shows some information about my current billing plan. I click next and boom, "Your Session Has Expired"!! WTH!!!! No way, I was only on this page for about two minutes (or less), how could my page expire?
No time to fret, must forge forward. I continue to open a new browser window just in case the expired session was cached and now I cannot even get beyond the page that says its retrieving my information. I work at this unsuccessfully, opening new browser windows, different browsers, trying a Macbook Pro, trying the iPhone 3G S browser, refreshing the AT&T page from 4AM through 5:15AM EST, again, unsuccessfully. Now I must get ready for work, so I run to the bathroom and take a 4.5 minute shower and run back to one of the many computers I now have running and try the Apple Store once again to be thrown an "Opps, something is wrong with the page you are viewing" error message. No way!!!
But there's hope, a proverbial light at the end of the tunnel. I try the AT&T site once more to be presented with one new option, the Black iPhone 4, 32GB version. I hop on that baby, add it to my cart and complete the order, grandfathering my current unlimited data plan into that package (not giving that up!). They charged me the $18 activation fee, which I was told via text, would be waived after calling *639#, but I was not going to let this stop me, I could always call up and complain about the fee and have it waived at a later date. I entered in my credit information and the rest now resides in the future. It still stated that deliveries will be on a first come, first serve basis beginning on the 24th and will be handled by FedEx next day service. I am hoping I made it into the first batch. I am sure there were millions of others trying to do the same thing I did.
I just checked the Apple Store now (8:30AM EST), and it says it's "Busy Updating the Store" again. The silver lining is that if you go to the AT&T site, they have both the Black 16GB and the 32GB available (as of now). I even tried calling AT&T to fix that $18 fee I got hit with and first they tell you they are experiencing higher than normal call volume. Once you try to get to the Customer Service Department, you are told that, "We are sorry, this department has closed due to an emergency, please try your call again later." What's the emergency? Their server's are on overload? LOL..
Well, that's my haranguing. I hope you enjoyed it. Good luck to you all, especially those that actually made it to the end of this long drawn out story. LOL..
Take care,
Nick

Back down, both ATT and Apple, probably because it has to tie into ATT. How can 2 companies both worth BILLIONS not successfully implement a large enough server farm to support this?

Yup just tried on apple's site and it expired when I tried to order what is the deal?
Did they not realize it would be like this today?

well after a long time of trying i finally got my pre order in with att. i got the 32gb version. they charge dme the upgrade fee up front. and i am watching my bank account to make sure they charge my card. june 24th comes fast i hope haha.

Man still no luck keep's expiring on me!

i think apple was unprepared for this years pre orders. at least server wise anyway.

Got in to check my eligibility but then it expired WTF is going on Apple and AT&T??
Get your act together!!

Got it done at AT&T premier site. AT&T better be shipping my phone or I will raise hell lol. Apple kept timing me
out everytime I went to select add to cart...shame on you apple shows how much you carr for our customers.... Also noticed to those who reserve on AT&T website that if you had the 18 fee waived it's applied immediately as soon as you confirm your purchase before it won't you'll see when you check your account balance...

This is complete BS!! I want to preorder but it keeps expiring on me!! What is the deal!!

For those of you trying to order through AT&T's site I cannot even get into the site now it expires before it even gets to the main page

Ok this is very VERY frustrating I get to apple's site and I plug in my information and it says it's pulling info from AT&T and then it sits there for 5 min and then it says the order cannot be processed!
This is the 5th time this has happened to me today! WTF is going on people? Apple get your S**T together!!

I'm not even seeing the iphone 4 on the at&T page to select from. Just 3GS. It's premier though. Apple site gets stuck on checking eligiblity.

WTF WTF WTF WTF IMMA GONNA RAGE SOME MORE
people, calm yourselves. You are all trying to pre-order one of the most popular, at least culturally, phones on the planet THE DAY that the pre-orders start. Not just THE DAY, but within the first few hours.
I am not upset at all over the website issues. I am upset that I called Apple yesterday and a sales rep specifically told me that he would be calling me between the hours of 7:30AM and 8:00AM Eastern today (it is 9:30 AM now), and assist me with not only getting my iPhone 4, but helping my parents get two iPhone 4s for their Family Plan. Still no word yet from them, so I am going to at least try to get my iPhone 4 ordered in the meantime.

is there a number we can call to order or we only order the phone online??????????

@mak yes, you can call 1-800-MY-APPLE... OH WAIT, due to high call volume they cannot accept calls.
if the volume is too high, why don't they turn it down? :D

I'm just wondering if i'd have better luck at a store.

Maybe Apple will give something to the customers who had a very difficult time pre-ordering. I'm not sure how but when the mobileme relaunched the new interface they gave everyone 6 months free

Just received my order confirmation...now the waiting game begins

has anyone ordered from apple store please advise

Yes I did my order went in with no problems, I was able to get mine into a cart and add the dock as well then it timed out. I tried again and it was still in the cart so check out was a breeze

Tried to order from AT&T premier.......got to the last step to click checkout and it timed out. I'll be waiting for apple to get back up and going.

i been trying but its been apple been down for hours

Anybody know if Apple will also provide you with a MicroSIM, or is this something I should order through AT&T?

As of 6:45 am PST, apple.com wasn't working, so I preordered from AT&T. Only drawback is you can't pick up that day. It comes by mail.

Anyone know why I can't get an iPhone for an existing secondary line shipped to me? It will only let me pick it up in store. Any ideas to get around that would be appreciated.

10:10 AM EDT iPhone 4 pre-order is DOWN

My preorder at Apple finally went thru around 9:05 am EST after having about 30 minutes of trouble on the Apple Store site. I was afraid I would get the Ooops page after entering my credit card info, but once I was able to get that far into it everything worked fine. Got my Apple Store Order Number and it shows up when I check Order Status, so I feel good now.

I've been trying for about an hour to get through on the AT&T site and it keeps saying there is an error processing my request.

I am not happy about no white IP4s being available. What is up with that?

The Apple thru-out to the AT&T server is making it impossible for anyone to pre-order.... everything just times-out.

I have been unsuccessfully trying since 4am CST! I have tried both Apple and ATT. On Apple I usually get stuck on the spinning wheel, but one time I got through all the options then it told me it couldn't finish my request and I needed to go to an Apple store to have someone complete my order. On ATT, when I get through to the upgrade section, the iPhone 4 is not an option (only earlier models), but sometimes I don't even get to the upgrade and get an error message that says to call. But when you call they tell you iPhone upgrades cannot be placed over the phone!
So frustrating! Has anyone ordered 2 phones from Apple (on a family plan)? I am trying to get one for me and one for my husband and am afraid it will make me order 2 separate voice plans for the 2 orders...

Has anyone processed a pre-order in the last hour? I cant seem to get past the upgrade eligibility check on att or apple, it just hangs.

@Erik.. nope, I been trying since 5AM EST and right now it's getting stuck again at Processing Info just like it was the 1st time I tried this morning

Beat buy is taking pre order on white.

My debit card has been charged about 30min after the pre-order. Looks like everything is a success.

I just got through, on ATT.com and it was in my cart, so I tried apple and then I got through there too. I have successfully pre-ordered through apple! Hang in there everyone.

Nobody has been able to answer - should preordering be done through AT&T since my current iPhone 3G has a regular SIM, and the iPhone 4 requires a MicroSIM?

Just came back from best buy with a 50 deposit they are taking pre orders and they have the white also. I am in NY

ugh.. I have it in my cart on at&t premier, but I can't check out. I get to the features screen and I when i click skip, or add to cart, it thinks for a second and just reloads this screen.

"Online access for Wireless and U-verse accounts is temporarily unavailable"

Got a preorder at Best Buy in Hialeah Fl at 10 this morning. They offered white as an option

Has anyone gotten their email conformation yes from Apple, if you pre-ordered and had it sent to the store for pick up that is. I picked this option as I'd want to purchase a case/bumper with it as well.

@ designjockey I went to the one in westbury long island

Just pre-ordered at the local AT&T store. The guy said it would ship on the 24th and should be the sometime on the 25th? WTH?!? Didn't realize what he had said until after I left. Pre-orders have to wait longer than day 1 walk-ins? Hoping he was mistaken.

Preordered my 32gb White @Bestbuy in Edwardsville IL. I asked if the white was going to be available on launch and the guy said yes. $50 gift card to preorder then pick a time to come in and p/u.

Just pre-ordered at local ATT Store. Systems were down, everything done by hand including impression of my credit card and phoning in to see if it was good. Contract filled out with name and signature only. Quite interesting in our technologically advanced world!

@J$ you got screwed sir. The white isn't coming til later this summer.

I finally got all steps complete on the AT&T Premier website (after getting mostly there before systems timed out all morning). Strange thing, I had to prepay for my dataplan even though I am making no change to my plan. Is this happening for those successfully making it through the Apple website pre-order process?

Just ordered mine through Best Buy. He asked me if I wanted white, but I said no as this has SNAFU potential so I got black instead. He said that there was an email sent to Best Buy regarding the white phone, but he didn't tell me. I'm number 8 in line for the phone. Wish me luck.

Preordered mine through AT&T Premier website around 6 this morning. Had no problems at all. Although, it stated the funds needed to be available on the day it ships or the order will be canceled yet they immediately charged my card.

Beware! I couldn't get through to the apple website, so I tried at&t and was able to get though. I had many bad experiences with at&t and I don't trust them, so I didn't go through with the pre-order. Later, I finally got through with the Apple website, and I didn't qualify and they wanted $700 for an iPhone. I do qualify, and at&t said I qualified, but since I went through the process but didn't order the phone with at&t, they told Apple I don't qualify even though I haven't bought a phone in 2 years!

I was having problems ordering on the website all day long.
I decided I would try out Apple's new App Store Apple Store app, whatever you want to call it..... Using their new app took a whole 3 minutes to reserve my phone. This morning I spent over 3 hours trying to reserver it on apple.com

I finally gave up and went to the Apple store at 8:30pm EST after trying since 5:00am EST. The rep said it's the same thing at the store but he said I was welcome to try there... so my buddy and myself gave it a try... we tried a few times but both of us got through and placed our orders!... good luck to u guys !

I tried to preorder right at 2am MST. Every time it would say it is checking on my contract status at AT&T it would time out or just go on forever. Instead I just selected "add another phone" to my service. It then said that I would have to go into the store to get this activated. It did let me reserve an iPhone for the 24th however. With the discounted price. What a mess that was.

I really don't agree with this post. However, I had looked in Yahoo and I have found out that you are correct and I had been thinking in the improper way. Continue creating high quality material such as this.

Daniel, after calling someone out regarding Spell Check, you should have ensured your own article was error-free. lol
Get the best of iMore in in your inbox, every day!
Thank you for signing up to iMore. You will receive a verification email shortly.
There was a problem. Please refresh the page and try again.