Put a white iPhone 4 on your tree this Christmas!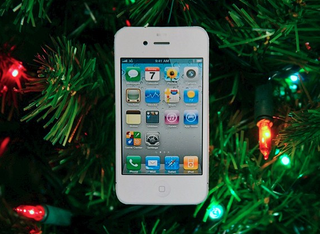 Since we won't see the white iPhone 4 until Spring 2011 (Leanna aside!), Etsy has created a miniature white iPhone 4 you can use to adorn your Christmas tree with! So if you're a white iPhone 4 fan and simply can't wait to have some kind of white iPhone under (or on) your tree, be sure to check these out. After Christmas is over, you can use the included magnet to turn your ornament into a fridge magnet!
Keep in mind that supplies are extremely limited so make sure you get your order in before they're all gone!
[iPhoneDownloadBlog, (http://www.etsy.com/listing/64122880/white-iphone-4-christmas-ornaments)]
iMore senior editor from 2011 to 2015.
I thought it was cool, so I bought it and sent it to my parents house to put on the tree for me.. Better than another 25 dollar ESPN one from hallmark.

As I was adding to my cart all 3 sold out. Hope there will be more.

If you buy this.....you are so dumb! For real!

So pathetic in so many ways.

@Timbo You are dumb. You are really dumb. Forreal. Haha that video.

I was interested until I read that it's cardboard with a printed picture put onto the cardboard.
I'll make my own if I want and save some money.

LOL, I thought it was real as well. Can't wait to get my hands on the real one.

I hope they don't bring the whit 4g out as there only 2011 release! I want a 4gs at least :/ this sucks

Are they still available ?

I actually got one of these stuck in some predecorated Chinese made trees that I bought this year since I was away from home. It looks almost the same. Cheapest tree I ever had.
Get the best of iMore in in your inbox, every day!
Thank you for signing up to iMore. You will receive a verification email shortly.
There was a problem. Please refresh the page and try again.