Retro classic Double Dragon Trilogy now available for iPhone and iPad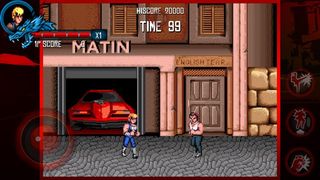 Time to take a trip back to 1987 today as Dot Emu has brought retro classic Double Dragon to the iPhone and iPad. Better still, they've brought the whole trilogy to the App Store under one roof as the Double Dragon Trilogy. Time to get your punch and kick on!
With two game modes, three difficulty settings, an 8-bit soundtrack and forthcoming support for MFi game controllers, Double Dragon Trilogy might find itself dropkicking its way onto many an iOS gamers shopping list. All this retro goodness can be yours for just $2.99. No quarters required this time around.
So hands up, who's buying this?
Get the best of iMore in in your inbox, every day!
Oh, man... What a blast from the past!
I lost so much time to this game.
... Gotta add this one to the collection. Thanks for the tip, Richard. Sent from the iMore App

river city ransom was better but this is still great

Hell yes! I used to love this back in the day. Can't wait to download it Sent from the iMore App

I'm in. I used to love this game. I wish someone would port Streets of Rage. Last time I checked, and this was years ago. It was going for $20. But for nostalgia's sake, I will make a purchase.

I hope my iPod Touch won't ask me for tokens whenever I ran out of lives. Sent from the iMore App

Wow! That is truly an old school game. Sent from the iMore App

It says Bluetooth controllers, does that mean i can use my PS3 controller? If so, take my money now!!!

iMore... Get as a review of controls in this game, I'm afraid it could be complicated to use and enjoy. Thx Sent from the iMore App
Thank you for signing up to iMore. You will receive a verification email shortly.
There was a problem. Please refresh the page and try again.