Audioengine B2 review: Premium Bluetooth sound from compact speaker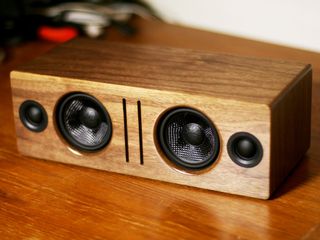 Audioengine's wired speaker systems and digital to analog converters (DACs) have distinguished them among computing audio mavens looking for excellent sound quality without spending ridiculous amounts of money. The B2 is the company's wireless Bluetooth speaker system: It packs big sound into a compact package that won't break the bank.
Audioengine's focus on quality is apparent when you first open the box: The power cable, an auxiliary audio cable, and the speaker itself are all shrouded in luxurious microfiber bags to help protect them from getting scratched.
Out of the box, the B2 measures about a foot wide, four inches high and 5.25 inches deep, and weighs about 10 pounds. Audioengine hasn't skimped on the construction: The hand-built wood cabinet is available in walnut, zebrawood or black ash. The walnut finish of my review unit looks elegant and sophisticated. A gray grill is held in place with magnets; I personally prefer how the speakers look without the grill, but your mileage may vary.
As soon as you've paired the Audioengine B2 with your Bluetooth source — your Mac, iPhone, iPad or any other Bluetooth device — music starts streaming forth. An antenna on the back of the B2 helps to maintain a steady connection with no dropouts for up to 100 feet away. There's also a master volume knob, which I left in the middle position for my testing.
The B2 is compatible with any Bluetooth source and it supports Bluetooth 4, so it'll sound great when paired with either old or new Macs and iOS devices. It also supports an audio codec called aptX; it isn't currently supported on iOS, but does work on some other mobile devices. Don't worry about codecs too much, though: You'll find that the B2 sounds great on Apple devices regardless.
A 30 W per channel amp (60 W total) is connected to two 2.75-inch Kevlar woofers and two 3/4-inch silk dome tweeters. The speaker array is bisected by a couple of long ports. It's powerful for a little desktop speaker: Even with the B2 set at half-volume, as I did during my test, it cranked loud enough that I had to yell to be heard by someone in the same room.
Overall, the B2 offers a clean, flat response. It's not bass-heavy, though the vertical ports provide a little bit of bass resonance that helps add a bit of meat to the sound. If you're looking for a lot of bass-heavy reproduction — I hear that's what the kids like nowadays — you'll probably be a bit disappointed. There's no DSP trickery in here, just clean reproduction. Like many small speaker systems I've tested, I find the B2s push mids more than anything. Bass will distort when it gets too heavy or too loud.
I mentioned an auxiliary mini-jack audio cable at the outset; that's for connecting devices that don't work over Bluetooth, so if you have an old CD player or a less-sophisticated digital music player you'd like to connect, you're in luck: There's an open mini-jack input on the back to accommodate you.
The B2 may be wireless in name, but it's not entirely wire-free — and it's too heavy to be a portable speaker, anyway. This isn't a battery-powered gadget: It sports an AC cable to connect to a wall outlet, so it's ready to sit on your desk or bookshelf. The solid construction helps the speaker perform at louder volumes without distortion
Other speakers in the same price range include Bose's SoundLink III and Sonos's Play 3. While their features are different (the SoundLink sports a battery and is portable; the Play 3 is part of Sonos' whole-house music system), I fully expect the B2 to come out ahead in the sound department.
Still, $299 is a fair investment for most of us to make in audio gear for our Macs and iPhones. Audioengine's tried to take the sting out of it a little bit by offering an "audition" — if you buy the B2 directly from them, you have 30 days to return it if it doesn't live up to your expectations.
The good
Elegant, sophisticated cabinetry and compact design
Balanced playback with bright mid and treble reproduction
Can play quite loud
The bad
Not the speaker for bass fiends
The bottom line
The B2 is easily one of the best-sounding speakers I've tested in this price range. If you're looking for a Bluetooth audio system for your home or office, the B2 is definitely worth consideration.
Did you say Bose Sound Dock 10 with Bluetooth??, that is the bomb! Sent from the iMore App

I got the Thodio iBox XC from my wife for my birthday last month, totally blown away by it, 200 watts, 51 hour battery, HD Bluetooth, o and did I mention it's built out of 0.7" solid hard woods? Audioengine has something to work on...
Thank you for signing up to iMore. You will receive a verification email shortly.
There was a problem. Please refresh the page and try again.