Husqvarna Automower 315X vs. Robomow RC 304: Which one should you buy?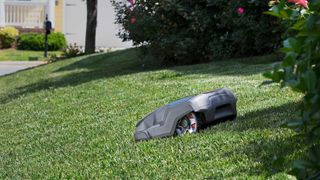 King of the lawn

The Automower 315X can handle just about anything your lawn can throw at it and you can control it with your smartphone. While certainly not the cheapest in the field, it's definitely worth the extra money.
For
Good battery life
Handles almost any lawn
Weatherproof
Better smartphone control
Against
Setup can be a pain
Pricey
Best for a budget

At half the price of the 315X, the Robomow RC 304 is a great option if you're on a budget. It's a versatile little mower but keep in mind that it comes with some compromises.
For
More control options
Edge mode
Anti-theft mode
Against
Bluetooth remote control only
Much smaller lawn coverage
First, we built robots to clean our floors; now we've got them mowing our lawns. As technology keeps advancing at a rapid pace, more and more of those undesirable household chores are being done by robots, freeing up us humans to do more of what we humans like to do, sit around and do nothing.
In all seriousness, it's quite impressive to see the technology we have to help keep our homes clean. Both Husqvarna and Robomow have built compelling products for those of us who don't necessarily enjoy keeping our lawn groomed. While Robomow was one of the frontrunners here in the U.S., Husqvarna has used its considerable experience and resources to bring its own robotic mower to American shores. While both great products, one of them is a better buy than the other.
Let's get started
The first thing you need to know is that neither of these mowers is a just plug-and-go operation. There is a good deal of setup required on your part to get them up and running and the same steps apply to both.
First, you'll need to give your lawn one final mow on your own so the mower can have a clean base to start from. Secondly, there will be a lot of barrier wire included with your mower that you will need to stake down at the perimeter of your yard. This essentially acts as a virtual wall to keep your mower in the yard and on track with your mowing. The grass will quickly grow over the wire so it won't be just sitting there like your Christmas lights for all the world to see.
Lastly, you'll need to set up the base station for the mower somewhere in your yard and allow it 24 hours to charge before you set it loose.
Swipe to scroll horizontally
| Header Cell - Column 0 | Husqvarna Automower 315X | Robomow RC 304 |
| --- | --- | --- |
| Size | 25 x 20 x 10 in | 24 x 18 x 8 in |
| Weight | 39 lbs | 25 lbs |
| Cut time | 70 min | 50 min |
| Charge time | 60 min | 60 min |
| GPS navigation | Yes | No |
| Lawn size | .40 acre | .10 acre |
| Slopes | 22 degree | 20 degree |
| Battery | 18V | 26V |
| Price | $2,000 | $1,000 |
How it works
If you were to say that robotic mowers were essentially Roombas for your lawn, you wouldn't be wrong. Both are robots that will intelligently and regularly cut your grass/clean your floors so you can forget about it, and they work very much the same way. Once it gets going, it will, seemingly randomly, make its way back and forth across your lawn and cut the grass at the exact height you have set for it to cut at.
Husqvarna has packed quite a bit of functionality into its little robot. It will definitely cut your lawn but it also has sensors in it to detect if the grass is a bit uneven and will begin to cut in a circle to even out the specific area of the lawn that needs help. You can even activate this mode manually if you have an area of the lawn that is hard to reach or is covered by furniture. You can move the furniture then activate Spot cutting mode and it will clean it right up.
The 315X also has a step up on the Robomow model because it can simply cut more grass. Husqvarna has built their mower to be able to handle lawns of up to 0.4 acres of grass, which will easily cover the majority of lawns. Not only can it handle larger lawns, but it can also handle any weather. This little mower can operate in rain or shine, which is better than I can say for myself. Husqvarna is a Swedish company that built its robot to withstand harsh Nordic, conditions so those of us in the States have nothing to worry about.
Robomow has also built a pretty compelling little mower and it's worth a serious look if you're on a budget. Designed to take on yards of up to 0.10 acres, this mower has a neat Edge mode which cuts precisely along the edges of your yard to help significantly reduce the amount of string trimming you need to do. With 45 minutes of mow time as well, it should be able to mow most lawns in one go.
You may notice that there's no bag attached to either of these devices. Neither one will bag the clippings, but that's not an issue. These mowers are designed to cut much more frequently than push mowers so when they mow, the clippings are small and unnoticeable and will actually act as a fertilizer to help keep your lawn healthier. In a sense, you're working less for a better lawn. That's a no-brainer!
There are a few other features you should be aware of. Both have an anti-theft system that will sound a loud alarm if lifted off the grass. Simply input your pin code to resume operation. Also, while not weatherproof, the Robomow will detect if rain is falling and stop mowing until it stops to avoid cutting the wet grass. Both mowers also have safety measures to prevent them from harming humans or pets. When they hit something solid they will simply stop the blades and the motor, then start off in a new direction. Lastly, Husqvarna offers the option to set up different yard profiles on the mower so if you have multiple properties, you can use one mower to cut them all.
Keep it connected
Everyone likes to be well connected and now your lawn mower can be just as connected as you are. Both companies have built solid smartphone apps to accompany their mowers and they each have some unique functionality to enhance your robot.
Husqvarna gives you typical start/stop control but also allows you to adjust the cutting height right from your phone. With both apps, you can schedule times to mow, check on the status of your bot, and send it back to its charging stand if it needs a top up. Robomow gives you the option to take direct control and drive the mower if you need to get a tough spot.
The biggest advantage Husqvarna has over Robomow in its app is that it connects via cellular data as opposed to Bluetooth, so you can access and control the mower from anywhere. The Robomow app only works via Bluetooth so you need to be within range of the mower. This may not be a deal breaker for some, but it can be kind of annoying, especially if you want to control your mower while you're away.
The choice is easy
Robots and technology are all supposed to make our lives easier and for anyone who has to mow their lawn on what seems like every day during the summer, robotic lawn mowers can be a lifesaver. When it comes down to choosing between the Husqvarna Automower 315X and the Robomow RC 304, for me the easy choice is Husqvarna. Yes, it is twice the price but honestly it delivers a greater value with features that Robomow just doesn't have. When you're looking at a product to use for years to come, it's worth the investment for sure.
However, if you're on a budget and don't need the extra features, the Robomow will get the job done.
King of the lawn
The simple choice

The Automower 315X can handle almost any lawn, almost any weather conditions, and it has a great app to keep you in control. It's definitely the go-to option for smarter lawn care.
Best for a budget
The RC 304 is still a solid mower but comes with some compromises. If you don't need extra functionality or you've got a smaller lawn that doesn't need as much love, this is the guy for you.
Master your iPhone in minutes
iMore offers spot-on advice and guidance from our team of experts, with decades of Apple device experience to lean on. Learn more with iMore!