Shake for iPhone lets you create, sign, and send contracts in just minutes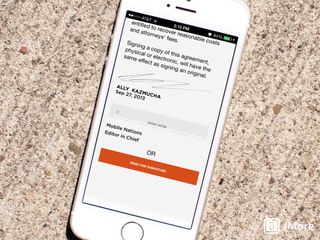 Shake for iPhone can't replace your attorney but it can save you some money by letting you draft up basic agreements and contracts in just a few taps. Whether you're buying and selling or doing freelance work for someone, Shake has the most common types of contracts covered.
If you've ever had a need to create a statement of work, purchase agreement, rental contract, or any other kind of legal document, you probably already know that you either need to purchase them in most instances or pay an attorney to draft them up. Freelancers and self employed individuals have a high need to create these kinds of contracts between themselves and their clients regularly. Shake is perfect for these kinds of instances.
You can get started with Shake by simply selecting the type of document you want to create. The basic options shake covers include NDAs (non-disclosure agreements), purchase agreements where you are either the buyer or seller, freelance work, and more. You can also specify the state in which you reside so Shake can pull in any special state specific constraints.
The freelance section of Shake even covers specific types of freelance work such as photography, writing, graphic design, and general templates. I went through the writing template as that's what I am most familiar with and found many of the questions reasonable and what you'd find in a typical freelance writing agreement. Many of the photography questions seems on par as well.
Finishing a contract in Shake can be done in one of two ways. Either both parties can be present and sign their names and agree on your iPhone or you can email the document to them. They will receive the document as well as a link to download Shake if they don't already have it installed.
While you should always consult with an attorney before making any decisions you are unsure about, Shake is a great option for freelancers or anyone who just wants a legally binding document for their own peace of mind. For the price of free, it never hurts to have things in writing for everyone's protection and to make sure both parties understand their roles. Most of the freelance and contract apps I've found are either expensive or charge per document you generate. I was pleasantly surprised to see this wasn't the case with Shake.
If you've tried Shake out, let us know what you think of it in the comments!
Get the best of iMore in your inbox, every day!
iMore senior editor from 2011 to 2015.
You find some kool stuff Ally!

Glad you find some good stuff from us :)

I found the UI kind of frustrating. Pretty on the surface but awkward to actually make and manage documents.

Love this app and the review and I have had times I could have used something like this. Now it rests on one of the panels of my iPhone, Thank you Ally