SimpliSafe's Award-Winning Smart Home Security System Is Now 10% Off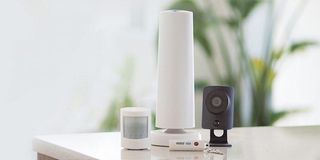 SimpliSafe is one of the front-runners in this up-and-coming industry for good reason, delivering clever wireless sensors and 24/7 professional monitoring.
Designed by a Harvard grad, this innovative platform has several advantages over traditional home security systems. For one, SimpliSafe is much cheaper than ADT or Vivint. Flexible contracts allow you to pay only for what you need for as long as need, without signing your life away to a longterm contract. Perhaps best of all, SimpliSafe is remarkably easy to install. You don't even need a fixed phone line, let alone an engineer to get your home security up and running.
If you've considered investing in a home security system, you'll want to take advantage of their current offer of 10% off. To help you decide whether to take the plunge, here's a closer look at the system.
Smart Hardware
The SimpliSafe system is based around a single base station. Standing 10.5 inches tall, this elegant piece of equipment acts like a specialized router for your security sensors. With a wireless range of 400 feet, it can be placed in pretty much any central location.
Next, you can choose different sensors and accessories that connect to the base station wirelessly. Each performs a specific role, and you can purchase exactly what you need based on the specifics of your home and your home only. You can connect up to 41 sensors to the base station, which should be enough to cover even the largest properties. Moving to a smaller home? You can still pack up your equipment and easily reassemble in your digs.
Base Kit
Every SimpliSafe system comes with three main components: the base station, a wireless keypad, and a keychain remote.
With many alarm systems, a burglar can break the system by simply smashing the keypad as they enter. SimpliSafe has solved this problem by storing the brains somewhere else — namely, the base station. As a result, this keypad is easy to install and replace.
The self-adhesive back sticks onto any surface, and the keypad runs on four AA batteries that last 8-12 months. You can even add extra keypads to each door; the only restriction is that they need to be within 100 feet of the base station. Each keypad is also equipped with a panic button, which you can press if you need to call for help.
The keychain remote, alternatively, acts just like your car key. Instead of tapping in your security code, you simply hit the "off" button on the tiny controller—or the panic button in case of emergencies.
Sensory Perception
Aside from the basic kit, you can mix and match what sensors you need based on several pre-made packages or a custom setup. Should you choose the latter option, you can purchase sensors one by one. * Entry sensors: are the cheapest, at $14.99 each. If anyone tries to open any door or window without your permission, these sensors will raise the alarm. * Glassbreak sensors: will detect any broken windows within 20 feet. * Motion sensors: even if someone does get inside your home, they won't get past these sensors. You can place them at strategic points around your home, and they will detect anyone who comes within 30 feet. They are smart enough to ignore smaller pets.
Should any of these sensors detect an intruder, the built-in 85dB alarm will wake the neighborhood. The message will also be relayed to your phone and SimpliSafe's 24/7 security center. If necessary, the operatives there will alert the feds.
Video Evidence
While the sensors do a great job of looking after your home, there is nothing quite like checking for yourself. The SimpliCam smart security camera lets you do just that.
As with the sensors, this tiny camera connects wirelessly to the base station. The front lens captures a 120-degree field of view, while the adjustable base lets you find the perfect angle. With live HD streaming including audio, you can watch over your home from anywhere in the world. The SimpliSafe app works on Android and iPhone, and end-to-end AES encryption provides good security.
The video quality is impressive, and this camera uses smart algorithms to detect a human presence. Whenever this happens, the footage is saved straight to the cloud so you can scroll through the clips, like your own security highlight reel.
The privacy-conscious will also approve of this camera — the shutter only opens with your permission.
Total Coverage
Aside from human threats, SimpliSafe looks out for other problems that could occur in your home.
For instance, the water sensor knows when your house is starting to flood, and the smoke sensor detects fires. Meanwhile, folks who live up north can install the freeze sensor to be alerted when the temperature drops to pipe-cracking levels.
In fact, SimpliSafe keeps watch over your family when you are home. The carbon monoxide sensor will detect dangerous yet odorless gas and give you time to escape. That could genuinely save lives.
Easy Management
Managing your SimpliSafe system is pretty straightforward with the interactive plan. The mobile app acts like a pocket command center, providing quick access to all the settings. You can access the same options by logging in to the web interface.
What are those options, exactly? Well, you can check on the status of your entire system, switch on/off sensors individually, and set different responses to sensed threats. For example, you can enable the audible alarm on your entry sensors or set the temperature at which you want the freeze sensor to trigger.
There are many further tweaks you can make to the system, from the volume of the alarm to the hours of operation.
Flexible Offers
SimpliSafe offers a comprehensive home security solutions at an incredibly good value: the base kit is just $185, and you can build a package to suit your needs. Standard monitoring is just $14.99 per month, and you can upgrade to the interactive plan for $24.99 per month. There are no long-term contracts, and you can switch between the plans at any time.
Remember that everything you order from SimpliSafe has 10% off for this month only. Hit the link below to get started.
Get more iMore in your inbox!
Our news, reviews, opinions, and easy to follow guides can turn any iPhone owner into an Apple aficionado
Pop culture geek, hopelessly addicted to streaming movies, tv shows, and podcasts. Would be lost in life without unlimited data.