Smoking and glowing iPhone 4 found on a plane had been badly repaired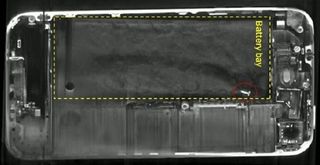 An iPhone 4 that began smoking and glowing on a passenger flight has been found to have been badly repaired. Thankfully, when the incident took place, the plane had already landed at Sydney airport and airline staff managed to deal with the alarming discovery. The ATSB (Australian Transport Safety Bureau) has now carried out a full investigation and discovered that the iPhone 4 had been tampered with.
This was a very small incident however it could have turned into something much worse. The CASA (Civil Aviation Safety Authority) recommends that devices like this should always be carried in the cabin and never stored in the checked-in baggage.
Source: ATSB
UK editor at iMore, mobile technology lover and air conditioning design engineer.
What's even scarier is that this story is 2-3 days old and just now TIPB is running it.
Seriously, you guys are behind the times as of late. You're running stories that other sites have run days prior. WTF?... Over.

I am calm, but that doesn't change the fact that TIPB is behind on news. Seems they've always been a bit like this and I don't know why... short of it being an employee/editor problem. The idea behind news feeds it to be on time or don't do it at all. If they're 2 days late on everything they run, what's the point behind having a news feed when it's no longer news.

What are you a moron? This isn't CNN. It's a blog run by a handful of people that like to write interesting articles. Get over it!

Check out this site too, more frequently updated with dates, trailers and reviews – http://r5release.blogspot.co.uk/

thats why people dont like non removable batteries

Yeah, because devices with removable batteries have never overheated or started fires...

Sony and HP, among others, might (not) beg to differ.

Unless you have some electronic knowledge, never try a repair.
As far as this blog, it is run by very dedicated people that have a great amout of things to pass on to us, but it is not their full time job. They are not perfect, but really try to make this a site worth coming to, and reading.

Turbo Scanner
Description
Scan, Print, Fax, Download and Store Microsoft Office & PDF Documents.
This app turns your iPhone or iPad into a Handy Scanner, Fax, File Storage or an Air Printer in your pocket. It lets you scan high quality multi-page documents, print it to any AirPrint capable printer in your wifi network, email it or save it to a document folder on your device, post it to Google Docs or fax it to any fax number, directly from your iPhone, iPad or iPod Touch.
A highly useful app designed for individual or businesses use.
Download link:http://itunes.apple.com/us/app/turbo-scanner/id500454237?mt=8
Get the best of iMore in in your inbox, every day!
Thank you for signing up to iMore. You will receive a verification email shortly.
There was a problem. Please refresh the page and try again.