Snapchat > Instagram Stories: Why people still prefer Snapping over Insta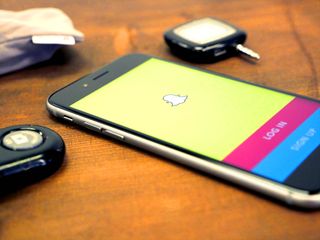 (Image credit: iMore)
When Instagram rolled out its Stories format earlier this year, people were quick to do a Jim-from-the-Office reaction into an imaginary camera so as to say, "... Seriously, Instagram? You serious with this stuff?"
It was obvious that Instagram was trying to copy Snapchat's 24-hour, dissapearing content model with less of the trimmings — Instagram Stories has about a fraction of the face filter variety and you can't see friends' locations on digital maps, you can't get screenshot notifications, and you can't view topical news content in just a few swipes.
So when Stories first launched, people ironically used the feature to advertise their Snapchat usernames and accounts, but since its initial appearance on the app, how are IG Stories doing now? Are they close to beating Snap? Are they falling by the wayside?
I mean, if you look at it, Instagram is much bigger than Snapchat, with more than 400 million daily users worldwide, while Snapchat only sees traffic of around 173 million, but would you be surprised if I said Snapchat is still the most popular strictly mobile social media app amongst the key target demographic of social media developers (18-24)?
Well, it seems like no matter what Instagram does, Snapchat's got it beat.
This news comes just a couple of days after an eMarketer report that mentioned both apps' massive success using visual content to communicate, but that Snapchat will overtake Facebook and Instagram as the most popular app by the end of the year amongst 12 to 17 year olds, as well as 18 to 24 year olds.
So what about classic social media apps like YouTube and Facebook? Who uses those? Typically people between the ages of 25 to 54, with people 55+ dropping YouTube off their top 3 picks in lieu of Facebook, Google Search, and Facebook Messenger.
Regardless about how you feel about young people and the internet and Snapchat taking over, it's worth noting that Facebook is still the most popular app to download across North America (for those over the age of 18) with nearly 81% of mobile phone users downloading and using the app.
So why do people prefer Snapchat over Instagram? It can be hard to pinpoint, but maybe it's because there are more options to be creative, more chances to communicate, and it kind of seems silly to bounce from one format on one app that's identical to another format on another app where that format hasn't ever really changed in the history of that app.
TDLR; Why fix what ain't broke? Why IG Story when you've been Snapping this whole time?
What do you think? Sound off in the comments below!
Master your iPhone in minutes
iMore offers spot-on advice and guidance from our team of experts, with decades of Apple device experience to lean on. Learn more with iMore!
Cella writes for iMore on social and photography. She's a true crime enthusiast, bestselling horror author, lipstick collector, buzzkill, and Sicilian. Follow her on Twitter and Instagram: @hellorousseau