Speck Smartshell for MacBook Pro review: Protects your laptop, looks great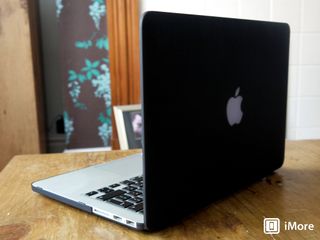 (Image credit: iMore)
You spend all that money on a shiny new MacBook Pro, but what about taking care of it when you take it out of the box? A clip-on case for a laptop is not something I've personally ever considered before, but since all manner of gadgets and gizmos go into my gear bag along with my MacBook Pro Retina, I'm terrified that one of these days something's going to dig a scratch into that gorgeous Aluminum body. And, since I already carry it in my gear bag, a sleeve or full on laptop carry bag didn't seem appropriate. The Speck SmartShell however, did.
It isn't the lowest priced accessory in the world at $49.95 for regular MacBook Pro and Retina versions, and for your money you essentially get something that resembles a smartphone case, but much, much bigger. The SmartShell comes in two pieces that individually clip to your MacBook Pro; one for the base and one for the lid. The piece for the base has all the necessary cut-outs to access the various ports on the sides, and one at the front where you lift the lid. It also comes with some rather large, and rather grippy feet that do a much better job of preventing the MacBook sliding around than the stock feet do. The SmartShell is so thin too, that it adds almost nothing in the way of bulk to your MacBook.
It's the same simple, clip-on affair for the lid too. Just line it up and snap it into place. The neat thing about the lid is that it's ever so slightly translucent, so you're not covering up the glowing Apple logo when the lid is open. That said, when closed it isn't immediately noticeable as a MacBook, another element I'm quite fond of. Close the lid and it looks more like a run-of-the-mill plastic laptop. Much less desirable to wannabe miscreants.
The good
Thin enough not to add unwanted bulk
Tough enough to prevent scratches to your precious MacBook
Doesn't hide that beautiful, glowing Apple
The bad
At $50 it's easy to pass it by
The bottom line
Yes, at $50 it isn't the cheapest accessory in the world, but can you really put a price on protecting your precious MacBook? The SmartShell looks good, adds practically zero extra bulk, and keeps all those nasty scratches away. And it looks pretty swell too. Regular MacBook Pro owners needn't feel left out either, because you can get one to fit your laptop too. It's even available in a selection of different, and wilder colors than black, should you be in for that sort of thing.
$49.95 - Buy Now

(opens in new tab)
I've been using a Speck Smartshell on my retina MacBook Pro for the past several months. Works great and has protected it from a few nasty dings. Added bonus: I've covered it with stickers instead of my MacBook case.

Really like mine as well, and a primary reason I have it is because of how slippery the MacBook can seem. No effect on the lid or closing, and the vents are not restricted whatsoever. However, I have occasionally had an oversized thunderbolt connector that needed a little help seating all the way in to the port (easy to slightly deflect the shell), but this is rare.

One issue I have with these cases are the rubber pegs they have on the inside that prevent the case from scratching the MBP. They tend to melt a little and the goo gets stuck to your MBP. I've seen this happen with both the Speck and Incase brand cases.

This is the best accessory I have purchased for my Macbook Pro. I have the clear speck and it's great. It keeps all the scratches and debri off my Mac, great buy, fits perfectly.

I got this case in June of 2015 before I even went to college say...July one of the corners had chipped off shortly into college the other corner chipped off the bottom so you know how there is a piece connecting the two parts that's GONE. It has multiple cracks in it and it gets very dusty underneath. As there is no air vent my Mac gets hot often. There are these black marks on the bottom I am positive were not there before this case. I hate the plastic feel it is slippery. Don't get this case unless you only want it to last about a month
Thank you for signing up to iMore. You will receive a verification email shortly.
There was a problem. Please refresh the page and try again.