Steve Jobs rumored to have worked closely on iPhone 5 redesign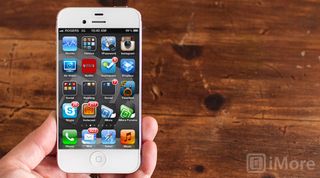 According to the latest rumor, Apple's co-founder, Steve Jobs, worked one the next generation iPhone 5 design prior to his passing last October. Bloomberg claims 3 sources familiar with the matter say there will be a redesign, 1 claims the redesign will involve a bigger screen, and 1 claims the redesign involved Steve Jobs.
iMore previously heard that Apple had implemented a smaller micro-dock for the next generation iPhone but hadn't yet decided on a new screen size or aspect ratio. Yesterday the Wall Street Journal and Reuters claimed Apple had settled on a 4 inch screen size.
We went through a wide range of possible 4-inch iPhone variations, how Apple could implement each of them, what advantages each would bring, and what problems each would bring with them.
Given Steve Jobs' passion for Apple and involvement with the product roadmap, it's not hard to believe he would have kept himself involved in future projects even years out. Depending on the manufacturing and performance realities at the time of production, we could be seeing bits and pieces of Jobs ideas for a good long while still.
Whether or not it's ultimately true, it's reassuring to people who place stock in the "Steve Jobs was Apple" story. Regardless, Jobs created the best team in the business and with Scott Forstall running software, Bob Mansfield running hardware, and Jony Ive running design, it's more than likely we have nothing to worry about.
Given the spate of iPhone 5 rumors recently, however, one thing is clear -- Apple is starting to get things in place for the product ramp up. As we get closer to the expected fall release, more and more decisions will get made, parts will be ordered, factories will be set up, and units will begin to be produced.
Until then, all we can do is enjoy the pre-game show.
Get the best of iMore in your inbox, every day!
Rene Ritchie is one of the most respected Apple analysts in the business, reaching a combined audience of over 40 million readers a month. His YouTube channel, Vector, has over 90 thousand subscribers and 14 million views and his podcasts, including Debug, have been downloaded over 20 million times. He also regularly co-hosts MacBreak Weekly for the TWiT network and co-hosted CES Live! and Talk Mobile. Based in Montreal, Rene is a former director of product marketing, web developer, and graphic designer. He's authored several books and appeared on numerous television and radio segments to discuss Apple and the technology industry. When not working, he likes to cook, grapple, and spend time with his friends and family.
How is this a rumor? Didn't Cook (or someone at Apple) say that Jobs left product designs for years to come?? That this "book" of designs was something he was working on for a couple of years?

sometimes you guys just made news just for make news no realıty no source and you must no braıner for just for use that words everybody know atleast 5 year plan ahead for apple by Steve Jobs thıs ıs old news. thıs ıs how work when you are succesful leader on somethıng, you must thıng ahead for lıke you people you wrıtes on iphone 5 now he wrıtes iphone 6 tımelıne when he is alive. thıs is how work and somethımes you have to respect dead people too rest ın peace you guys just made new for attentıon IF you guys serıously love MR.Jobs dont make lame news about it say it your ideas to made somethıng dıfferent say somethıng behınd the other thıng because everybody anywhere anyforum any news about tech writes 4 ınc iphone THIS is not news and you guys no respect a Steve jobs wait for movies read about book but dont make anytimes about Jobs did this jobs said this jobs talk this thıs ıs just unrespectful to someone just rest to news lıke thıs
mr.Rene dont get thıs wrong but you can free to say your ideas dont hide mr.jobs say about how to make better iphone say about cameras say about apps say about how apple make move to other tech thing like media player other somethıng whatever you already konw thıs ısnt rumor thıs ısnt news thıs ıs saying lıke mr.steve jobs saying fire is hot and you make news about "rumors "ire is hot" " ı dıdnt writes for insult anybody no bad feelıngs ı just thıs site need somethigs cool than just lame news..
when others make topic about best free apps thıs how people make something cool because you must give peole topic that can people read everyword and have fun you must give peole topic about they things and say their opinion about rumor lıke "how about multi user ipads like computers" say somethıng how many downloads need to make it to top 25" and peole thıng about thıs ıs not hard and start workıng their ideas on xcode then you can make topic about app development
thıs ıs my word no insult no bad word for anybody ı just bored with how people dont lıve alone somebody when after dead
and so sorry for my word englısh is not my native language and thanks for imore this is a good site to engaged thıngs about apple

Let me introduce you to punctuation, your friendly writing partner. When you use commas -- which look like this: , -- and periods to end sentences--they look like this: . -- your thughts are much easier to understand. Sentence structure isn't optional!

My favorite quote from his rant comes from the bottom paragraph:
"i just bored with how people just done live alone."
I agree. Too many people have roomates.

Somewhere in his message lies the encypted code to iOS 6.

If I may be bold enough to ask, what in G-d's name was that? Have you left primary yet? Or heard of grammar; perhaps at least a full stop? Commas? Semicolons?
Anyways....Yeah, this is old news; anyone, even forumiphone, could've guessed that Jobs would've left some sort of roadmap for Apple; we didn't need anyone to come out and tell us what we basically knew. Too, others have come forward, confirming the 'roadmap' left by Jobs, and that's been a while ago.

i heard he also worked on the iphone 6, 7, and even 8! And had dreamt of making an iShuttle to take people to the space station.

Yes! The true tragedy in the death of the Great and Powerful Jobs is that we'll never reach the stars on an iShuttle. Woe is us! But at least the Dear Leader was able to hand craft the iphone 5 on his deathbed. Such love he showed for us! So we know the Great and Powerfuls Jobs has truly earned the 70 fawning geeks he gets in heaven.

Worked "one", or "on"? (First paragraph.)

Wow.. These are getting as bad as 2Pac and Elvis sightings.. Sooner you guys come to terms that Steve Jobs is no longer with us, the sooner you can all start thinking for yourselves and coming up with your own "Creative" ideas.

You're truly a excellent webmaster. The site loading velocity is incredible. It kind of feels that you are doing any distinctive trick. Furthermore, The contents are masterwork. you've performed a magnificent process in this subject!