OS X Yosemite networking issues and 'discoveryd'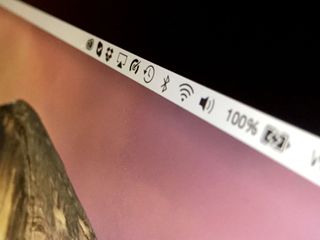 Iconfactory developer Craig Hockenberry posted to his blog about persistent problems he's run into with OS X Yosemite (warning: strong language). Hockenberry gives me some insight into a problem that has also dogged me since Yosemite was in beta last summer: Problems with Macs waking from sleep, and devices on the network being arbitrarily renamed.
Hockenberry, writing on Furbo.org
According to Hockenberry, Macs are losing network connections when waking from sleep and Apple network devices are being renamed with a number in the title, like "Apple TV (2)" or "Peter's MacBook Pro (3)."
It's been happening to me as well, so it resonated for me.
Hockenberry lays the blame for the problem at the feet of "discoveryd," a service that debuted with Yosemite and handles a bunch of networking-related functions. Prior to 10.10's launch OS X used another piece of code called mDNSResponder, which worked pretty well.
Hockenberry isn't the only one out there who says "discoveryd" is the problem. Instapaper creator Marco Arment agrees:
Apple moved to "discoveryd," in part, to enable new features like Continuity, a suite of services that lets Mac and iOS devices effortlessly communicate with one another — text messages on the iPhone are relayed to the Mac; the Mac can use the iPhone as an Internet hotspot without any configuration; email and web page information is passed between devices, and more.
Continuity has changed the way people expect their Macs and iOS devices to work, and provides a way for those devices to work better together than they can apart. It's incredibly important technology. It's also disturbingly fragile, especially given than we're now more than six months past Yosemite's initial release (and even longer since Yosemite went into the hands of developers and public beta testers).
Hockenberry learned a workaround: Shut off Apple TVs on the local network, reboot the AirPort Extreme. Hockenberry theorizes why it works:
Bonjour is Apple's implementation of zero-configuration networking, to help the Mac and peripherals just work when they're connected to a network. Hockenberry admits, however, that it's just conjecture, since Apple hasn't been forthcoming with information about the problem. Hockenberry also suggests that the Dilbert Principle may be the ultimate cause for why this problem has dragged out for so long (to wit: that someone in Apple's middle management is trying to cover their ass by obfuscating what's going on).
Marco Arment's network topology is different: He has problems with wired network connections and doesn't use Apple AirPort routers. Arment writes:
"Discoveryd" is one of the many reasons why some of us would like Apple to take a step back from pouring a lot of new features into the next releases of OS X and iOS, instead focusing on making what's already there better. There are maddening inconsistencies and broken features right now.
"Discoveryd" is a foundational technology for Yosemite, iOS 8, the Apple Watch, and everything that comes after. Apple has to get this stuff right before it expects us to start using even more new features, or before those new features introduced in Yosemite get more complicated. So I don't think this is something that's just going to persist.
But after six months, I'm wondering when a solution is finally going to get here.
Are you having these troubles with your Mac, Apple TV or other devices connected to your network? Have you noticed things are worse in Yosemite than they were in Mavericks? Sound off in the comments.
Get the best of iMore in in your inbox, every day!
YEP - The renaming thing drives me nuts and by proxy causes authentication issues. I do most of my work from my MBP but my Mac Pro with all the power stays on to do all the heavy lifting when I remote to it. There is very little about it on Apple support site so if someone is simply covering their ass, they need to be kicked in it. Twice.

I have the same problems too. Sometimes having discoveryd using 100% CPU.
It doesn't feel like Yosemite ever left beta. Continuity is hit and miss, this is while using the current top end Macbook Pro and iPhone 5S.

I've had wifi issues on three Mac minis at work. 10.10.3 fixed two of them but the third one still has a script that cron runs every 15 minutes to turn wifi off and on and force a reconnect. And *still* it'll sometimes drop off in the middle of those 15 minute time slots!

I'm having wifi issues when Bluetooth is enabled . When I disable bluetooth , wifi works again . This is very frustrating given that Bluetooth is required to use an Apple Wireless Keyboard, Magic Mouse, or Magic Trackpad, amongst other third party accessories, disabling Bluetooth is an unacceptable situation for many Mac users.

Same issues here with my iMac and Apple TV 3. Apple's upper management needs to eat their own dog food regularly and push the right belly buttons to squash this crap.

For those of you having wifi issues, I have a suggestion that worked for me on my Yosemite MBP. 'sudo ifconfig adwl0 down' in the terminal. Apparently, adwl is responsible for AirDrop and other peer-to-peer features. It is also responsible for cutting the speed of my wireless by over half, as well as random wireless drops. I went from 12Mbps with it on to well over 30Mbps. I also went from struggling for it to reconnect when waking up, to no issues at all. Since I used the command above to shut it down, my wireless has been strong and stable. So if you are experiencing wireless issues, I suggest you give the command above a try.

the correct command is 'sudo ifconfig awdl0'

'ifconfig awdl0' by itself will give you the status of the interface only. You need the 'down' or 'up' at the end (and the 'sudo' at the beginning) to change that status.

Yeah that's right but there's a typo in your interface name: it is called "awdl0". adwl0 does not exist on my machine. Anyway unfortunately this tip did not solve my wifi connections drops. I've two Airport Express stations an iMac (Mavericks) and a MBP (Yosemite) with several drops, special when playing audio over AirPlay. After switching off the %GHz-network it seemed a little better, but in the kitchen (Airport as network extender) does are on a regular basis. Very unhappy with the new Apple "style".

Hi, I'm just wondering which generation if your AirPort Express (2nd or 3rd)? I read that Yosemite is especially susceptible to interferences at 2.4GHz and I'm wondering if the 3rd generation of AirPort Express, which has a dual band function, attenuates the problem or even resolves it.

I have an iMac and 3 MacBooks that suffered from this issue. Apple was no help! I used Terminal to end and then restart discoveryd to solve the problem but within hours the problem would arise again. I could not surf the Internet with Safari but Chrome or Firefox worked just fine. I finally got so fed up with the problems that I downgraded to Mavericks on all my computers. Everything works fine now. However, is that really a solution? I am so dismayed with Apple!!

I had this issue prior to 10.10.3 since the issue has declined about 80%. The one issue that seems to recur is with my Mac Pro (2010). It will disappear from my Shared computers in the Finder.

Yup, have had the renaming issues. As well as discoveryd running out of control when I switch networks. That requires you to restart just the discoveryd process, but it's still super annoying. I notice it happening because it overheats the computer so all the fans come on.

Have the same issues. WiFi reliability has been hopeless with Yosemite with slow performance, drop outs and the renaming of macs and devices on my network with numeral suffixes. I have reduced my speed and connectivity issues by having different names for the 5ghz and 2.4ghz WiFi on the airports and avoiding using 5ghz altogether. I switched to Apple to avoid these issues but it's all far less reliable these days :-(

I had similar problems too. For me I would lose wifi connectivity. Turning it on and off would work most of the time, but sometimes I had to restart. I was also having other networking issues too. But, one of the more recent updates seems to have fixed it for me.

The numbers after computer names is a pain. I've had up twelve digits at one point on a MacBook Pro. AppleTV being number also. I also find when opening my MacBook Pro, it takes a while 10 seconds for the computer to get back on the internet. It used to be, lift lid, type login password and open Safari and all good. Now I do this and it takes the MBP about 10 seconds to finally get online. This happens at two different homes - all Apple computers, devices and Airports. I do not notice any delay on iPhones or iPads. Just computers.

No issues here. 4 Macs in our house, bunch of iPads and iPhones. Just lucky, I guess.

"Are you having these troubles with your Mac, Apple TV or other devices connected to your network? Have you noticed things are worse in Yosemite than they were in Mavericks?" Yes, and Yes.

Another victim here. Both losing connection after waking and having the number after my device. I even see my own device in Finder Sidebar which I never see before.

For me it's only Bluetooth disabling unexpectedly even when it's on and when that happens I need to reboot and instant hotspot never works. Sent from the iMore App

Definitely with the wifi issues. Drives me nuts every time I get home and have to turn off wifi, quit Mail, Safari, etc, then restart wifi TWICE to get back online.

Had issues with my rMBP every time I shut the lid and left it alone for a few hours it would not reconnect to the network without toggling the wif on and then off or rebooting it. With a family of 4 we have 15 or so wifi devices connecting to the router and only macbook has issues. After 6 months of this I had it, sold it and purchased a surface pro 3.

My mid-2011 iMac had the issue of renaming my hard drive every time it woke up or re-connected to WiFi, adding (1), (2), etc. However, I did not experience the WiFi problem. The fix for me was to turn off "wake for network access" in the Settings -> Energy panel. This completely solved the problem.

I have the same issues. Problems with wi-fi on my MBP, problems connecting to my Mac Pro from my MBP, AppleTV renaming itself with numbers, and until recently, multiple versions of the MBP showing up on the network with different numbers appended to each. While Apple may be doing great financially under Tim Cook, it is floundering from a technology standpoint. If this is allowed to continue it is only a matter of time before the shiny Apple turns rotten. As an Apple shareholder I am genuinely concerned.

No problems here at home, but I don't have an AppleTV on the same network. At work i have 200 clients without no issues as well. I have an iPhone 5S, Mac Mini 2014 model and a 2009 Macbook Pro 17" with latest software and updates. My router at home is an Asus RT-N66U with latest firmware.

This has been totally messing with our Retrospect backups. Client hostnames "change" randomly and thus Retrospect can't find them. It's been a non-stop battle.

For me, it's accountid & securityd maxing everything out. The workaround is to logout of one user and login as a different user. Seems to work, but annoying when happening daily.

I have been having 2-factor auth problems with Google lately. Initial results from shutting off my Apple-TV is positive. Will see how it behaves in the coming days. Thanks for the tip!

I've dealt with this issue as well, for months. I've also posted about it to Apple Support forums with no help from Apple. The thing that bothers me the most is that I have been told by two separate Apple Store employees when I've talked with them about it, that "People *believe* there are wireless problems with Yosemite, but in fact there are no problems with wireless in Yosemite." Basically a polite way of saying, "You're crazy." It's Apple's deceptive way of not announcing the problem, denying the problem exists, and stonewalling those who have it that bothers me the most. The reality is that as long as we keep updating our software, and rebooting our devices as well as updating our hardware from time to time, that this will all eventually go away. The fact that Apple is simply hanging back and counting on that fact, while simultaneously insulting it's customers over it, that really sticks in the craw.

"Are you having these troubles with your Mac, Apple TV or other devices connected to your network?" Nope. None. My home network is mixed WiFi and Ethernet with the following devices always connected. iMac, 2 iPhone 6's, iPad, Apple TV3, Yamaha AVR, Samsung TV, Samsung Blu-ray player, Airport Extreme base station. Bluetooth is enabled and functioning. All devices are running on the latest software/firmware releases available. Continuity works, handoff works, Bonjour works (the Yamaha AVR is access via Bonjour.) No drops, no slowdowns, no disconnects, no issues that I can identify. If discoveryd is bad news then what am I doing wrong that my home network just works?

I've had the renaming issue with our Apple TV, but no other connectivity issues with our Wifi and Bluetooth. My household runs 5 MacBooks with Yosemite, 4 iPhones, 2 iPads and the Apple TV, all connected to an Airport Extreme router with an Airport Express acting as a wired bridge to extend coverage in part of the house. Bluetooth stuff is in use everywhere. Whatever the problem is, it is not consistent across different machines.

Yeah my house hold is pretty much all apple, and every other day it's a reset of the router just to get dhcp reset, hope this gets addressed soon.

Yosemite is the buggiest OS X I've used to date.

Thanks for the feedback. I've been holding off updating for these very reasons and comments.

I've had issues with discoveryd for months. For me, it's not just that my MacBook Pro renames itself. It's also an issue with DNS after I wake from sleep. The worst part is when I move to another location. I work as an Apple Consultant for several companies in Dallas/Fort Worth. I may spend a few hours on one network, and then go to another office and join another network. If I do nothing about it, I often have to wait 2-5 minutes for DNS to recover. If I issue commands in Terminal to clear the DNS cache, the issue goes away. I have contacted AppleCare about this several times. I have an open case, and nothing has been done about it. They recently suggested that I erase, resinstall Yosemite, and then install no third party apps back onto my MacBook Pro. That's a ridiculous suggestion, and it makes my laptop useless. I contacted customer relations to complain, but I got no help. They're basiscally standing on that stupid suggestion that I render my MacBook Pro worthless just so they can test. This is BS! I suggest that we all call into AppleCare and demand to speak with customer relations. Maybe that will wake someone up. We should also be sending emails to Tim Cook, and any other Apple exec that we have an email address for. Clearly, someone over there wants to ignore this. I guess I should be happy though. Instead of fixing this annoying bug, they gave us all those new useless emoji faces that I will never use. Here's the command that I issue in Terminal to regain DNS: sudo discoveryutil mdnsflushcache; sudo discoveryutil udnsflushcaches

Here I thought I was going crazy. I started having issues with my wifi printer. I wasn't keeping a connection and spent hours on the phone with Epson. I really hope this does get fixed. As a Mac owner since '03 I have never had problems like this before.

Yep. Been having the same problems!
Also, Mission Control is very laggy on my 2014 MacBook Pro with Retina display. Strangely enough, turning on High Contrast mode makes everything buttery smooth!

So Peter, do you still think it is wise to upgrade to Yosemite from Mavericks, with such endless and never ending shits? Can't even make wifi connection right? I laughed on sugesstion it's like Windows 15 year ago. Luckily I never take iMore advice to go for Yosemite, because it simply don't work. If you are not able to solve the wifi issue after so many versions upgrade, I really have doubt in the ability of current programmers team in Apple.

On balance I think the improvements to Yosemite when it comes to working with iOS 8 devices is worth it - I get a lot out of Handoff and other Continuity technologies. But if that's not a draw and you're happy with your current workflow, stick with what you have.

Like nearly everyone else: I have consistent wifi issues when waking my 13" rMBP from sleep. Wifi will connect almost immediately, but won't resolve any hostnames. Turning wifi off-on repeatedly doesn't help. Rebooting doesn't help. Usually I have to just resign myself to waiting it out, and it will begin working about 10-15 minutes later. This is maddening! I'll have to try some of the terminal fixes mentioned above to see if they help (flushing the DNS sounds like a possible solution), but I'm still feeling pessimistic.

For at least a week after I updated to the latest Yosemite I was driven crazy by the fan noise and rapid battery drain on my Macbook Air. I never used to take my charger to work because it was never an issue to use my laptop all day without having the battery deplete to 15% within 2 hours or less. The first time it happened I had to go home to work so I could charge it again. After Googling issues related to fan noise and rapid battery drain I learned why and was able to quit the 'discoveryd' program in Activity Monitor. However, each time I shut down or restart my computer, the same wretched thing happens. I now keep Activity Monitor in my dock and open it each morning if I have shut down, then I quit 'discoveryd' and no more problems. Happily, I haven't had the same issues others have with wifi. My husband updated to Yosemite 10.10.3 as well on his older Macbook Air and he has not had any problem at all. Weird.

Yes, I have the exact same problem..no apparent networking issue, but so far, have not used my AppleTV. It was eating up my battery. I went to the Apple Store Genius Bar and they did not find any (hardware) problem. The Apple Care Chat people also seemed clueless about this problem. I had to look up the problem with 'discoveryd' on the web (MacRumor, 9to5 Mac, and now iMore), and now use Activity Monitor to remove it when I notice my battery draining too fast. Can't wait for a Yosemite fix (OS X 10.10.4?)

Yosemite has many vexing issues. This is one of its worst. With every release OS X inches towards the toilet.

I had serious problems with Airplay (audio). It regularly stopped and restarted. In addition I am still killing daily the discovery demon because it causes excessive CPU power dissipation. A temporary partial fix for me is the little WifriedX 1.2 tool - which basically automatically disables the AWDL/Airdrop service. Not nice, but helpful.

This discoveryd issue has me so annoyed that I'm considering leaving the Apple 'ecosystem' for Android/Linux/Windows. I've got Apple gear all around the house - MacBook Pro / MacBook Air / several apple tv's / etc,etc. I'm tired of shutting things down / rebooting. A few more months of this and I'm installing something else on my Mac machines.

It seems that most problems are related to laptops that come home from work. I have two iMacs (2009, 2014) running Yosemite. iPhone 4S, iPhone 5, iPad 2, iPad Air all on IOS 8.3 and Apple TV 3rd generation. And a new Time Capsule, an old Time Capsule and an Airport Express and a wireless printer. Everything is always on. I use iCloud drive to all sync activities, also Photo. - After IOS 8.3 I have no more loss of wi-fi connection. My several BlueTooth gadgets works fine. - But the Remote app on my iPhone 5 claims that I have two Apple TVs. The iPhone 4s is smarter, it shows only one Apple TV. So something is still rotten in the state of Denmark (where I live). But everything works. And I only paid for one Apple TV !

My 6 plus doesn't want to connect to my home wifi but will connect to everything else Sent from the iMore App

Add me to the list of users with wifi woes. I'm really surprised by how many others are reporting this and how there seems to be no word from Apple. I can't maintain a wifi connection for more than about 10 minutes, and as soon as I start transferring files over the network it usually cuts out. Disabling Bluetooth usually fixes it, but not always. So frustrated, but equally daunted by the task of troubleshooting it as it could be anything. Bootcamp is absolutely fine. Infuriating to have such an expensive laptop that just doesn't work.

I've got an iMac (2008, OS X 10.10.3), MBP (2010, OS X 10.10.3), iPhone 6 (iOS 8.3), iPad Air 2 (iOS 8.3) and an ATV 3 (7.2) all running through an Airport Extreme (11n) with no networking issues. Initially OS X 10.10 gave me the dreaded <macname> (<n>) hostname issue, but that stopped happening when 10.10.1 was installed. Aside from that now resolved issue I've had no WiFi dropouts, all devices connect first time, every time, no discoveryd using 100% CPU or anything like that. Remote access works fine too (after one of the OS X 10.10.x updates the firewall blocked incoming for screensharingd but that was easily reenabled). It's been smooth network sailing with each version of OS X since 10.10.1 and iOS since 8.0. It seems these networking issues are highly dependent on the exact hardware and software versions in use, it seems I must've got lucky...

Now, I know why, whenever I print from my iPhone, I need to restart my printer, and then it will print. I had an HP printer last year that I thought was broken, so I through it away, because it would never connect to my wifi. Turns out it was my wifi. I hope apple fixes this. Especially, if they are finally going to update the apple tv.

Yes, the network problems I've had since installing Yosemite have become maddening. I never see these issues at home (where I use an Airport Time Capsule for my wifi), but at my office, accessing the network both on wifi and Ethernet cable (and both on my iMac, which is always at my office) and my 2014 13" Retina MacBook Pro are unreliable. What will happen is that the network connection will stop working for no apparent reason when using Apple software (Safari and Mail), but I know it's probably something to do with the software because I can still access the web using Chrome and I have no problems accessing the network using a Windows laptop that I need to access our EHR. Eventually, it'll start working and I can use Safari and Chrome again, but inevitably it stops again. (This happens several times a day.) What happens in Safari if I try to load a website is that the progress bar will go maybe one quarter of the way and then stop, sometimes with one or two brief moves toward completion after, and stay that way for minutes, until it either stops working again or Safari gives an error message.

I'm just grateful to have found this article so that I know I'm not crazy. Very frustrating...

I have a 2015 Mac Pro and Yosemite. The networking is a disaster. It drops connectivity as often as once every 30 seconds on a bad day and connects to the other systems on the network can become non existent. The other machines, including a Mac Book Pro running the SAME rev as the Mac Pro works without issue. IMHO, Apple has not worked out the OS on the Mac Pro, a truly stellar machine running an OS that is buggy. I cannot change as I run Final Cut Pro and must stay on Yosemite. To me, Snow Leopard was the best OS Apple ever made. I have an old Mac Pro circa 2004 that runs and connects without issue. Jobs would not have tolerated this horrible situation running on the premier hardware that is the Mac Pro. Terrific article without question.

It took me digging to finally come across this article! And thank god because I thought I was going insane with having issues at my freelance based office. My home network works great but then when I switch to a different location, it takes repeat tries to connect and then it drops the pages half the time. SO INCREDIBLY FRUSTRATING.
I've wasted SO much time troubleshooting this issue, as well as routinely manually deleting the auto back up of my iphone photos in /library that my comp won't stop initiating. Also, the message attachments back up in /library as well. It's freaking ridiculous. Apple- we don't need a photos app backup, iCloud backup and a hard drive backup of all of these things.
I've been mulling over kicking the cloud and making the switch to AnyTrans for months now. Since apparently Apple is deeming the creation of new toys more important than fixing the tiny bugs in the ones we've already spent thousands on, Im thinking it may be that time.

I am on Yosemite 10.10.5 and this problem still persists. In my case, I have a ReadyNAS NV+ storage device that CAN be seen by other devices over my four TP-Link powerline WiFi modules (TL-WPA4220). But Mac's cannot. I can ping the devices from my Mac, but the shares are not discovered or show up in the Finder as they do immediately when I switch to my main router's WiFi. Beyond frustrating, I still have not found out why this is happening or how to fix. Apple has truly let us down. Beyond NAS, I also found my daughter's Mac could not discover my Quake server either, but only over router's WiFi. Alas I don't have PC's to test further. This all started when I upgraded from Mavricks which worked fine.

YES! I'm new to the whole apple computer arena. Just got a MacBook Pro (Sept 2015) and it is dropping my printer after each use. It is driving me absolutely Nut Bat CRAZY!!! I've spent hours on the phone to Brother and only fix right now is to reconnect wifi from printer each time I want to print. This never happened with my PC's. Sad to say, but this is a deal breaker for me. Are there other Mac Books that actually have issue free wifi printing capabilities? I'm about ready to find my receipt and take this thing back! Thanks for writing a very informative article.

Finally. I am not alone. This all started with me upon upgrading to El Capitan. My iMac 27 (late 2012), started randomly losing wireless connection to my AirPort TimeCapsule. And other times, it changes the alphabet case on my network/router's name. For example, if my network is named XooXoo, sometimes it will appear as xooxoo. When that happens, the connectivity is limited, and I cannot access some of the files on my AirPort's hard drive. This is a problem for several reasons. First, my AirPort is the central repository for my home theater movie files. I access movies from that disk on all of the AppleTVs throughout the house, and on my iMac. When the network gets randomly renamed into lowercase, all of this stops working. The only solution is to restart everything (including the TimeCapsule and AppleTVs). The other thing that happens, as reported by most users in this thread, is that I lose connection to my network completely. I have a shortcut on my desktop labeled "Data", which only appears when the networked AirPort drive is connected. Sometimes it's just gone, meaning I have to either go into Finder and try to reconnect (works 50% of the time), or restart everything. This is maddening. It's been months since the last post. Please tell me someone has found a fix...

This started happening to me after the last upgrade to 10.10.5. Firefox will drop the Internet but my phone stays on. I'm on cable. When I quit and restart Firefox it works fine. It's very frustrating! I
Thank you for signing up to iMore. You will receive a verification email shortly.
There was a problem. Please refresh the page and try again.