T-Mobile uses 'real-time customer experience' for its new coverage map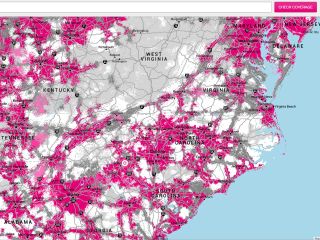 T-Mobile says the map on its website is based on "200 million actual customer usage data points every day" rather than just best estimates of its coverage. It also uses third-party customer data from sources like Inrix and others. Here's what visitors can expect when they check out the new T-Mobile coverage map:
Customer-verified coverage based on actual customer usage, resulting in a vastly more transparent and accurate map, showing, for example, exactly where you can expect 4G LTE, 4G, 3G or other levels of coverage.
A Verified Coverage icon indicating where the majority of data is provided by T-Mobile customers reporting their actual network experience, providing an added layer of confidence.
Data that's updated twice monthly − compared to data presented on the carriers' maps, which is already dated by the time it's printed and published and may be months or even years old.
Speed test data from trusted third party apps showing average download speeds from customer speed tests over the last 90 days.
The new coverage map is now live on T-Mobile's website (opens in new tab).
Source: T-Mobile (opens in new tab)
Get the best of iMore in in your inbox, every day!
I have been writing professionally about technology and gaming news for 14 years.
The website isn't working for me. I don't see a map.

Look at all those dead zones.

They're not dead they're just not LTE. And honestly when I went to the east coast last summer with my Verizon phone I didn't have any coverage outside of big cities. Even small cities of 5000 people didn't have any coverage. Now I have t mobile for 1/3 the price and couldn't be happier. Sent from the iMore App

My experience is the opposite. I work in Manhattan but live just outside city limits and find LTE speeds to be dreadful (0.5Mpbs) dead center of Bryant Park (with open skies) but outside my suburban home I get 35Mbps on LTE.

Yeah not sure what cities you went to, but even "out in the sticks" I had LTE with Verizon where those on tMo had nothing. Think you have it backwards. Sent from the iMore App

You can almost always use your tmo phone, just not LTE. and the price is amazing for what greate service you get.

I wouldn't put much stock in these maps. I get 2g in my neighborhood, but the map says I should have LTE. They must be crowd sourcing unicorns.

Not available in EU/NL. T-Mobile coverage is patchy here, although they are improving.

Hi, you might check website rfbenchmark.eu. There is still little for NL but it is growing.
Thank you for signing up to iMore. You will receive a verification email shortly.
There was a problem. Please refresh the page and try again.