It takes two to Tango - 3G video chat for iPhone 4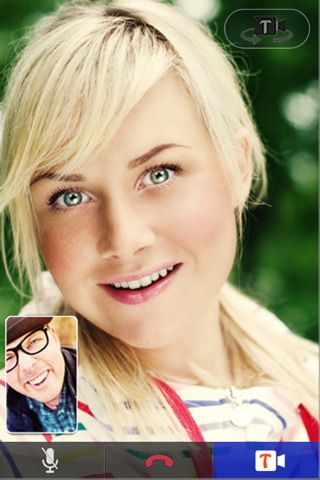 Tango video calls, as the name suggests, is an app that allows for users to enjoy the benefits of the front facing camera on the iPhone 4 to make a video call over their cellular 3G network. Tango Features:
Free video calling to your friends and family around the world, wherever you are
Call between iPhone and other smartphones on 3G and Wi-Fi
Populates Tango Contacts automatically from existing phone contact list
Invite friends and others by e-mail or text
Switch cameras and swap screens to show what is around you
Move between video to audio and back to video
Simple and easy to use
Create an account in less than five seconds - New profile not required
So we've got Apple's own FaceTime, and now Fring, Yahoo!, and Tango (and once again Skype lagging far behind). Which one do you prefer and why?
[iTunes Link (opens in new tab), via TUAW]
by Brian Tufo
I'm still waiting for skype to get up to speed. I have more friends and family who use this on there pc and mobile devices. FaceTime probably will run the smoothest once allowed to run on 3G. I have fring and yahoo. Fring has bugs and who uses yahoo messanger anymore?

Well FaceTime has it's limitations... Fring I just don't like/care, Yahoo! I find the video isn't all that good (on wifi and 3G), but I do like how you can video chat with someone on a computer, and as for Tango, it is awesome! Easy to set up and use and the video quality is very good. What would be most convenient is if Apple just made FaceTime available on 3G.........

The guy in the bottom of the picture is straight raper status.

Those people look crazy!!!

I use face time on 3g and the video quality is better than all of these alternatives. Yahoo is the worst i tried so far. Problem is i know only one person who has an iphone 4. So im kinda stuck trying these new apps even though 3g unrestrictor works great for facetime

I tried Yahoo the other day but the video is really choppy and audio was out of sync. I use FaceTime every night with my daughter and occasionally with friends. I haven't tried Fring, not interested. Now another one, I'll try it but I'd like for Apple to open FaceTime up to be used without wifi and (I'm digging deep) with other I'm services. More like a beefed up iChat. Just a wish list tho.

i like tango. just dont get why both parties have to have the app opened for it to ring. that kind of defeats the purpose. Once facetime goes 3g bye bye tango. but as an alternative Tango is the 3g way for now --- UNLESS ur jailbroken My3G is the BEST!!!!!!

Tango doesn't work.
A friend and I tried it, with us both on 3G, I could barely hear him talking, and he couldn't hear me. In addition, the app kept dropping the 'call' as error messages came up with something like 'connection is strong enough' can't remember the exact message.
I still find FaceTime powerful and a great product.
Yes, I know how to use my phone, and I am technically savvy-so don't tell me that about my 3G signal or anything else. I am simply sharing my experience with Tango.

Tango's great!
Easy to use

FaceTime on wifi or 3G may be the best but you can only communicate with other iPhone 4s. Tango has decent video quality with decent sound but the killer feature is you can video chat with other iPhone 4s, 3GS, and most new android phones out there regardless if they have a front facing camera or not. Until FaceTime allows other phones besides 4s there will always be a place for tango.

haven't used yahoo's yet. But I appreciate Tango so much. Not as good as facetime but definitely a great alternative as a 3g option. Went to Hawaii this past weekend and was able see my girlfriend and show my girlfriend back in LA the beautiful scenery i was looking at without wifi! get on it!

May be that is why Skype is holding off, due to problems others are having.

Tango is Lowsy! It doesn't support full duplex video. Unless I am doing something wrong. I called my wife (and vise versa) and whoever initiates the call displays their camera. It doesn't support two way video.

I prefer FaceTime to all of them but just wish they would allow for 3G. Clearly they have nothing to discuss with the cariers because they already have apps doing this over 3G. I believe we can look forward to seeing FaceTime over 3G in the near future unless apples excuse is the experience wont be the same so they wont allow it till we are on 4G networks. As we all know, Jobs is all about user experience.

@Ken you are definitely doing something wrong.. Its like skype you both have to initiate your cameras.

i got tango and the video works fine i just dont like how people can hear me but i cant hear them...n that the app has to be open for it to ring ugggggghhhhhh

Tango will ring even without being open. You just need to change the settings to push notifications.

ladies hit me up for hard cock 4092841098 send text first.
Get the best of iMore in in your inbox, every day!
Thank you for signing up to iMore. You will receive a verification email shortly.
There was a problem. Please refresh the page and try again.