Thermodo hits Kickstarter, a tiny hardware thermometer for iPhone, iPad or iPod touch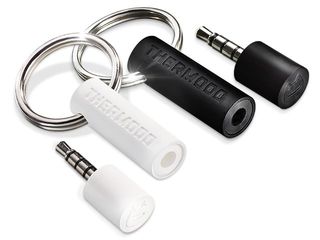 Thermodo has just hit Kickstarter and it is a tiny accessory that allows you to accurately take the temperature of the ambient air around you. Developed by the Robocat team who already have great apps in the App Store like Haze and Thermo (opens in new tab) and now they want to take that a step further with a miniature hardware thermometer that plugs into your devices 3.5mm audio jack.
Thermodo gives you instant accurate access to the temperature indoors and outdoors and you can even set it to log temperatures in the background so you can see thermal profiles of your home and find out when you are wasting energy overheating your home.
The Thermodo is tiny and comes as a two part key chain; simply pull it apart and insert the temperature sensor into your devices 3.5mm audio jack. All power is taken from your device so there is no need to charge or replace batteries in the Thermodo.
If you would like to help the Thermodo project to become a reality it needs your pledges on Kickstarter. A pledge starting from $19 will get you a black model should they make it into production. The project needs to reach a funding total of $35K to enable the Robocat team to take the next step. Personally I really like the look of this project and I will be backing it. As I work in the Air Conditioning industry, the ability to take accurate temperature reading with my phone would be a great feature to carry with me.
What do you think of the Thermodo?
Source: Kickstarter
UK editor at iMore, mobile technology lover and air conditioning design engineer.
How come no link to Thermodo on kickstarter?

Link added now, http://www.kickstarter.com/projects/robocat/thermodo-the-tiny-thermometer-for-mobile-devices

can't say i have much need for measuring the temperature. Inside i can just look at the thermostat. Outside i just feel the weather like normal. I'm sure someone will like it but it's not for me.

What would be more useful to an environmental scientist such as myself is an inexpensive device that can be deployed in field, retrieved and THEN hook up to ios device to download
Get the best of iMore in in your inbox, every day!
Thank you for signing up to iMore. You will receive a verification email shortly.
There was a problem. Please refresh the page and try again.