Three iPad Air hits and three iPad Air misses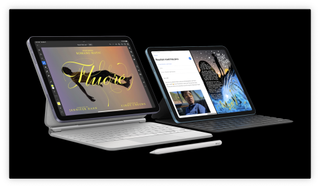 (Image credit: Apple)
Apple's latest media event just whizzed by, with the company using the one-hour presentation (code for a polished, pre-recorded video) to unveil a whole host of new products to rabid fans. The hit-list of products on the docket for an upgrade this time around included the iPad Air 5, a device that holds down the mid-tier placement in Apple's tablet lineup.
With its balance of modern features, slick design, and mid-range price point, it's bound to be a popular pick for a lot of prospective iPad purchasers, offering more power than the basement iPad option without wasting money on all the bells and whistles of the iPad Pro.
The now previous-generation iPad Air 4 was the only iPad model to get no attention in 2021 so it was high time for some iPad AIr love at this event. However, the iPad Air 5 spec sheet disappoints me as much as it pleases me.
Hit: M1 chip
Granted, we're mere hours out from the end of Apple's 'Peek performance' event so there are still a lot of details in the air (plus the small matter of actually getting the latest products in our hands for testing). Even so, we know that the iPad Air 5 gaining the M1 chip will be a huge boon for power users, upgraders, and those totally new to iPad.
When late-breaking rumors first suggested that the mid-tier tablet would get the same chip that powers the 2021 iPad Pro, it took many Apple watchers by surprise (myself included). Our money was on the iPad Air 5 gaining the same A15 Bionic chip that powers the iPad mini 6.
Though moving to M1 in the iPad Air might make the future of the 11-inch iPad Pro a little murky, it's a huge win for the average buyer picking up an iPad Air 5, especially since it's the same price as the previous-gen model and now much faster. Those who want a speedy device with greater longevity will get it without spending hundreds of dollars more on all the iPad Pro display, speaker, and fancy camera.
Hit: Center Stage
In my iPad mini 6 review last year, I noted that Center Stage feels like magic and has me reaching for the smaller tablet over my previous-gen iPad Pro that lacks the feature. It uses some machine learning smarts as well as the new 12MP Ultra Wide front-facing camera hardware to keep you, and anyone else, in shot during video calls. The way it smoothly pans is pure Apple hardware-meeting-software joy.
Though the iPad Air is the last current-gen iPad to gain Center Stage, it's great to see Apple adding this feature at the first opportunity. While it might not be enough to solely to convince iPad Air 4 upgraders to make the jump, it's just another box checked for anybody upgrading from an older iPad model.
Hit: 5G
We've heard so much about 5G from Apple over the last few years that it seemed like making the iPad Air 5 compatible was a given, and it was. Though 5G debuted on the iPad Pro in spring 2021, the iPad mini 6 gained support late last year. When that happened, it was only a matter of time until the iPad Air got 5G.
If you like to take your iPad Air out and about, the proliferation of 5G across many countries means that it's actually a useful addition in 2022 when you're out of Wi-Fi range. Sure, you'll have to pay beyond the base price for the functionality, but if you travel a lot and need to access your iPad while you're out and about, it's great to have that stronger wireless connectivity.
Only the base-spec 9th-gen iPad lacks 5G in Apple's current lineup, and I'd say that's OK. The folks picking up Apple's cheapest tablets likely aren't the people who are looking for blazing-fast internet wherever they go.
Miss: No Face ID
Before the event, I wrote about all of the things I wanted to see in the iPad Air 5. On that list, but sadly not on the actual iPad Air 5 spec sheet, is Face ID.
I know Face ID didn't ship with the iPad mini 6 last year, but it's not a feature that is reserved for just Pro-level devices — the regular iPhone 13 has it and the MacBook Pro doesn't! — so there was a chance it could appear on the new iPad Air. Instead, Apple chose to stick with a Touch ID top button.
Touch ID works great on the 2021 MacBook Pro where you hands are already on the keyboard, and it anchors the one-app-at-a-time experience on the iPhone SE for a lot of folks, but nothing beats swiping up on your iPad's large display and having it unlock automatically. Maybe the iPad Air will get Face ID next time.
Miss: Same old display
In 2021, we saw rumors of an OLED display panel headed to the iPad starting with the next iPad Air. That's despite the iPad Pro having only just gotten mini-LED on the largest model and Apple having not made an OLED display larger than the iPhone before.
These rumors died off as we got closer to the new iPad Air with some suggesting that it's now set for 2023 or later. Despite this, I still hoped there would be some kind of upgrade to the iPad Air's display on the fifth-gen model.
Alas, Apple is using the exact same Liquid Retina display on the iPad Air 5 that we got on the iPad Air 4. It has the same 10.9-inch size, same 2360x1640 resolution at 264 ppi, and the same slew of features like P3 wide color, True Tone, and anti-reflective and fingerprint-resistant coating. It's a good display — great even — but Apple hasn't moved that part of the device forward at all here.
Miss: Where's the color?
If the iPad Pro is supposed to offer serious, workplace-appropriate colors like silver and space gray, then I want Apple to let the colors loose on the consumer-grade iPad Air.
The company has shown it can do it, both decades ago and as recently as 2021 in the M1 iMac, so where's the vibrancy? Outside of the new blue hue, the iPad Air comes in the same four colors as the iPad mini 6, all of which look varying different degrees of silver depending on your lighting.
I'd like to see the blue one in person, but even in the product renders on Apple's site it comes nowhere close to the deeply-saturated blue iMac. Give me bold, bombastic colors! Or take a risk and go for a new color, like what we saw with the green on the iPhone SE 3.
A solid upgrade, but not for everyone
The iPad Air 5 has advanced the product line in some key areas. It's much faster and its feature set has been brought up to the standard we'd expect in 2022 with exciting updates like M1 adoption and Center Stage. It'll likely replace the iPad Air 4 in the top spot on our best iPad list once we've had chance to put it through its paces.
That being said, it won't do enough to convince iPad Air 4 owners to upgrade, some of the features will go unnoticed by many buyers, and Apple has seemingly left itself some low-hanging fruit for the next iPad Air upgrade. When the technology is already there for features like Face ID, and Apple has shown it can make decisions with color, it makes the iPad Air 5 announcement feel lacking. Maybe we'll see some of them on the iPad Air 6.
Get the best of iMore in your inbox, every day!
Adam Oram is a Senior Writer at iMore. He studied Media at Newcastle University and has been writing about technology since 2013. He previously worked as an Apple Genius and as a Deals Editor at Thrifter. His spare time is spent watching football (both kinds), playing Pokémon games, and eating vegan food. Follow him on Twitter at @adamoram.
To the vast majority of people, having the same type screen really does not matter much with the very casual way those people use their iPads. Battery life, capacity, and connectivity options are much more important, at least to this user. I personally do not see the need or utility for an 8k display on a 10" screen.