Bottom line: The colorful iMac (2021) delivers amazing performance thanks to the M1 chip and looks stunning while doing it. If you don't mind paying a little extra, it's a damn good family desktop that can accomplish most things the average person will throw at it.
Pros
+

Super-thin design

+

M1 delivers tons of performance

+

Amazing display

+

Great camera

+

Multiple color options
Cons
-

Noticeable bezels and big chin

-

Base model is slightly less impressive

-

A tad expensive
You can always trust iMore. Our team of Apple experts have years of experience testing all kinds of tech and gadgets, so you can be sure our recommendations and criticisms are accurate and helpful. Find out more about how we test.
Since Apple announced the M1 chip, it seems the company has been eager to put it in everything. The MacBook Air and the 13-inch MacBook Pro both got the M1 treatment right away, as well as the Mac mini. Anxiously, fans of the Mac were patiently waiting to hear what Apple had in store for its iconic all-in-one desktop, and earlier this year, we got the iMac (2021).
The colorful 24-inch iMac has been almost completely redesigned from the 21.5-inch model it replaces, and it was given a ton of new color options. Of course, it's all powered by Apple's M1 chip, which has been praised repeatedly since it came out for delivering amazing performance.
Even though the colors put me off at first (more on that later), I decided to get myself the iMac (2021) with the 8-core GPU and four ports, which really impressed me. Not only has it become my main working computer, but I use it to watch movies, play games, and do all sorts of other activities. It really is the best Mac I have used.
iMac (2021): Price and availability
There are two main models of the iMac (2021). The base model has a 7-Core GPU and only two Thunderbolt 3/USB 4 ports, while the high-end model has an 8-Core GPU, two Thunderbolt 3/USB 4 ports, two USB-C ports, an Ethernet port in the power brick, and comes with a Magic Keyboard with Touch ID. Both models have SSD storage starting at 256GB, but you can pay for up to 1TB on the base model and up to 2TB on the high-end model. Plus, both models start with 8GB of RAM, but you can purchase 16GB of RAM for either machine. The base model starts at $1,299, while the high-end model starts at $1,499.
The iMac is available to purchase from Apple and other retailers like Best Buy. Ordering direct from Apple is usually the way to go for Apple products, but there is a bit of a shipping delay for certain colors as of this writing. Right now, most models say they will ship in about 2-3 weeks, but some colors say 3-4 weeks. So just keep in mind, if you're ordering, it may be a little bit of a wait until you have it sitting in front of you.
iMac (2021): Hardware and design
Whether you get the base model or opt for the upgraded model, the iMac (2021) has the same overall design. The iMac itself is incredibly thin, measuring at under an inch thick or roughly 11.5mm. It's so thin that the headphone jack had to be located on the side next to the power button (see above) because the computer itself is too thin for it to go in the back like on older iMacs. Then thinness also means the computer is incredibly light — the whole thing in its entirety, stand and all, weighs under 10 pounds. I know weight doesn't really matter for a desktop as most people don't move them around a ton, but the light weight is actually a slight detriment to the iMac.
Whenever I go to plug in an accessory to one of the ports in the back, I move the iMac without even trying. In fact, sometimes, when I adjust the screen tilt, the entire machine will slide a little bit. It's a really minor annoyance, but something I encounter almost every day I use the computer. While I wouldn't change the thinness, I would have maybe liked Apple to throw some extra weight in the base of the stand to help keep the iMac from sliding around unnecessarily.
Source: Luke Filipowicz / iMore
While I was always a fan of how thin the new iMac was, I had reservations about the design. At first, the two-toned color, which is lighter on the front and darker on the back of the machine, really put me off. I almost went with the silver version because I didn't want to deal with it, but I switched to blue at the last second because it seemed the least offensive, and I figured I had to try a color since Apple gave us so many options. Boy, am I glad I switched.
The minute I took it out of the box and put it on my desk, I fell in love with the color. It's bright, inviting, and somehow seamlessly fades into the decor/aesthetic of my office. Apple clearly has marketed the iMac (2021) as a family computer, and making something that can easily fit into almost any room of your home requires a softer touch, and I think Apple nailed it. This is the Mac you can put in your office if it's mainly a work desktop, but it also wouldn't feel out of place in a dining room or family room.
Now, I have gone on record saying that the white bezels around the screen aren't my favorite look, and I still say that remains true; however, I understand that black or darker bezels on a machine like this wouldn't look that great. I still find the harsh contrast between the bezel and the screen really noticeable while watching movies, YouTube videos, or other content, but I barely notice it for everything else. The bezels are white, but they are a bit of a dull white (almost like a very subtle grey) instead of a brilliant white, so that does help make them blend in a little more.
Apple displays have always been good, but my goodness is this display is incredibly gorgeous. It's a 24-inch 4.5K Retina display with a 4480-by-2520 resolution and has 218 pixels per inch. It's downright impressive. I have watched many movies and other 4K content, done some mild video editing and a lot of photo editing, and I have never once felt that this display was steering me in the wrong direction. My only real issue with the screen is it is a bit glossy. If you have the sun directly shining on it through the window, you're likely going to get a decent amount of glare, and since its max brightness is only 500 nits, it's a little too dark to really help combat the glare. A small issue, but worth pointing out.
To top it all off, the Magic Mouse and Magic Keyboard you get with your iMac is colored coordinated, as well as the USB-C to Lightning cable and the power cable running from the computer to the power brick. The small details like this make the entire computer feel like a neat package and really show that Apple put a lot of thought into its color choices. There's nothing different about the Magic Mouse at all — it still charges the same old frustrating way, so you can't use it while you charge it, but the Magic Keyboard adds Touch ID if you get the high-end model.
The Magic Keyboard with Touch ID is basically the same size as the old one, but it is a tad thicker, has a slightly different row of function keys, and is at a slightly more of an angle, making typing a bit more comfortable. Don't get me wrong, if you aren't a fan of flat keyboards, the Magic Keyboard with the iMac probably still won't be your cup of tea, but I like it. I have used an older Magic Keyboard for years and always found it to suit my need just fine, and this iteration is just slightly better, so I consider that a win. Of course, I was super pumped for Touch ID to come to the iMac finally. The Touch ID sensor looks like they just stuck an iPhone Touch ID sensor onto the keyboard, but it's a super fast and efficient authentication method. It's something that MacBooks have had for a while, and I'm glad to see it make its way to the iMac. It just sucks that you have to pay an additional $50 if you want the Magic Keyboard with Touch ID to come along with your base model iMac.
iMac (2021): Software and performance
The iMac (2021) will come with macOS Big Sur right out of the box, and when macOS Monterey launches to the public, it will surely take advantage. It comes with all the same Apple apps you're used to — Safari, FaceTime, Pages, etc.
You may remember that when Apple first announced M1, there was some slight concern about apps not being compatible with M1 Macs. Apple's answer to this was Rosetta, a program on the M1 Macs that allowed the computers to translate the code of apps so that the M1 Macs could still run them. Sometimes that would mean they would run slower, but we are eight months into the M1 journey, and this doesn't appear to be an issue most people will encounter. While Rosetta is definitely still on the iMac (2021), I mostly don't need to use it. Most popular apps all have M1 compatible versions now, so you likely won't bump into Rosetta at all, and even if you do, you likely won't notice. The few apps I do use that are running Rosetta haven't given me any problem whatsoever. It's nice to have peace of mind knowing all your apps will work, and since the iMac (2021) is running the M1 chip, they will work well.
It almost seems redundant at this point to praise the M1 chip for its performance, but wow, it's really as good as they say. Everything I have thrown at the iMac (2021), the M1 chip has been handled well. There wasn't anything from photo editing in Pixelmator Pro to light video editing in Adobe Premiere, from playing Apple Arcade titles and some of my favorite online games to opening an ungodly amount of tabs in Google Chrome, nothing I did that made the M1 even flinch. Considering Apple is heavily marketing this as a family desktop, it's going to be more than capable of doing the day-to-day tasks your family might throw at it. There is a caveat worth mentioning. I upgraded my RAM to 16GB in my iMac, which probably helped my video editing feel smoother. However, I have used a ton of Apple products with minimum RAM before, and unless you're really pushing the machine to use that RAM, 8GB will likely feel fine for most activities.
Of course, it will have its limitations. After all, this isn't meant for super heavy workflow or specialized programs. I'm confident a machine like this will not fit the bill for someone who does a bunch of 3D modeling or intense graphics work. That's just not something the iMac was designed to do. But, for the average person, the iMac it will be able to handle everything really well.
iMac (2021): Camera, microphone, and speakers
To say that the camera included in Macs for years has been disappointing is likely an understatement. Anyone who has used the 720p FaceTime camera included in the MacBooks knows that you'll need an external webcam if you care about quality. The iMac (2021) finally stops that pattern.
While it's not a 4K camera, the iMac comes with a 1080p FaceTime HD camera that performs much better than other Mac cameras I have used. As long as I wasn't sitting in a dark room or have a bright light source directly behind me, I felt it performed quite beautifully during FaceTime calls, Zoom sessions, and meetings in Google Meet. Even in lower-light conditions, the M1 image signal processor really helped make the picture much clearer. I have an external 1080p webcam that I have been using for the past few years to avoid using the onboard camera on my other Macs, and I don't feel like I really need to use that anymore.
On top of looking great, the microphone array on the iMac will also help you to sound great on your calls. People told me I sounded clear and crisp in all of my tests using just the iMacs studio-quality three-mic array. It even has directional beamforming, meaning it will help following your voice, so if you step away from your computer while on a call, people will still be able to hear you. Obviously, you can't venture into the other room or anything, but going about your space while on a call is possible without having to yell at your guests, which is nice. You're still going to get better sound quality if you hook up one of the best USB microphones for Mac, but you certainly don't need one to chat with friends, family, or coworkers on your video chatting platform of choice.
As someone who has never bothered getting external speakers for my Mac because I use headphones so often for meetings and such, the down-firing speakers on the iMac are a pleasant surprise. They sound nice and clear and are loud enough to fill an entire room with sound. The very low-end bass tones aren't really there but in speakers this size that's not really a surprise. Besides, if you're a fan of deep bass, you likely don't rely on computer speakers when you're pumping out your tunes. The speakers support Dolby Atmos, which is awesome for watching Apple TV+ content, or Apple Music that supports Dolby Atmos. If you aren't an audiophile, these speakers will likely sound great to you.
iMac (2021): Competition
Honestly, I have difficulty wrapping my head around what's directly in competition with the iMac (2021). It seems many all-in-one desktops are aimed at slightly different audiences than what Apple is going for, but if you're looking into all-in-one desktops, it's hard not to mention the HP Envy 32.
Our friends at Windows Central were very impressed with the HP Envy 32, giving it a perfect 5-star review, but it is certainly more aimed at gaming/performance than the iMac (2021). With a 4K 32-inch display, an impressive set of speakers, and its RTX graphics, it is an all-in-one that can certainly be a workhorse. It also has way more port options than the iMac (2021), including five USB ports. On the right side of the display is a USB Type-A 3.1 Gen 1. On the left side are a full SD card reader and headphone jack. On the rear, there are ports for HDMI-in and HDMI-out for video. On the back are two more Type-A ports (Gen 2) and two Type-C, one full Thunderbolt 3 and the other Gen 2.
The base model of the HP Envy 32 is about $1,600, which is only roughly $100 more than the high-end model of the iMac (2021), so if you're looking for something a little beefier, the HP Envy 32 could fit the bill.
iMac: Should you buy it?
You should buy this if ...
The $1,499 price tag doesn't bother you
I really think the $1,499 model is the way to go for the iMac (2021). That's not to say that the $1,299 base model doesn't perform well, but rather the extras included in the higher-end model are just really worth it in the end. Having four ports instead of just two will be extremely useful — two ports are surprisingly limiting in practice. Of course, a good old-fashioned USB-C hub will likely be crucial regardless of which model you get, but having your hub connected and having three other ports open will feel much better than only have one. Plus, with the addition of a 8-Core GPU, the Ethernet port included in the power brick, and the Magic Keyboard with Touch ID being included, just make the $1,499 one a better deal.
You've been waiting to upgrade your 21.5-inch iMac
If you have an older 21.5-inch iMac, this is the computer that Apple is trying to get you to upgrade to, and it's super worth it. Not only will you be getting a big speed upgrade in with the M1 chip, the upgraded FaceTime camera, Touch ID on the Magic Keyboard, and the absolutely gorgeous display are all well worth the upgrade.
You like the design
The design can certainly be a bit polarizing, I had my doubt at first, but if you dig this updated look of the classic iMac design, you certainly won't be disappointed. The display is gorgeous, the colors are bright and inviting, and it seems to just blend in super well to its surroundings, never really looking out of place. Put the iMac (2021) in your office, living room, kitchen, den, or anywhere, and it will feel like it's always been there.
You should not buy this if ...
You want a bigger screen
The old 27-inch iMac 5K was a thing of beauty, and a lot of people love having that nice big screen in Apple's all-in-one design. The 24-inch screen on the iMac (2021) doesn't necessarily feel small, but if screen real estate is important to you, it may be prudent to wait to see what happens to the 27-iMac lineup once it gets the Apple Silicon treatment.
The price is too high
I don't believe that the price is unreasonable by any means, but that doesn't mean it's within your budget. Especially if you truly are looking for a family computer that every member of your household will be using. It's certainly possible to find something that will work for you at a lower price point if you don't mind giving up all the things that the Apple ecosystem gives you. I will say that the screen is absolutely gorgeous, and if you try to find what Apple offers inside the iMac (2021) with a display that's just as good, you'll likely find yourself in the same price range anyway. Just some food for thought.
All in all, the iMac (2021) succeeds really well at what it sets out to do, which is be an Apple desktop you can put in any room to get all your day-to-day tasks done. The M1 performance on the iMac is very impressive, and it has been able to handle everything I have thrown at it without breaking much of a sweat. It's by no means a "pro" computer, but it certainly is no slouch either.
Bottom line: If you have the money to spring for the higher-end model, the iMac (2021) will likely surprise you. It's got enough power to accomplish all the basic tasks you could ask of a family computer and some leftover if you want to do a little more. Wrap that all up in a beautiful colored package and the iMac is one hell of a machine.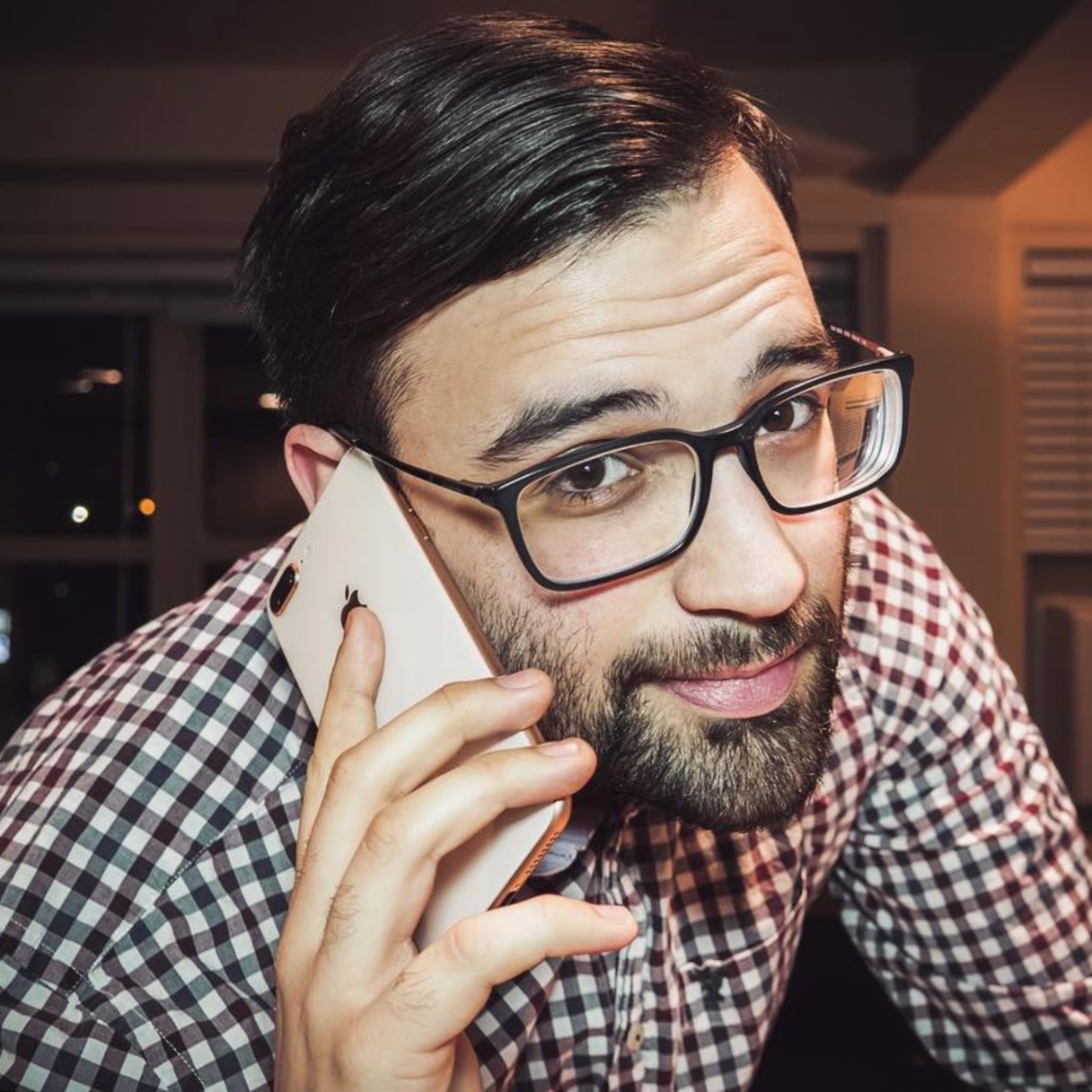 Luke Filipowicz has been a writer at iMore, covering Apple for nearly a decade now. He writes a lot about Apple Watch and iPad but covers the iPhone and Mac as well. He often describes himself as an "Apple user on a budget" and firmly believes that great technology can be affordable if you know where to look. Luke also heads up the iMore Show — a weekly podcast focusing on Apple news, rumors, and products but likes to have some fun along the way.
Luke knows he spends more time on Twitter than he probably should, so feel free to follow him or give him a shout on social media @LukeFilipowicz.