TIME Planner for iPhone helps you plan your day and delegate your time more efficiently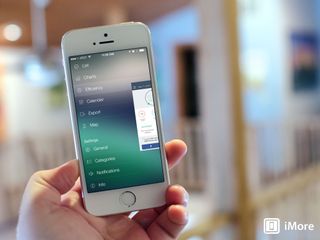 TIME Planner is a new productivity app and its main purpose is to help you become more aware of how you spend your time and what you can do to increase your efficiency. It's not a calendar replacement app or even a todo app, but a planning tool to help you stay on track and not fall behind with the day's events.
The first thing you notice about TIME Planner for iPhone is the gorgeous design. It screams iOS 7 but at the same time maintains its own look and feel. There are several categories already set up for you to get started with. The main view is your planner menu and is where you will end up spending most of your time. Tapping the menu bar in the top left shows the side menu and lets you jump to different sections of TIME Planner.
The two most interesting sections of TIME Planner are the Charts and Efficiency sections. Both give you useful breakdowns of not only how efficient you've been, but where you are spending most of your time. You can change the views on both sections to show you data for only one day, a month, or custom ranges of your choosing.
Jump into the Calendar view of TIME Planner in order to toggle between days and see what you had planned or to add a new event to a future day or day in the past. Keep in mind that TIME Planner is not meant to be a calendar replacement app even though it does integrate with the Calendars app to some extent. This is done mainly for the sake of convenience.
Once you've completed a task in TIME Planner, you can either tap on it to manually log the time it took you, or you can double tap and TIME Planner will automatically accept that the event started and ended on time. The better you are about sticking to the times you've laid out for yourself, the higher your efficiency rating goes.
You can set regular reminders and notifications for TIME Planner or you can use location based ones. If you choose time based reminders, you can be reminded when you arrive or leave a particular location. The notifications of TIME Planner are customizable as well. If you purchase the Pro option as in in-app purchase, you'll get even more notification options as well as iCloud sync. The Pro subscription is a one time purchase of $2.99.
The good
Gorgeous interface that's easy to navigate and enjoyable to use
Custom notifications and iCloud sync for Pro purchasers
Easy export options in just a tap
Chart section easily helps you spot things you're spending too much time on
The bad
Sometimes blank entries appear in the Calendar app when you enter a different completed time than the planned time
Calendar integration isn't the greatest, I just hid the TIME Planner calendar from showing up as I don't really need them to co-mingle
The bottom line
If you have trouble staying on task and keeping up with your daily schedule, TIME Planner is a great way to change that. Everything from the interface and design to the way default categories were done is well thought out and executed well.
My only gripe would be that calendar integration isn't quite there. I personally didn't take too much issue with this as I just hid TIME Planner from my calendars and called it a day. For those that want tighter integration, some of the current glitches may cause issue. Hopefully it's something that can be remedied in a later update. Or honestly, just cut the calendar integration altogether and let them live separately.
If you try out TIME Planner, let us know your thoughts on it in the comments!
Get more iMore in your inbox!
Our news, reviews, opinions, and easy to follow guides can turn any iPhone owner into an Apple aficionado
iMore senior editor from 2011 to 2015.