T-Mobile iPhone 4, iPhone 4S, or iPhone 5?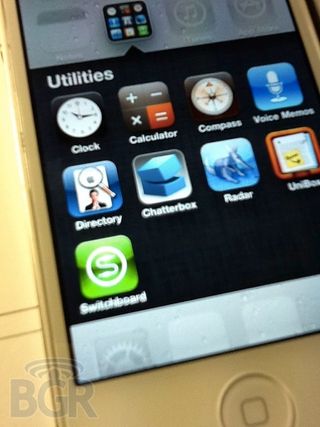 9to5Mac has taken BGR's T-Mobile US iPhone leak and run with it, wondering out loud if it's an iPhone 4 variant, or if it may just have an Apple A5 chipset and be one of those "iPhone 4S" advanced gaming test units, or even an early iPhone 5 prototype? (No, not this one.)
Could well be a bit of all of the above; experimental internals packed up in the existing casing to test T-Mobile
Place your own speculation in the comments below!
[9to5Mac]
Rene Ritchie is one of the most respected Apple analysts in the business, reaching a combined audience of over 40 million readers a month. His YouTube channel, Vector, has over 90 thousand subscribers and 14 million views and his podcasts, including Debug, have been downloaded over 20 million times. He also regularly co-hosts MacBreak Weekly for the TWiT network and co-hosted CES Live! and Talk Mobile. Based in Montreal, Rene is a former director of product marketing, web developer, and graphic designer. He's authored several books and appeared on numerous television and radio segments to discuss Apple and the technology industry. When not working, he likes to cook, grapple, and spend time with his friends and family.
Whatever Apple does, I just hope they are finished trying to make the iPhone THINNER. Mine has the bumper case, and if THAT was any thinner, I honestly think I'd have a hard time picking it up off a hard, flat surface (like a table or desk).
Why would anyone need or want a thinner phone??

They won't stop until its a piece of paper

If a. T-Mobile iPhone happens I hope Sprint gets a CDMA model as well. That way people can just pick the carrier that fits them best instead of going with a n inferior or more expensive carrier just to get an iPhone. I wonder what it would.take to make that happen.

I think now that iPhone isn't exclusive to AT&T, or Verizon for that matter. It will all be up to the carrier if they want to carry the iPhone or not. I hope it gets suporrted by every network, even though when my contract is up I will be going back to Verizon because it works the best for the area I am in.

Probably just a white iPhone 4 for T-Mobile, although I think that's rather pointless if AT&T buys out T-Mobile USA.

There is a different iPhone rumour every day now it's ridiculous yesterday new iPhone 5 complete redesign today same design with a5 chip.

Exactly TK! Every carrier will have the iPhone soon anyway.

I don't get it. If AT&T has the approval of the FCC to buy T-Mobile, why is T-Mobile still spending money on bashing AT&T? If this is even a newer version of the iPhone 4, will it not be an AT&T phone? Will T-Mobile exist after the merger?

i don't believe at&t already has the approval from the FCC, I know they haven't yet gained approval from the antitrust division, and any agreement between the two of them to halt competition in the interim is unlawful as well. This might explain why T-Mobile is continuing to compete.

Before approval, T-Mobile: "We are at war with AT&T. We have always been at war with AT&T."
After approval, T-Mobile: "We love AT&T. We have always loved AT&T."

maybe they can make it so it works on both frequences, for double the service lol

I hope we get an iPhone 5 this year though I wouldn't be disappointed in an iPhone 4S. I will be getting one or the other at the start of next year and will be happy with it.

Is there any News from Apple ?? on apple's official website
ThanksKamleshwar

Apple is good at teasing !!

I'm good for a while since I'm a Verizon iPhone guy. But the only way I'm buying a new phone is if it goes past 32gb... Else I'll just wait for 6.

We are not going to see a new iphone this year. I have a very respected and trusted source from within Apple that claims they will be introducing this summer the iBrain running iOS 5.

I believe Apple is working on a phone that will support all four US networks. For GSM, it will support both 3G bands, to cover AT&T and T-Mobile, and CDMA bands for Verizion and Sprint.

It's funny this one .....
I tweeted these pics over to Jason Snell @ macworld and he swears they are all fake !!!
How .... I don't know?
To me they look legit but hey are they photoshopped, jailbroken or part of an app.

I bet on an "iPhone 4S" A5 cpu + 8Mpx camera + NFC+ White Color, no 4.3" device this year, its simple Bigger iPhone means an device that could get into iPad market terriory.
Maybe the most radical chnange maybe come from waping Steel to Ceramicc or carbon fibre to replace the metal frame, but keeping current shape, just ligther, and free of ANTENNA GATE issues.

Makes me wonder if this is the working for an unlocked world version for the iPhone for later this year or next year, given the Qualcomm chip can handle both CDMA and GSM, all that's needed is AWS compatability and all bases for a fully unlocked world phone are covered

It doesn't matter what you call it (iphone 4, 4S, 4GS, 5 or 5.3 alphabet) its' the latest and greatest Apple offering and it'll sell like crazy.... staring in September!!!

Are we sure that isn't a Samsung?

Oh come on...No, Sprint won't get anywhere near an iPhone. T-Mobile is history!!! Yes, for a few more months, you'll see that silly chick making fun of how the iPhone 4 is not 4G (you know, that's as opposed to how T-Mobile is 4G. LOL )
Do you really think that Apple did not know of the merger of AT&T and T-Mobile before your average stockholder became privy to it when they announced it to the world last month?
As for coverage, Greater New York City and all of California and Nevada are about to lit up like a Christmas tree as soon as the deal passes through the Feds. That's because T-Mobile is only in Calif. and Nev. because of AT&T (read: Cingular) and AT&T got its own start in NYC because of T-Mobile. So look out Verizon as AT&T's network is about to double in those areas (to the nitpickers: yes, I know, not exactly 100%. I'm just sayin', yo.)

What could you possibly add to the 4 that will make it an improvement major enough that warrants the "5" designation? I'm still using a 3GS, the 4 is nice but not THAT much nicer. I have yet to see any apps that use teh gyro, seems like Apple is having a tough time trying to figure out what else they can put in a phone.

Aren't there already 100 posts exactly like this one within the past 14 days? Rene, does 9to5 pay you some sort of bonus to mention and/or post their stories 2-10 hours late (almost verbatim).

i wouldnt mine it being thinner then i can add a battery case to it

Let the system work. Then give us the findings. The only people who are going to get worked up about this report are not Obama supporters anyway.

I ran Abstinthe, plugged my phone in and clicked JailBreak. But the bar hasn't moved in maybe over an hour. It says "Please wait, This may take some time" but my buddy had his done withing 20 mins tops.Any advice ???Cheers

Excellent beat ! I would like to apprentice whilst you amend your web site, how could i subscribe for a weblog website? The account aided me a acceptable deal. I have been a little bit acquainted of this your broadcast offered vivid clear concept

Thanks for the auspicious writeup. It if truth be told was a amusement account it. Look advanced to far brought agreeable from you! However, how could we keep up a correspondence?
Get the best of iMore in in your inbox, every day!
Thank you for signing up to iMore. You will receive a verification email shortly.
There was a problem. Please refresh the page and try again.