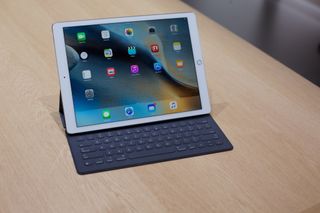 With every new product that Apple announces, the third-party accessory makers are always right on the ball and get a whole host of cases out there for launch. The iPad Pro is Apple's biggest iPad yet, but that doesn't make it any less portable. Folks are going to toss it in a bag and take it on the road with them. And this little lot will help you take good care of it.
Note: iPad Pro cases are just now coming on the market so we'll be watching carefully and updating this article as new and potentially better options hit!
The smart Keyboard is Apple's own first party case for the iPad Pro, though calling it just a case falls way short. It's like, case plus, since it also includes a full QWERTY keyboard to use with the tablet. It's a little like the Smart Cover that Apple has sold previously for the other iPads in that it covers the back of the tablet, the front when closed and can be used to prop it up as well. Only with this one you can get some work done, too. Pricey, but it covers the bases you'll want with an iPad Pro.
$169.00 on Apple.com (opens in new tab)
MoKo is one of those third-party case makers that you can usually find something from for any device. And that includes the iPad Pro. It's been designed to allow easy access to all the controls on the tablet while allowing you to prop it up at a variety of angles for working or when you want to kick back and watch some video. The front cover is padded to protect that all important display, the back is reinforced plastic for durability and protection. And that includes at all four corners. Oh, and there's a neat handstrap attached to help you easier wield your iPad Pro.
At the time of writing Amazon has a steal on this case which is due to ship on November 25.
$5.99 on Amazon (opens in new tab)
LK [Perfect Fit] X Shape Slim Thin TPU Gel Rubber Soft Skin Protective Case Cover
If you don't care about keyboards or viewing angles and you just want a simple, inexpensive case to protect your iPad Pro, then check out this offering from LK. It's a TPU shell case that will only protect the back, but it covers all four corners and the edges so will protect the metal casing from falls. It's not fancy but it does come in a range of different colors to suit your taste, as well as boasting to be scratchproof, shatterproof and able to withstand dirt and staining.
$9.99 on Amazon (opens in new tab)
Felt sleeves are great at protecting your devices in a bag while also having a bit of style to go with. The Inateck is good for not just your iPad Pro but also carrying a MacBook, too. Right up to the 13-inch MacBook Pro with Retina Display. What's extra special about this particular sleeve is that it's built from some pretty sturdy stuff and can actually act as a laptop stand. The felt is mold and wear resistant and has a great feel to it. There are two pockets inside to carry an iPad Pro or MacBook and a smartphone, while smaller items like a mouse can be stashed away in the rear. And the velcro closing will ensure that your Apple products are safe and sound when you throw it in a bag.
$21.99 on Amazon (opens in new tab)
Verus Layered Dandy Leather Case
If you want protection and style then check out this little number from Verus. Not only does it look great but it's durable, has a strong magnetic lock with auto sleep and wake support for the iPad Pro, and a little holster for your Apple Pencil. You can display the iPad Pro in a couple of different viewing angles with it for work or play, and it's designed to protect against scratches and impacts while still giving you easy access to all the ports and buttons.
$54.99 on Amazon (opens in new tab)
Your favorite iPad Pro cases
That's a selection of five that we think are the best covering all the different bases to protect your new iPad Pro. There are many more out there, though, so if you've got a particular favorite be sure to jump into the comments below and share it with us all!
Do you plan to review Apple's iPad Pro silicone case or smart cover? Perhaps they are too similar to the equivalent iPad Air case/cover to warrant a new review.

Hoping for more colors from Apple!

I find it curious that I never read any comments about a flaw in virtually
9 out of 10 cases. The flaw is that these case do not prevent iPads from
flopping over with the slightest tapping on the screen. Meaning they offer
no stability.

The smart keyboard cover holds the iPad pro tight with magnets in the typing position. It won't tip over. I would think that many of the third party cases also will use this design feature new to the iPad pro as well.

Isn't the Logitech keyboard case worthy of a mention too?

I was thinking the same thing. I played with one fore a little while at the Apple Store.. It's got, a keyboard that feels almost die title in six to the MacBook Pros

This case? Logitech Create iPad Pro Keyboard

Yep. That is the lone Logitech iPad Pro keyboard case :-)

I bought the Modal Folio at Bestbuy. It is a Smart Cover/case without the smart. No magnets but it protects both sides and props up like the Smart Cover. No keyboard but it is only $49.

I saw a case called Devicewear Ridge. It looks like the Moko style but better. Do you have experience with this one? I am thinking of buying an iPad Pro as last minute gift for my husband and this is the style of case I think he will use the most.

Can't believe you guys left out Pad & Quill's Oxford iPad Pro case from this list. It's full grain leather, smart keyboard compatible, and absolutely gorgeous. We love ours almost as much as we love our iPad Pro!

Don't buy the Verus Layered Dandy Leather Case. I've had it for months now and it constantly falls out of its propped up position. The latch always flops down over the screen and gets in the way and it doesn't sleep/wake the screen. It looks nice otherwise but it's not functional
Thank you for signing up to iMore. You will receive a verification email shortly.
There was a problem. Please refresh the page and try again.