Top 5 reading apps for iPad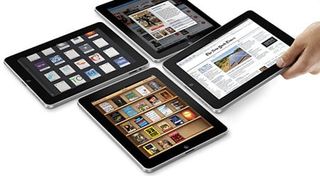 TiPb checks out the best, most must-have reader apps to load up on your iPad
Have an iPad and curious which are the best, most must-have reading apps you need to check out? Want to really get the most out of that big 9.7-inch screen? Well read on for TiPb's top 10 most recommended, most must-have readings apps for your iPad.
Note: Many of the reader apps are free but individual books, issues, etc. are available via in-app purchase. Those prices vary.
eBook readers: Kindle for iPad
Amazon's Kindle eBook reader for iPad isn't as good looking as Apple's iBooks but simply has the largest library of titles and the most cross-platform support on the market. If you're looking for a book chances are you'll find it for the Kindle app, and if you buy it you'll be able to read it on iPhone, iPad, Kindle devices, and other smartphones. Better still, if you stop reading it on one device, thanks to WhisperSync you can pick up right where you left off on another device. Universal app - download once, use on iPhone, iPod touch, and iPad. [Free - iTunes link (opens in new tab)]
Also check out:
iBooks from Apple which supports PDF, bookmarking, highlighting, and picture books. [Free - iTunes link

(opens in new tab)

]
Stanza, purchased by Amazon is a favorite of those who like open, free eBooks and like to roll their own as well [Free - iTunes link

(opens in new tab)

]
Magazine readers: Zinio
Since neither Apple nor anyone else has been able to provide a real, multi-publisher iTunes-like experience for magazines, it's hard to pick one app as the best. Zinio at least comes close, with support for a wide variety of magazines across a wide array of devices. We're still waiting for our next-generation iMags but this will hold traditionalists over until we get there. Universal app - download once, use on iPhone, iPod touch, and iPad. [Free - iTunes link (opens in new tab)]
Also check out:
Unfortunately, as mentioned, the iPad magazine market is a mess, with tons of apps from tons of publishers, mostly just selling repackaged InDesign exports. If there's a magazine you love, search the App Store for it and there's a good chance you'll find an app for it, including everything from New Yorker to Popular Science to People.
Newspaper readers: Press Reader
Press Reader is much like Zinio, an attempt to provide a one-stop shop, in this case for newspapers. It boasts 1700 international papers in its library. Again, we're still waiting for Apple to pick up the subscription ball with an iNews-type solution, but in the meantime Press Reader gets the job done. Universal app - download once, use on iPhone, iPod touch, and iPad. [Free - iTunes link (opens in new tab)]
Also check out:
The good news is, there are a lot of individual iPad newspaper apps. The bad news is there's a lot of individual iPad newspaper apps. Inarguably most of the big names are there -- Wall Street Journal, New York Times, USA Today -- but just not in any organized manner. So, once again, you're left to search the App Store for your favorites.
Comic book readers: Comics
Comics by comixology is the closest thing to a unified comic books store on iOS. It helps that they also make the Marvel, DC, and Image apps using the same engine, but their own Comics apps is the only place to get stuff from all those publishers all in one place. The experience is the same across comics, Marvel, DC, and Image -- browse or search for books, download free samples, buy issues. You create an account, so you can access your library from other devices, like iPhone as well. Unfortunately some storylines don't have all issues available, and there are no bundled "trade paperback" style purchases... yet. Universal app - download once, use on iPhone, iPod touch, and iPad. [Free - iTunes link (opens in new tab)]
Also check out:
Comic Viewer is for those who prefer to move their own CBZ and CBR files over to iPad. [$4.99 - iTunes link

(opens in new tab)

]
Stanza for iPad also works with comic book files-ish. The dedicated readers are better but if you're into multitaskers and are already using Stanza for eBooks, no you're good to go [Free - iTunes link

(opens in new tab)

]
Web readers: Flipboard
Flipboard takes all the stuff you care about -- articles and pictures shared by your Facebook and Twitter friends along with the latest relevant headlines and presents them, with content and social comments, in a gorgeous, tactile iPad interface. A recent update has even added Google Reader support for RSS. You can customize it to your hearts content and share your own comments back. It's the closest we've come yet to a communal magazine. [Free - iTunes link (opens in new tab)]
Reeder for iPad is a great way to keep up with your RSS news feeds. [$4.99 - iTunes link

(opens in new tab)

]
Instapaper lets you save web articles to read later in a cleaner format. [$4.99 - iTunes link

(opens in new tab)

]
Your top apps?
So there you have them, our top 5 best iPad reader apps to get you going. Be sure to check out our Picks of the Week and iPad App and Games Forum for more recommendations, and if we missed any of your favorites leave them in the comments below!
Get the best of iMore in in your inbox, every day!
Rene Ritchie is one of the most respected Apple analysts in the business, reaching a combined audience of over 40 million readers a month. His YouTube channel, Vector, has over 90 thousand subscribers and 14 million views and his podcasts, including Debug, have been downloaded over 20 million times. He also regularly co-hosts MacBreak Weekly for the TWiT network and co-hosted CES Live! and Talk Mobile. Based in Montreal, Rene is a former director of product marketing, web developer, and graphic designer. He's authored several books and appeared on numerous television and radio segments to discuss Apple and the technology industry. When not working, he likes to cook, grapple, and spend time with his friends and family.
Regarding newspaper apps for iPads... PressReader http://www.pressreader.com/.
It rocks.

the early edition !! can't believe it doesn't get more love or attention, google reader integration and a fantastic interface (better than flipboard, i know because i have both)

Pressreader looks cool, but I prefer using Early Edition and add feeds from various newspapers I like that have RSS feeds. This way I don't have to pay per paper or a monthly subscription.

@Frank Forgot about Press Room, thanks, added!
@Fraco, Garrett, I love Early Edition, it's actually a hybrid newspaper RSS app for me. Very much my go-to "feet up" reader.

Saying Kindle is the best because it has more books goes against the meaning of the article. Which APP is better, not which book store is better.

@wayne, yes and no. Some prefer ios if not just because it has the largest selection of apps. Content is king.

I have to agree with Wayne: the better App can be affected by content, but the usability of the app has to come first. In that case, iBooks is definitely the best book reader. It supports Whispersync-like technology, meaning I can switch between iPhone, iPad and iPod Touch seamlessly. True, the bookstore isn't as good as the Kindle, but it's not bad, and it's getting better all the time. It isn't so anemic that it should merit a major shot against it. Overall, I find iBooks to be a much better reading experience. Since I'm buying books only occasionally, and I'm reading books much more often, the reading experience trumps all for me.

It's essential to mention txtr, and bluefire as they allow access to ADOBE DRM protected ebooks. bluefire and overdrive also to library books. Please note that they expect you to use the operating system rotation lock instead of having a function within the app.
Also textunes is a good choice for the German market.

What makes iBook better than the Kindle app? It has nearly the same features and some that iBooks doesn't have, such as night mode. Other than some smoother animation on page flips, I can't see what the big deal is.

I read a lot of comics on my iPad and I use ComicZeal (http://www.comiczealapp.com/). The last update put in some great features that make it easy to read. All it needs is a little bit better collection management but I can wait on that because the reading experience is so good.

Thanks for the tip. I read allot of comics on the iPad also.

Flipboard hands down one of the best apps ever for the iPad,it's what the Daily should have been delivered on (take it back, even that wouldn't help the shallow content of the Daily). I removed all of my other readers this does it all, exactly how it should be done on an iPad.

What about Instapaper? :D

I have a library of several thousand books - most of them are out of print, rare or academic, in other words not your usual kindle stuff. I have all these on my iPad, most of them in PDF and DjVu format some of the lesser items in that shoddy epub format (the designers of that format deserve a spanking on the bare ass, publicly). Therefore I work with two and two readers only: the absolutely outstanding "GoodReader" and the reasonably well working "DjVu".
I have of course also the Kindle app but it is really nothing to write home about. The Kobo reader purely as a reader is surprisingly decent. IBooks has the looks but isnot suitable for serious reading.
GoodReader is beating the lot hands down in every department.
S.
Thank you for signing up to iMore. You will receive a verification email shortly.
There was a problem. Please refresh the page and try again.