UE Megaboom vs. UE Boom 2 vs. UE Boom 1: What's the difference?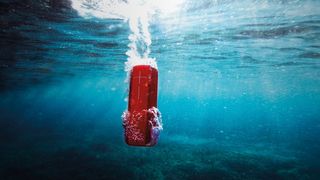 The UE Boom 2 speaker isn't all that different from its predecessor, but it does get a little louder, ever so slightly bigger, and a lot more portable. The bigger Megaboom is just as waterproof and almost as portable, but it delivers much more in the thunder department.
We'll take you through some key differences between the UE Boom 1, UE Boom 2, and Megaboom to help you decide whether or not it's worth it to upgrade.
Sound
Whereas the UE Boom 1 pumped out 88 decibels of kapooyah, the UE Boom 2 upped things just a smidge to 90, which won't mean too much in terms of overall volume, but it will allow you to crank it a little more without worrying about distortion.
Each driver is about a quarter-inch bigger, though that hasn't changed the speaker sensitivity, but it will make for somewhat noticeably clearer sound at any volume.
The main thing to take away is that, if you loved the sound of the UE Boom 1, you'll be totally pleased with the UE Boom 2's performance.
With the Megaboom, you'd think the larger size would make for a louder speaker, but UE's site states that the Megaboom is only rated to 90dbA, so it's actually on-par with the Boom 2. It's frequency range is a little larger, at 65Hz to 20kHz to the Boom 2's 90Hz to 20kHz, so it will produce a deeper, warmer bass, and it'll produce even less (if any) distortion at high volumes.
Waterproofing
This is where the UE Boom 2 and Megaboom shine over the 1. While the UE Boom 1 had an IPX4 water and dust-resistance rating, the 2 and Mega have an IPX7, which means they're all but waterproof and shock-proof. Like Tech Radar said, "what used to be the best Bluetooth speaker around for most occasions is now the best one for every occasion."
IPX7 means that the UE Boom 2 and Megaboom can be submerged into 1 meter of water for up to 30 minutes. The 1 was only splash-proof, so the upgrade is stark and a massive boon for the 2 and Mega.
Battery life
While the battery life remains the same between the Boom 1 and 2, at 15 hours (depending on usage and environmental conditions), the UE Boom 2 massively improves on charge time.
It takes almost 3.5 hours to charge the UE Boom 1, while the UE Boom 2 shaves off an entire hour, going from 0 to 100% in 2.5 hours.
The Megaboom, being larger, has a larger battery and can last for up to 20 hours of playback.
Range
Just how far away can you be from a UE Boom while it's playing? The UE Boom 1 boasts a 50-foot mobile range, which is rather impressive for Bluetooth.
The UE Boom 2, on the other hand, doubles that range to 100 feet, meaning you'll have incredibly clear sound from really far away. Ditto for the Megaboom.
To compare, the Bose Soundlink, one of the best Bluetooth speakers available, only has a range of 30 feet.
Price
Now that the UE Boom 1 has been discontinued, you can still get it on Amazon, but the price has jumped from $120 up to $144 for the just the black model, and you can't get the other straight from Amazon or straight from UE anymore.
The boom 2 comes in a bunch of different flavors and prices jump around, starting around $99 for the After Hours edition and getting up around $150 for others.
The Megaboom clocks in around $175.
Where Megaboom rises above the others
Wireless speaker systems are becoming more prevalent, so the ability to create stereo pairs is popping up all over the place, even with inexpensive speakers like those from Ultimate Ears. The Megaboom has the ability to "Double Up," which lets you pair two Megabooms together. You can even activate Double Up Lock, which will make the two Megabooms pair up the next time you power them on together.
The bottom line
At this point, The UE Boom 1 shouldn't even be a consideration for you. The UE Boom 2 has come down to the point where it's the same price or less (in some cases) than its predecessor. If you're looking for something very portable, then the UE Boom 2 should be your decision.
If you're looking to be able to pump things a bit louder without distortion, want to make a stereo pair, and don't mind a somewhat bulkier (though still very portable) speaker, then check out the Megaboom. Price-wise, it's really not that big of a jump.
Updated June 2018: Updated to include the Megaboom and to note that the Boom 1 is discontinued.
Master your iPhone in minutes
iMore offers spot-on advice and guidance from our team of experts, with decades of Apple device experience to lean on. Learn more with iMore!
Mick is a staff writer who's as frugal as they come, so he always does extensive research (much to the exhaustion of his wife) before making a purchase. If it's not worth the price, Mick ain't buying.