Have you updated to iOS 5.1.1? [Poll]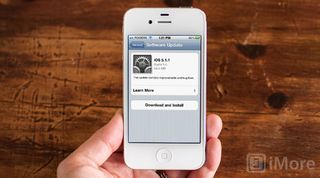 It's been a week since Apple released iOS 5.1.1 for the iPhone, iPod touch and iPad so I'm wondering -- have you updated yet? Now that we're footloose and PC-free, and have over-the-air (OTA) updates, it's easier than ever to make sure your device is always running the latest and greatest version of iOS. The minute a software update hits, we post about it here on iMore and with only a few quick taps you can manually start the update process on your iPhone, iPod touch or iPad. Eventually, Apple will send you a pop-up notification to tell you an update is ready, and you can tap to get it started. Apple will badge the Settings icon as well, so you know you need to go in and look for... something.
But there are still some reasons people may not want to update. At least not yet. Some may be waiting to see how battery life and performance work out (it's fine, according to our readers). This is especially true for users of older devices like the iPhone 3GS.
Others might be jailbroken and be waiting on an iOS 5.1.1 untethered jailbreak before they update. If you rely on certain jailbreak features, there's no reason to lose them just for a minor bug fix or performance fix update, especially if you've been waiting on an iOS 5.1.x untethered jailbreak for your device for months already.
Still others might simply not see any compelling reason to update to iOS 5.1.1. If your device is working fine, if security patches aren't a big deal to your, and since there are no new features to be had, it may not seem worth even the small amount of effort OTA takes.
I've updated my iPad but not my iPhone. My iPhone is jailbroken so I won't be updating any time soon. Even if I wasn't jailbroken, I probably wouldn't update until Apple released a new feature I really wanted. I rely on my phone for my work, and its working, and I won't mess with a stable environment if I don't have to.
How about you? Have you updated to iOS 5.1.1 yet? If you have more than one iOS device, have you updated all of them? If you haven't updated yet, why not? Vote in the poll up top and give me all the details in the comments below!
Get the best of iMore in your inbox, every day!
Senior Editor at iMore and a practicing therapist specializing in stress and anxiety. She speaks everywhere from conferences to corporations, co-host of Vector and Isometric podcasts, follow her on Twitter @Georgia_Dow and check out her series at anxiety-videos.com.
Yep, 3GS, 4S, iPad2, all of them :)

Yes, my 3GS. Works great.

I have iPhone 4s and iPad2 and I have both updated to 5.1.1 since I am not a jail breaker. I have had only one issue with an app that seemed to be frozen on my iPad after the update. Removing and re-installing the app quickly got it going again so I am happy with the update.
BTW... there is no poll at the top as referenced.

Yes, we're all updated at home. I updated my iPad 2 and my wife updated her iPhone 4S.

Yup updated my iPhone4s No problems here my battery life has been good since i got it. It's been good but the more I use it like watching movies , playing games, or something the faster it drains but thats common sense. OTA is good , but sucks if you don't have a wifi so I had to wait till I got home.

Updated both the iPhone 4S and the new iPad. iPad is fine, but the iPhone won't work with my official Apple (albeit, older) charging dock. Major bummer :(

No for both iPhone and iPad. Unless an untethered jailbreak is released, 5.0.1 might be my last iOS 5 iteration.

http://mobilesyrup.com/2012/05/14/ios-5-1-1-untethered-jailbreak-coming-...
Looks like its coming within the next few weeks. Can't wait for it! :D

Waiting patiently for an untethered JB for 5.1

I too am waiting for the release of some form of Jailbreak before I can update my iPhone 4S! I cannot use my iPhone 4S without a Jailbreak.
I had to exchange my old iPhone 4S at the Apple Store recently, thankfully the replacement was on 5.0.1, so I could Jailbreak it.
When my old one was forced to update to 5.1 due to a software malfunction, I popped my SIM into my Android, because it was no longer Jailbroken. THAT, is how sirious, er serious I am about Jailbreak!

Yes. It has destroyed the battery life of my iPhone 4 :(
Wish I could downgrade!

Did so on the ip4 and iPad2. Has screwed my ip4 battery life. I watch it drain fast

Did my update on the 4S and haven't noticed much difference. Not sure if wifey has done her 4 yet. Definitely has not improved 4S Batt life at all..

I agree, I think the battery life has gotten a little worse actually.

Only iOS can say that 77% of respondents are on the latest OS. Android can't even claim that anyone about 50% is on 4.0/ICS after all this time. Android fragmentation is real.

It's probably more like about 5% that are currently on 4.0. The vast majority of Android devices are still on 2.2 or 2.3, last I checked. Re: fragmentation, for most people this is really a non-issue, as it doesn't really matter as long as you're happy with your device's performance as it is. I know that I personally would never be happy knowing that the latest software was released but I still couldnt get it, due to the OEMs and/or carriers getting in the way of my update (that's one of the main reasons I got an iPhone 4 and a Galaxy Nexus).

Not yet. I'm reading mixed results about battery life. I'm going to hold off until it seems it's not really an issue. I have plenty of access to chargers, but it's the principle of not having to reach for a charger more than I need to.

I updated my wife's iP4 and the battery life is the same or slightly better. Have not noticed any adverse impact. I jailbreak my 4S so still waiting for the untether on that one.

Hmmm... I find it strange that so many people are having battery life issues since the 5.1.1 upgrade, 'cos my battery life appears to have actually improved somewhat on my iPhone 4. I usually end my nights with around 50% - 60% of a charge left, and this is after using the phone off and on all day without charging it. Last night I still had about 70% left after getting off work (after light to moderate use all day and night). Everything feels a little faster and smoother too. Could it possibly be a 4/4S issue (meaning it might be affecting the 4S and not the 4 or vice versa)? Or could it be something to do with certain apps running in the background (I only have about a dozen apps, and usually only use about 3 or 4 of them regularly)? Just guessing and throwing ideas out there...

People should be deleting their exchange email accounts and re-adding them to fix the battery drain problem. My brother and I both did this to our iPhones 4s and fixed the battery drain problem when it was idle.
I can still see battery is draining a little too quick on playing games and surfing. But nothing to complain about now compared to earlier. Still wish I didn't update though. Zzz.

I would be curious on the percentage of regular people have run any of the OTA iOS update. They real need a default option to run updates automatically….. iOS and Apps!

Haven't you updated to make a poll on your site yet?

Updated my iPhone 4s to iOS 5.1.1 successfully. After reboot a few apps crashed: Maps, Contacts, Discovery News, games. Scrolling & swiping felt a tad bit slower (but returned to normal the next morning). Noticed all system location services were turned on.

Updated last night, Now about half of my calls the mic does not work. Extremely frustrating...
Also appears battery is draining faster.

Updated both my iPhone 4 & ipad3. Bluetooth on my iPhone will not connect to my tomtom go 1005. Tried deleting from device from both iPhone and tomtom but still won't pair or make a connection.

I'm still under ios 5.0 and won't upgrade because my Blootooth settings shortcut I conveniently have on my homescreen won't work after ios 5.0. Until Apple adds homescreen settings shortcuts, I won't be upgrading

After I upgraded, Siri forgot all my relationships. She even forgot who I was. I was able to tell Siri who I am, but when I try to set other relationships it says it can't do that.