Have you updated to iOS 5.1.1? [Poll]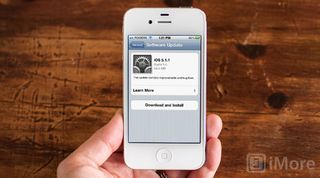 It's been a week since Apple released iOS 5.1.1 for the iPhone, iPod touch and iPad so I'm wondering -- have you updated yet? Now that we're footloose and PC-free, and have over-the-air (OTA) updates, it's easier than ever to make sure your device is always running the latest and greatest version of iOS. The minute a software update hits, we post about it here on iMore and with only a few quick taps you can manually start the update process on your iPhone, iPod touch or iPad. Eventually, Apple will send you a pop-up notification to tell you an update is ready, and you can tap to get it started. Apple will badge the Settings icon as well, so you know you need to go in and look for... something.
But there are still some reasons people may not want to update. At least not yet. Some may be waiting to see how battery life and performance work out (it's fine, according to our readers). This is especially true for users of older devices like the iPhone 3GS.
Others might be jailbroken and be waiting on an iOS 5.1.1 untethered jailbreak before they update. If you rely on certain jailbreak features, there's no reason to lose them just for a minor bug fix or performance fix update, especially if you've been waiting on an iOS 5.1.x untethered jailbreak for your device for months already.
Still others might simply not see any compelling reason to update to iOS 5.1.1. If your device is working fine, if security patches aren't a big deal to your, and since there are no new features to be had, it may not seem worth even the small amount of effort OTA takes.
I've updated my iPad but not my iPhone. My iPhone is jailbroken so I won't be updating any time soon. Even if I wasn't jailbroken, I probably wouldn't update until Apple released a new feature I really wanted. I rely on my phone for my work, and its working, and I won't mess with a stable environment if I don't have to.
How about you? Have you updated to iOS 5.1.1 yet? If you have more than one iOS device, have you updated all of them? If you haven't updated yet, why not? Vote in the poll up top and give me all the details in the comments below!
Master your iPhone in minutes
iMore offers spot-on advice and guidance from our team of experts, with decades of Apple device experience to lean on. Learn more with iMore!
Senior Editor at iMore and a practicing therapist specializing in stress and anxiety. She speaks everywhere from conferences to corporations, co-host of Vector and Isometric podcasts, follow her on Twitter @Georgia_Dow and check out her series at anxiety-videos.com.