Jailbreak warnings -- should you worry?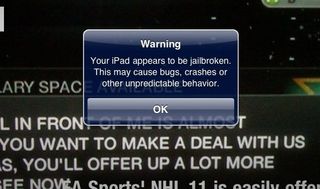 It looks as if the popular Flipboard app for iPad has added a jailbreak warning in a recent update. Upon launching the app, users that are jailbroken see a pop up warning them of potential issues on a jailbroken device.
Is this anything to be concerned about? I'd highly doubt it. As far as I know, developers can implement a checker for do things like this but it isn't anything new. Skype has been. It's just the first time we've seen a large app practicing this. I vaguely remember getting a pop up warning about my iPhone being jailbroken over a year ago on some rogue app I downloaded.
Flipboard will function just the same as it's supposedly just a warning. When a perturbed reader contacted Flipboard about his misgivings with this new practice, a Flipboard spokesperson had this to say,
I don't personally believe this is going to be a huge issue or something a lot of developers will implement. If they did, I could see how it would become increasingly annoying to deal with the pop ups. What do you guys think? Is this the start of Apple finding a way to curb jailbreaking or is it just a mere annoyance some app developers are implementing on their own accord?
iMore senior editor from 2011 to 2015.
whoa. if all apps did this it would be very annoying - but I'm sure the jailbreak community will find a way to block these from popping up if it comes to that

Exactly. The jailbreaking community will always find a way

I always loved the Skype warning... JB'ing will do nothing to app stability...

Jailbreaking alone won't. Loading weird apps that manipulate the UI will.

When Skype first implemented the pop up about being jailbroken causing instability I found it quite amusing. At that time Skype had the bug that would disconnect your call whenever an SMS arrived and the only way to stop this from happening WAS to be jailbroken and background enable the app before making a call.

The popup for skype always pops up.... Even if you arent jailbroken. JB'ing will cause stability problems, if it didnt, why does springboard have a safe mode. This sounds to me like some developers covering their butts.

There will be a sort-of pop-up blocker for this type, hence it will render the measure useless.

yup. Looking forward for next update of that tweak. When there is a will, there is a tweak..

Will delete apps that annoy me in this way.

Agreed. Annoying apps get deleted.

In the long run, it could help developpers against the piracy of their paid apps. A bit like Beejive and their licence key.

It has been a problem with apps, but you usually do not know until there is a problem, and you contact support. Some dev will give help, some will not support jailbreak. It can be the nature of the jailbreak. At least they warn you, but I can see where pop ups can be annoying. You should be able to turn it off once warned.

I completly see the developer's point of view here, with all the tweaks taking place on jailbroken devices its too easy to cause random conflicts and crashes to signed apps.
Why should any developer spend hours giving you support on an issue that is simply caused by a Cydia tweak? Its good to warn people who most likely acuired the App illegaly that they might run through issues with the app.

Yes, we ALL jailbreak just because we can get free apps. Really? Sheesh.

people jailbreak to steal apps, this is just FUD.
The majority of folks jailbreak so they can use applications (many free) that are not available via Apple's fanatical control policies.
hardly ANYONE jailbreaks to acquire illegal apps, this is frowned upon in the JB community. A developer pointing out on their support site that they will not spend time on problems with their apps if it is being run on a JB iPhone/Ipad is fine, popping up a dialog is not.
To me if I see that type of dialog then I no longer trust that app as Apple has a long reach. Developers should think twice before alienating their customers (free customers today can be paying ones tomorrow).

I don't know if my sarcasm rang through about the whole stealing apps thing... I'm jailbroken, but I'm definitely not that type...

I lol'd when FlipBoard first showed me this.

Maybe apple should get together with the jailbreak community to find out what the device NEEDS so people don't have to jailbreak.

Additional thought, look at how many android devices have their own UI over the OS.

I think their privacy policy (as well as anyone else's) should spell out what information they will be accessing on your device. I can understand they need to get my IP, maybe location (although I would be a little itchy about this one) and what default browser you are using ( should ask that) but beyond that I think they are over stepping their bounds.
I can't see how knowing my iPad is jailbroken in any would affect delivering information to me. Since they have broken the trust will be switching to Zite.

An impressive share, I just given this onto a colleague who was doing just a little analysis on this. And he the truth is bought me breakfast as a result of I discovered it for him.. smile. So let me reword that: Thnx for the deal with! However yeah Thnkx for spending the time to discuss this, I feel strongly about it and love studying more on this topic. If doable, as you grow to be expertise, would you mind updating your weblog with more particulars? It's highly useful for me. Large thumb up for this weblog publish!
Thank you for signing up to iMore. You will receive a verification email shortly.
There was a problem. Please refresh the page and try again.