Verizon to give discounts to customers with off-contract phones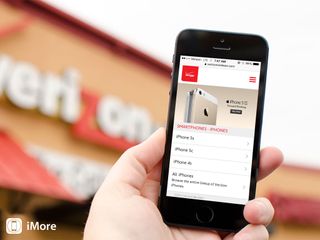 Verizon is finally going to give you a discount for off-contract phones. Starting April 17th, customers of Big Red are going to be able to bring their own off-contract devices onto shared MORE Everything plans at a discount. No longer will they have to pay a subsidy fee for a subsidy they're not using. Plans at or under 8GB will see a smartphone add-on reduction of $10 (bringing the fee to $30/month), while those with data allotments of 10GB or higher will see their fee sliced from $40 down to $25 per smartphone.
This move brings Verizon in line with the its competitors, who have for some time offered discounts for off-contract devices. Why pay a subsidy when you're not using it?
Verizon has been countering T-Mobile's recent announcements with their own tweaking of their plans. After T-Mobile announced that they were cutting cellular tablets to price-match their Wi-Fi versions and throwing in 1GB of data through the end of the year, Verizon countered with their own incentive, offering an extra 1GB of free data for the lifetime of a tablet on a MORE Everything plan. Just this morning,one they already own to a MORE Everything plan for either $30 or $15 depending on the data allowance they choose. When a customer brings his or her own smartphone, it must be compatible with the Verizon Wireless network.
These monthly access prices are also available to customers who choose Verizon Edge when purchasing or upgrading to a new smartphone. So, customers who choose a MORE Everything plan with 10 GB of data and four smartphones, either on Edge, moved from month-to-month contracts, or brought to the Verizon Wireless network, will pay $160 month for service and access.
To take advantage of this value, which is available for a limited time, customers can log in to My Verizon to add these devices and update their plans. They can also visit a store or call Verizon Wireless to make the change and to ensure they are on the right MORE Everything plan for their mobile lifestyle.
MORE Everything plans include unlimited talk and text, unlimited international messaging, 25 GB of cloud storage per line, and three months free of the International Long Distance Value Plan and FamilyBase service.
Verizon Wireless was the first wireless provider to introduce shareable data, and customers can have up to 10 devices on a MORE Everything plan. Currently, customers who want to activate a tablet and add it to a MORE Everything plan of 1 GB or higher will receive an additional 1 GB of shareable bonus data for as long as that tablet remains on the plan. Tablets can be added to the plan for $10 monthly access.
Get the best of iMore in your inbox, every day!
Derek Kessler is Special Projects Manager for Mobile Nations. He's been writing about tech since 2009, has far more phones than is considered humane, still carries a torch for Palm, and got a Tesla because it was the biggest gadget he could find. You can follow him on Twitter at @derekakessler.
Well at $10 a month discount, that's only $240 over a two year contract. If you buy a subsidized model, you save $450 upfront off the phone, minus 240 and you still come out ahead $210 on the contract plan. So you are still paying extra for the privilege of bringing your own phone. Thanks Verizon, no one screws their customers like you do.

What I'd like even more than this is if they brought their LTE service to their prepaid offerings.

They still have crap for prepaid plans that, still, screw over the customer. Piss pore offering really, tho better than nothing...I guess...
And MORE Everything Plans, great for folks who have that many people on a plan, but what all the rest of is who don't? We're still hosed by lame plans.
Great coverage, but I suspect that if big red don't start catching up with the competition on their pricing and plans, subscribers may start moving on.

is this price for as long as the phone isn't under contract? my wife and i were are both out of contract and were planning on switching to the more everything plan and eventually upgrading. With this news I'm hoping we can switch over at the cheaper price, wait a month or 2 and then upgrade keeping the cheaper price...

Still not sure is is enough to keep me come iPhone 6. I seem to be gradually increasing the data usage. Up to 8 gb for two of us right now. T-mobile offer in unlimited (even throttled after 1gb for my wife) and an option for no throttle is enticing enough to me. Sent from the iMore App

I stopped by my local Verizon store for further details. The rep said EDGE was required for this rate plan. With the added purchase of EDGE, there are no savings. I'm not sure if the rep knew what she was talking about. I also logged into myverizon and found no such plan available. Will it be available the 17th? T-Mobile is further becoming a more appealing alternative.

You actually get a $25 discount for bringing your own phone if you have a 10 GB or higher data plan. Therefore you would pay $15. Source: https://www.imore.com/e?link=https2F2Flinks%2F1...

Reminds me of the commercial where the guy drops the wireless bill on the table and the table breaks. It's gotten so complicated that I just don't give a $h!t anymore. Send me the bill, I'll write the check and move on.

Not good enough. VZW just won't give its customers any breaks. But hey, they're in it to make money. I guess there is no such thing as obscene profits. Ask the oil companies.