Web link error in iOS 9.3 causing crashes in Safari, Chrome, and more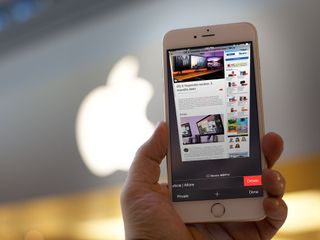 Several iPhone and iPad owners are reporting an issue with web links after installing iOS 9.3. The error, which crops up when tapping or long pressing web links in built-in apps like Safari or Messages, or some third-party apps like Chrome and WhatsApp, causes the affected app to freeze or outright crash. Additionally, while the issue appears to have become more widespread with iOS 9.3, several users still on iOS 9.2.1 are reporting similar problems as well.
So far, we here at iMore have been unable to reproduce the issue. However, with 1 billion devices around the world, an error affecting even a small percentage of iPhone and iPad owners will still impact a large number of people.
Discuss this issue in our forums
Joseph Keller is the former Editor in Chief of iMore. An Apple user for almost 20 years, he spends his time learning the ins and outs of iOS and macOS, always finding ways of getting the most out of his iPhone, iPad, Apple Watch, and Mac.
You'd think with all of the betas of this and the beta testers this bug would not have slipped through...

Clearly you don't know Americans... Don't expect a country with an Educational System ranked 23rd in the World, to produce a lot of competent people. Sent from the iMore App

Yeah Americans aren't mentally capable of producing competitive products like iPhones, Windows Phones, Androids, PC's, Apple Computers, every single bit of Enterprise level business hardware systems, routers, nuclear weapons, advanced fighter jets, telephones, electricity, eyeglasses, landing on the moon, credit cards, diapers, cat litter, video games, code compilers, wetsuits, airbags, artificial hearts, f'n lasers, bubble wrap, carbon fiber, integrated circuits, weather satellites, GPS, spreadsheets, LED's, computer mouse, LCD's, CD's, the zipper, WiFi, microprocessors, email, mobile phones, voicemail, post it notes, digital cameras, the internet, perl, firewalls, .zip format, DNA computing, javascript, .... yeah we're all just sitting in caves over here picking fleas off each other and grunting. Sad truth is you wouldn't have the ability to spew nonsense like this without american inventions as every single aspect from the power socket in your wall to the code used to transmit the vomit that you call a comment is all American inventions.

Unfortunately, it never works this way. Betas do not equal to perfect stable releases, it never has and never will. Apple isn't immune to this, every single company in the history will have bad releases no matter how extensive their beta programs are. Even Intel, they have one of the best validation processes on the planet and still have bugs on their CPUs and in the last several months, had a lot of bugs in their drivers.

People from older versions than 9.3 are running into the issue. It isn't tied to the latest release.

The issue is related to deep-linking / app association file stored on the app's websites. You have to have both the app installed and then try deep-linking with their website to start crashing the system. An example: Booking.app will cause this issue because of Booking.com's huge app association file stored on their site, iOS was not meant to handle such extreme cases. This has been confirmed and reproducible on Twitter already.

The problem disappears largely when requesting desktop view after doing a Google search in Safari or switching to Bing as search engine, but persists in Mail, Notes, Messages and 3rd party apps that open links in Safari as default (I have this bug on my phone and the in-app browsers in 1Password, Instapaper and FB work ok). Booking.com and Wikipedia apps are blamed for this but I find it hard to believe that 3rd party apps cause a system-wide malfunction that goes away once you reload the same site in desktop view and some people who have the bug don't actually have those apps installed. It also seems to be affecting more than just a small percentage of users. This thread has grown 28 pages in 3 days and I suspect will grow faster once people return to work after Easter and start using their phones for business: https://discussions.apple.com/thread/7505840?start=405&tstart=0

Definitely an issue, I thought was only me. I'm on the 6S Plus and I was never beta tester. After updating not only links on google search but also link within apps like whatsapp or if I try to open a link in safari from Twitter or other apps won't open or freeze the apps. Interesting think if I click on links in Safari in some instances say on Amazon.com work and also if I change the search to Bing it works again.
But still remain the problem within other apps. I have read might be the booking.com app also to cause it but also in my case uninstalling it didn't solve the problem. It's quite annoying I have to say. Sent from the iMore App

I have the problem when tapping the news articles on the left most home screen. Sent from the iMore App

I noticed the problem on the first day after updating. I haven't seen it since then. I have iPhone 6s Plus.

Hi I've got a 6 plus with the new IOS. When I search using Chrome the results appear but when I click on any link it does nothing!! Such a frustration I hope Apple sort this ASAP. RocknPoP from UK Sent from the iMore App

Turning off Javascript will resolve the freezing issue. Sent from the iMore App

So far I haven't came across this bug and I use Safari and Firefox on my iPhone 6 and iPad mini 2 Sent from the iMore App

I'm not experiencing any issues.

These issues started randomly yesterday. I downloaded 9.3 on the 21st, and it was working fine. Apple support told me to disable JavaScript from Safari to access links. Everything else is still not working (Mail App, Links) Sent from the iMore App

I updated a 6S, 6, iPad Air and an iPad Air 2 within a couple of hours after 9.3 release and have not experienced any issues. I also have Wikipedia and booking.com apps installed on the 6S.

I guess I'm lucky, nothing wrong on my ip6 so far. Sent from the iMore App

I am the only one in the family with the issue, all of us on 9.3. Check with Apple Support, this is now considered by them a "known issue" and they are working on a fix. They told me about the workaround, disable JavaScript/Restart the iPhone, but does not work for me.

Same problem here. This problems apparently affects every single link I long press, in both Safari and Chrome. I hope this gets fixed soon!

There are work arounds such as disabling Javascript, request desktop sites on Google search, changing default search to Bing and others. But still remains the fact that trying to open any links on stock mail or other apps crashes the apps or best scenario doesn't do anything. I have the Booking.com app installed but definitely this was not happening prior to 9.3 update on iPhone 6S plus. You can still use the phone but it's definitely limited in its functionalities. Posted via the iMore App for Android

I think Booking.com is a red herring. I have the app on both my iPhone and my iPad, the "bad" version that supposedly causes this fatal crash loop, and my iPhone 6S on iOS 9.3 has the bug but my iPad 4 on iOS 9.2 is absolutely fine. Even on my iPhone with the Booking.com installed Safari doesn' freeze / crash if I use Bing as search engine or Google in desktop view. I think this is something to do with how certain links are handled in iOS and needs to be addressed at OS level.

I have had problems that started yesterday similar to those already mentioned, I have however been using puffin browser and that is working fine for web based links. For email I have been using gmail which seems to be fine. All native apple apps safari, mail etc are Not Working. Argh! Sent from the iMore App
Thank you for signing up to iMore. You will receive a verification email shortly.
There was a problem. Please refresh the page and try again.