iOS 9.3 FAQ: Everything you need to know!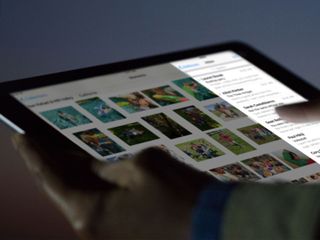 iOS 9.3 brings new features to the current version of Apple's mobile operating system for iPhone and iPad. Highlights include a new Night Shift mode, Touch ID security for Notes, greater personalization for News, app discovery in Health, Apple Music and Nearby for CarPlay, and a new education experience for iOS.
When is it coming out?
It's out! With it, comes Night Shift Mode, Notes Lock, and a whole lot more. We have everything you need to know.
How do I get iOS 9.3?
You can either download it over-the-air from the Software Update feature on your iPhone, iPad, or iPod touch, or download it via iTunes by connecting it to your computer. Here's how.
Who should be excited about it?
Everyone, because bug fixes and security updates are always great! More specifically:
Anyone who enjoys reading in bed or otherwise in the dark.
Anyone who keeps private information in Notes and needs better security.
Anyone who uses News but hasn't found the content personalized enough.
Anyone still searching for great Health and Fitness apps.
Anyone who uses CarPlay and has been waiting for more music and points of interest.
Anyone who uses iOS in the classroom.
So, Siri supports more languages now?
A few more regions and languages, yes! iOS 9.3 adds support for Malaysia (Malay), Finland (Finnish), and Israel (Hebrew).
What's the deal with Night Shift?
Our eyes and bodies were never designed to stare at computer screens all day. As a result, the blue light emitted from said screens can seriously mess up sleep schedules and lead to mid-day exhaustion and tension headaches. OS X has long had third-party utilities like F.lux to help address this problem with display recoloring, but with 9.3's Night Shift, iOS gets its own proprietary version.
It uses your geolocation data and local clock time to automatically determine when the sun sets in your area, and gradually shifts your iOS device's display to a less harsh, more late-night-brain-friendly hue. In the morning light, your display colors shift back to their normal state.
Is this going to make everything obnoxiously orange?
No, your eyes should adjust pretty quickly to oranger hues, especially in darker environments. But yes, it will likely add an orange tint to your screen, making tasks like photo or video color correction slightly more difficult. But, don't worry. You can disable the feature if you really prefer to stare at glaring blue light in the evenings.
I heard Notes has touch ID support now?
It does! With iOS 9.3 you can secure all your notes—especially the ones that might contain private personal, medical, login, or financial data—with a password or with Apple's fingerprint identity sensor, Touch ID.
That means, even if you lend someone your iPhone or iPad so they can call an emergency contact or keep busy while waiting for the food to arrive, they won't have access to your private notes.
It's not the system-wide [Touch ID protection of Guest Mode]/./ios-9-wish-list-guest-mode) we've been waiting for, but it's a great start towards making iOS better protected so we can more comfortably share our devices with others.
What's new with the News?
There is now a New Top Stories section in For You that highlights the trending stories of the day, and you'll also get suggestions from the new Editor's Picks and curated channels made by Apple News editors.
Video will now play right from the story, and iPhone is getting landscape support as well.
Oh, and you can now change the text size in articles.
And the Health app is going to make me healthier?
I don't know if any app can make you healthier, but the Health app is certainly making it easier to keep track of your health. The app now has categories for your Apple Watch's move, exercise, and stand trackers, and even tracks your day-to-day goals. The Dashboard and Medical ID is now accessible with 3D Touch and Quick Actions on the Home screen. In addition, third-party developers can now use the Activity rings to share data with their apps.
Didn't Apple Music get some love?
That's right. You can now add songs directly from Apple Music's catalog to your playlist without having to first add them to your library. One step beyond!
If you want to check in on what's playing on Beats 1, you can see it right on the Radio tab instead of having to go to the section.
You can also watch videos in full screen mode on the iPad and getting to the album that a currently playing song is from is easier. Want to know which songs are the most popular on a given album? Well, you can now on Apple Music.
I heard you can finally grab a still image from a Live Photo
You heard correctly. When viewing a Live Photo, tap Duplicate to either make a copy of the live photo, or extract a still image. You can also now share Live Photos between iOS and OS X using AirDrop and Messages.
Did Apple finally make it possible for me to re-download my audiobooks onto a different device?
Aren't you the lucky one! Apple has finally added support for downloading previously purchased audiobooks from the iBooks Store. Plus, you can share your audiobooks purchases with anyone in your Family Sharing network. Sharing is caring.
Apple also made some improvements to reading Manga and added Pencil support for highlighting and saving passages in e-books.
What's this I hear about Dolby Digital on my iPhone?
With iOS 9.3, you can play video encoded with Dolby Digital Plus. Your device now supports multichannel output when you use the Apple Lightning Digital AV adapter.
CarPlay has some new stuff too, right?
It does! If you have a CarPlay-compatible car, you now have better Apple Music integration, with both the New screen and For You custom playlist suggestion screen available to you. And if you're an Apple Maps fiend, CarPlay now supports the Nearby feature, which lets you quickly find gas, parking, restaurants, and more.
What's this about iPad and education?
The iPad got a huge education upgrade with iOS 9.3, and it's sure to make a lot of educators using iPads in their classrooms thrilled.
The education improvements essentially boil down to three categories: Shared iPads, a new Classroom app for teachers, and the Apple School Manager app for OS X.
iOS 9.3 supports the new Shared iPads protocol, which allows a student to load their Apple ID and information on any iPad the school owns. When students log in to an iPad, all their personal information, iCloud Drive documents, books, and apps will appear on that iPad. Apple is using intelligent caching to make this system work quickly; as such, when a student logs in to a classroom iPad they've used previously, it won't have to take a ton of time to redownload each student's apps.
In addition, Apple has added two features for younger students: Photo ID, which displays the student's photo on the lock screen of the iPad they used last, and a four-digit pin option for students who don't yet have the dexterity to type a username and password.
Apple's new Classroom app is designed for the iPad-toting teacher, and lets them check on their students' progress, bring them to various apps in a lesson plan, and share student work via AirPlay.
Teachers have access to a new Screen View command, which lets them virtually look at any iPad screen in their class; in addition, they can use Remote Control to launch a specific app, website, or ebook page on every iPad in the classroom. If teachers have students who are struggling with attention issues, they can even lock iPads to specific apps to keep the class focused on the task at hand.
The Classroom app offers a few other useful features, too, like being able to help your student reset a forgotten password.
An education-focused device manager, Apple School Manager lets administrators control every iPad in their school fleet. It also allows them to set up and manage school-focused Managed Apple IDs for teachers, students, and staff; buy and distribute books and apps (with the institution's education discount automatically applied); build and deliver iTunes U Course Manager courses; and do it all remotely.
What else?
Apple fixed a lot of issues with hardware keyboards. Plus, you can now use the arrow keys to navigate lists in Spotlight, Mail, and Safari.
Maps now supports a highlighted view of destinations and stops along a specific line in Transit mode.
Wallet now has the ability to access an app related to a card or pass.
Apple Pay now supports signing up for store rewards programs within the app at registers.
The Podcast app now supports full screen video playback.
There is a new Workout tab in the Activity app with monthly summaries of key metrics and the ability to filter by workout type.
Move to iOS now suggests apps based on content you had installed on your Android device.
iCloud Storage now warns you before you run out of space.
Two-factor authentication now works with all iCloud accounts.
Master your iPhone in minutes
iMore offers spot-on advice and guidance from our team of experts, with decades of Apple device experience to lean on. Learn more with iMore!
Serenity was formerly the Managing Editor at iMore, and now works for Apple. She's been talking, writing about, and tinkering with Apple products since she was old enough to double-click. In her spare time, she sketches, sings, and in her secret superhero life, plays roller derby. Follow her on Twitter @settern.