iOS 9.3 FAQ: Everything you need to know!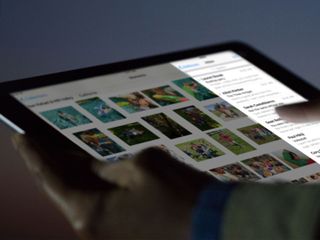 iOS 9.3 brings new features to the current version of Apple's mobile operating system for iPhone and iPad. Highlights include a new Night Shift mode, Touch ID security for Notes, greater personalization for News, app discovery in Health, Apple Music and Nearby for CarPlay, and a new education experience for iOS.
When is it coming out?
It's out! With it, comes Night Shift Mode, Notes Lock, and a whole lot more. We have everything you need to know.
How do I get iOS 9.3?
You can either download it over-the-air from the Software Update feature on your iPhone, iPad, or iPod touch, or download it via iTunes by connecting it to your computer. Here's how.
Who should be excited about it?
Everyone, because bug fixes and security updates are always great! More specifically:
Anyone who enjoys reading in bed or otherwise in the dark.
Anyone who keeps private information in Notes and needs better security.
Anyone who uses News but hasn't found the content personalized enough.
Anyone still searching for great Health and Fitness apps.
Anyone who uses CarPlay and has been waiting for more music and points of interest.
Anyone who uses iOS in the classroom.
So, Siri supports more languages now?
A few more regions and languages, yes! iOS 9.3 adds support for Malaysia (Malay), Finland (Finnish), and Israel (Hebrew).
What's the deal with Night Shift?
Our eyes and bodies were never designed to stare at computer screens all day. As a result, the blue light emitted from said screens can seriously mess up sleep schedules and lead to mid-day exhaustion and tension headaches. OS X has long had third-party utilities like F.lux to help address this problem with display recoloring, but with 9.3's Night Shift, iOS gets its own proprietary version.
It uses your geolocation data and local clock time to automatically determine when the sun sets in your area, and gradually shifts your iOS device's display to a less harsh, more late-night-brain-friendly hue. In the morning light, your display colors shift back to their normal state.
Is this going to make everything obnoxiously orange?
No, your eyes should adjust pretty quickly to oranger hues, especially in darker environments. But yes, it will likely add an orange tint to your screen, making tasks like photo or video color correction slightly more difficult. But, don't worry. You can disable the feature if you really prefer to stare at glaring blue light in the evenings.
I heard Notes has touch ID support now?
It does! With iOS 9.3 you can secure all your notes—especially the ones that might contain private personal, medical, login, or financial data—with a password or with Apple's fingerprint identity sensor, Touch ID.
That means, even if you lend someone your iPhone or iPad so they can call an emergency contact or keep busy while waiting for the food to arrive, they won't have access to your private notes.
It's not the system-wide [Touch ID protection of Guest Mode]/./ios-9-wish-list-guest-mode) we've been waiting for, but it's a great start towards making iOS better protected so we can more comfortably share our devices with others.
What's new with the News?
There is now a New Top Stories section in For You that highlights the trending stories of the day, and you'll also get suggestions from the new Editor's Picks and curated channels made by Apple News editors.
Video will now play right from the story, and iPhone is getting landscape support as well.
Oh, and you can now change the text size in articles.
And the Health app is going to make me healthier?
I don't know if any app can make you healthier, but the Health app is certainly making it easier to keep track of your health. The app now has categories for your Apple Watch's move, exercise, and stand trackers, and even tracks your day-to-day goals. The Dashboard and Medical ID is now accessible with 3D Touch and Quick Actions on the Home screen. In addition, third-party developers can now use the Activity rings to share data with their apps.
Didn't Apple Music get some love?
That's right. You can now add songs directly from Apple Music's catalog to your playlist without having to first add them to your library. One step beyond!
If you want to check in on what's playing on Beats 1, you can see it right on the Radio tab instead of having to go to the section.
You can also watch videos in full screen mode on the iPad and getting to the album that a currently playing song is from is easier. Want to know which songs are the most popular on a given album? Well, you can now on Apple Music.
I heard you can finally grab a still image from a Live Photo
You heard correctly. When viewing a Live Photo, tap Duplicate to either make a copy of the live photo, or extract a still image. You can also now share Live Photos between iOS and OS X using AirDrop and Messages.
Did Apple finally make it possible for me to re-download my audiobooks onto a different device?
Aren't you the lucky one! Apple has finally added support for downloading previously purchased audiobooks from the iBooks Store. Plus, you can share your audiobooks purchases with anyone in your Family Sharing network. Sharing is caring.
Apple also made some improvements to reading Manga and added Pencil support for highlighting and saving passages in e-books.
What's this I hear about Dolby Digital on my iPhone?
With iOS 9.3, you can play video encoded with Dolby Digital Plus. Your device now supports multichannel output when you use the Apple Lightning Digital AV adapter.
CarPlay has some new stuff too, right?
It does! If you have a CarPlay-compatible car, you now have better Apple Music integration, with both the New screen and For You custom playlist suggestion screen available to you. And if you're an Apple Maps fiend, CarPlay now supports the Nearby feature, which lets you quickly find gas, parking, restaurants, and more.
What's this about iPad and education?
The iPad got a huge education upgrade with iOS 9.3, and it's sure to make a lot of educators using iPads in their classrooms thrilled.
The education improvements essentially boil down to three categories: Shared iPads, a new Classroom app for teachers, and the Apple School Manager app for OS X.
iOS 9.3 supports the new Shared iPads protocol, which allows a student to load their Apple ID and information on any iPad the school owns. When students log in to an iPad, all their personal information, iCloud Drive documents, books, and apps will appear on that iPad. Apple is using intelligent caching to make this system work quickly; as such, when a student logs in to a classroom iPad they've used previously, it won't have to take a ton of time to redownload each student's apps.
In addition, Apple has added two features for younger students: Photo ID, which displays the student's photo on the lock screen of the iPad they used last, and a four-digit pin option for students who don't yet have the dexterity to type a username and password.
Apple's new Classroom app is designed for the iPad-toting teacher, and lets them check on their students' progress, bring them to various apps in a lesson plan, and share student work via AirPlay.
Teachers have access to a new Screen View command, which lets them virtually look at any iPad screen in their class; in addition, they can use Remote Control to launch a specific app, website, or ebook page on every iPad in the classroom. If teachers have students who are struggling with attention issues, they can even lock iPads to specific apps to keep the class focused on the task at hand.
The Classroom app offers a few other useful features, too, like being able to help your student reset a forgotten password.
An education-focused device manager, Apple School Manager lets administrators control every iPad in their school fleet. It also allows them to set up and manage school-focused Managed Apple IDs for teachers, students, and staff; buy and distribute books and apps (with the institution's education discount automatically applied); build and deliver iTunes U Course Manager courses; and do it all remotely.
What else?
Apple fixed a lot of issues with hardware keyboards. Plus, you can now use the arrow keys to navigate lists in Spotlight, Mail, and Safari.
Maps now supports a highlighted view of destinations and stops along a specific line in Transit mode.
Wallet now has the ability to access an app related to a card or pass.
Apple Pay now supports signing up for store rewards programs within the app at registers.
The Podcast app now supports full screen video playback.
There is a new Workout tab in the Activity app with monthly summaries of key metrics and the ability to filter by workout type.
Move to iOS now suggests apps based on content you had installed on your Android device.
iCloud Storage now warns you before you run out of space.
Two-factor authentication now works with all iCloud accounts.
Get the best of iMore in in your inbox, every day!
Rene Ritchie is one of the most respected Apple analysts in the business, reaching a combined audience of over 40 million readers a month. His YouTube channel, Vector, has over 90 thousand subscribers and 14 million views and his podcasts, including Debug, have been downloaded over 20 million times. He also regularly co-hosts MacBreak Weekly for the TWiT network and co-hosted CES Live! and Talk Mobile. Based in Montreal, Rene is a former director of product marketing, web developer, and graphic designer. He's authored several books and appeared on numerous television and radio segments to discuss Apple and the technology industry. When not working, he likes to cook, grapple, and spend time with his friends and family.
I appreciate all of your insightful comments. All of them. All... of them.

I don't care about new features. In fact, it's because of children like vissud above we can't get these companies to focus on bug fixing instead of constantly adding features we don't really need. I wish Apple and Google would just stop adding new features for like 2 years and make these platforms so much more bug free and bulletproof.

I agree and disagree. For me there is not enough bugs that any one thing bothers me. But I dont mind clean up from time to time. I could see one year.

Or simple things like limit how long alarms last in case you are not near your phone to stop them yourself . In college we had people who left for class early, their alarm would go off after the left, and everyone had to put up with the noise until the student returned to their dorm room and stopped the alarm. Also the option to disable screen lock during calls or when charging. I hate being on conference call, someone asks me a question, and I have to scramble to unlock my phone to answer.

I agree. I find most of Apple's OSes feel very beta or just not done. They are cute and fashionable. But you can't do many many many things that you would intuitively want to do and should be able to do, but again they paint a really fashionable pretty OS. It feels bad but feels pretty. I do really like the concept of making things much easier and the whole computer to human interface is way way way past due (verse human to computer interface) and I am all for that but Apple/Job followers do not seem to understand this really and I don't know why. They seem to say and act as if they do. It's just weird to me that it seems like they are trying but don't really want to say they are trying and want us to believe they done it. Typical salesman mentality and such when companies want to push new products and services.The whole think different and all the slogans fed to use have really left a sour taste in my mouth over the years of just over hyped pretty but poor functionality and control/interface operating systems. - To say it more simply I want my OSes simple and intuitive but I don't want them to lack or leave out features. It's kinda insulting, it's like they are making OSes for toddlers and children, as if their clients/buyers/users are idiots. Why in the world would we want to be able to share our devices or the ability to turn off alarms and make any changes to "their" OSes? God forbid we want to make or use APIs to further customize our OSes. It's just got me and many others just really losing interest in Apple products. I feel some deja vu going on here. Anyways, I just wished they would fully follow their ideas to full completion, then paint it pretty but leave out the fashionable part. I think the era of OSes/Devices being fashionable is about over and if it aint then it should be. Our interfaces, devices and/or tech should not be fashionable, but rather it should be seamless to implement them in any fashion. Let's get back to real change in making things better and more simple rather than fashionable, pretty, less useful, colorful and featureless. It will be interesting to see what happens with so many companies now on board with implementing apple's OSes in their products and then only later have people avoid such products because of the lack of future usability and such. Many of the products we put OSes in now will last much longer than a few versions of an OS and that is a big problem if they use APple proprietary hardware and software. I bet a lot of companies will be mad at Apple for letting them down. So hopefully they are taking all this into consideration and going to start getting back to finishing what they started and getting rid of their vanity of proprietary and featureless operating systems... Stop letting the suits and big money tell them when to publish or give you deadlines Apple, and let the employees and talents of the company get back to making what they intended and what people want... I believe that was the spirit of Apple when it first started and some how even Jobs had gotten influenced by big money and bottom dollar. A shame because the company that finally does create a real computer to human interface system will make big money and have endless dollars. =P sorry for all the ranting and rambling on.

It's a dot update (x.Y), what the heck do you expect?

Cool update Sent from the iMore App

Nice.. the education changes will be welcome and looking forward to more changes in the future. I have Carplay as well, so I'm looking forward to those changes.

I hope they implement a "turn news off entirely" option.

I actually enjoy using Apple News - it's so smooth and fluid.

I want it off my phone. It wastes battery and data.

Huh just go to settings/news and turn off background refresh and use cellular.
Really it's not that hard

You can go into settings and change your Region to (lets say Canada) instead of the USA and the app will disappear..

That would have to be in a "hide apps" feature

Or just put a toggle in there for that app to turn it off. Or require Wifi for it to work.

Turn it off in Cellular settings and in Background refresh. Sent from the iMore App

It is, but that doesn't remove it entirely. It's still somehow getting updated.

Mine never updates until I open it. This morning, for example, I opened it for the first time since Thursday and it still showed the last thing I refreshed on Thursday, then took about 15 seconds and refreshed to today's updates.

mine is off too and it's still pulling news when I swipe right to the shade or whatever that screen is called that has "suggestion, nearby, news." I know others have the same issues. works for some; somehow.

Go to Settings > News You can turn off Background App Refresh and Cellular Data.

doesn't work for me. you're lucky

News you can just hide in the Settings section. What I want off my iPhone is the Siri Suggestions screen (the swipe left one), which is basically a useless copy of Spotlight once you've disabled News and certain location services. I hate redundancy.

You can turn off the News app in Settings - General - Restrictions. Even the app icon disappears. Hope that helps

So, more or less the screen becomes colder/warmer with Night Shift mode?? That's all?? I had hope for a true dark mode, similar to the one in Reader. Sent from the iMore App

Yes, that's it. If you want true Dark Mode, you'll either have to Jailbreak or wait until the day Apple finally gets a clue. Who knows, maybe iOS 10 will actually bring something dark.

I know it doesn't affect as many people, but those school changes are actually pretty awesome.

The education deal is LONG overdue - maybe too late. I just want news that doesn't take FOREVER to load. Sometimes I think about running to the corner store to get a newspaper would be faster. PS Why doesn't news update in the background - I think Candy Crush updates in the background but not the news app? (Which by the way is my favorite news app I have used.)

It should update in the background, make sure you have background app refresh on and switched on for News

I hope they fix the random app update problem where the apps get stuck. Deleting, Restart, Reinstall is a pain. Sent from the iMore App

This Sent from the iMore App

I hope Touch ID locking folders comes in a future update.

This too Sent from the iMore App

News is an okay app, but I really want to be able to remove news sources that I'm not interested in receiving links from. For example I want to remove the WSJ sources because they always take me to pages that I have to sign up for to read. Useless. If there is a removal option I've missed it so that's the update I want to see the most!

Just long press on an article in the feed and you get an option to mute a channel

Very interested in the education aspect. We have a Mac club that teaches seniors how to use their iPads. Do you think IOS 9.3 would support this environment where all the students have their own iPad?

Cool new stuff for students, teachers and head teachers... that's Apple fighting back in the educational sector in their usual vertically integrated, well thought-out way.

Touch ID for photos would be amazing

I agree. Long overdue. Sent from the iMore App

Agree. Can't see why they'd add it to notes and not photos.. I'd say there's more people with sensitive photos than note..! Sent from the iMore App

The Classroom data-partitioning and ID management look great. I'm left wondering how this feature will be deployed for non-Classroom iPad owners: not at all, iOS 9.3, or iOS 10.0? Lots of families would dearly love those features, and it's nice even for creating a "guest" account for you iPad to protect personal data. I'm also curious if f.lux got any compensation for that wonderful feature. I've been using it on my Mac, and I just love it. Those developers did a great job, and they deserve a payout.

f.lux is patent pending, so I'm sure Apple either worked something out or will in the future.

Just give me Cache cleaner!

Yes! Especially for Photos when optimize is on. Would be nice to have manual control.

I second FloatingBones. Is the Shared iPads protocol the beginning of multi-user accounts in iOS?

So Apple ripped-off F.Lux .....Amazing !

Why does implementing a feature introduced by a great app into the operating system mean it's "ripping them off"?

Because if it was the other way around people here would be up in arms talking about how someone else stole from Apple. It gets old. Really.

Like nobodies like you Posted via the iMore App for Android

No. Lol simple tons these days Posted via the iMore App for Android

I want to send photo and video or music using airdrop and bluetooth, or send anyfile to other platform Sent from the iMore App

Who won the iPhone giveaway?

Would be nice to get a kid mode so I can let me kids play with my phone without worrying that they will delete my emails, or do something else that I don't want them messing with.

Yes, Finnish!!!! I'm so happy! :) Sent from the iMore App

You didn't mention the most important thing for me, which are new actions for 3D Touch. It will be so convenient to set up wallpaper or access Bluetooth from home screen, without additional taps and messing with settings, this is huge.

They really really really need to add margin controls in iBooks. And ability to sync to Calibre server. :)

Thanks for the run down on iOS 9.3. You are ahead of the curve as always.

Cache cleaner and memory space optimizer for Facebook and Twitter Sent from the iMore App

Cache cleaner and memory space optimizer for Facebook and Twitter Sent from the iMore App

what about Battery Life? 9.2.1 Beta drops me from 31% immediately to 1%, the battery leaks are insane. I understand it's a beta but why aren't these issues being addressed before moving on to 9.3?

regarding education features. most schools don't use the one to one service. Most schools have 30 ipad carts pushed into rooms. kids rarely use the same ipad. so google docs has been the cloud service that is the least complicated way to save and share files. tech coordinators like myself need to be able to clone and duplicated pre setup ipads. we also need the ability to lock certain features without having a main screen passcode. infact we need to be able to prevent kids from creating a mainscreen passcode. this is also why fingerprint recognition is impractical for school ipads.

Restrictions don't stop the user from creating a lock screen passcode?! Ridiculous! Perhaps you need to first set a passcode, but then set it to never require. That way they can't change it. Sent from the iMore App

passcode/require passcode: only options are immediately, 1 min, 5 min, 15 and 1 hour

Where's the list of supported devices/models? Posted from the sweet LG G4

It's a minor release, so it's identical to iOS 9.0

really wish they'd update the music app so that i had the option to hide all the mess and clutter they added as well as just like the ios8 version i was able to place direct icons to genre, artists, album, on the bottom on the first screen you see. Because right now it's a cluttered mess just for apple music. Which i don't use. The other stuff, well i don't have an opinion one way or the other. They are not where I'd have focused.

Is it my imagination or are we getting much more information on an incremental IOS update ahead of time than we normally get?

All I care about is they fix the **** copy bug. All too often copying anything results in pasting the previous item on the clipboard! Drives me crazy!

How odd, I've never experienced this

"Who should be excited about it? Everyone, because bug fixes and security updates are always great! More specifically: Anyone who enjoys reading in bed or otherwise in the dark. --- I just turn down the brightness
Anyone who keeps private information in Notes and needs better security.---REALLY Private info in Notes?
Anyone who uses News but hasn't found the content personalized enough.---I've had FlipBoard for years
Anyone still searching for great Health and Fitness apps.---Nope
Anyone who uses CarPlay and has been waiting for more music and points of interest.---Nope
Anyone who uses iOS in the classroom.---Nope Hmm... Would rather it had said.... Ability to "close all background apps" with one touch
Ability to toggle off the built in apps you dont actually use.
Oh and I would have LOVED themes..... WHY cant Apple allow themes? Waiting for JB (stuck on iOS 9.1) You never know...in the next phone update maybe they'll say "We've put in a bigger/better battery on all new iPhones (even though it's not as thin as the last one which bent in your pocket)"

When 9.3 was first announced I saw some screenshots and description in an article (don't think it was on iMore) briefly mentioning that one of the enhancements was to iBooks - enabling PDFs (and unspecified "other content") to be automatically synced to all devices via iCloud, which would be totally awesome. Unfortunately there's no trace of this feature on the actual Apple 9.3 preview site or anywhere else I've been able to find. Does anyone know anything about this? Was this maybe something Apple intended for 9.3 and then dropped or something?

Can I do a basic function like set default apps yet?

f.lux is awesome. Never thought about having something similar on a smartphone.

Makes more sense on a smartphone since everyone uses them at night in bed

How does one enrol on the iOS software beta programming? It seems like iOS 9.3 is focusing more on education and adding this might shift mode, that's it it seems. Posted via the iMore App

Is uninstalling built-in apps a new feature for iOS 9.3?

You can't "uninstall" them, just hide them. But you have to download Apple Configurator 2.2 on a Mac. And it involves wiping your phone.

Is there a fix for the phone call ending when you hit the power button while on a call. This didn't happen before 9.3 Sent from the iMore App

Do you think we'll ever get a flexible Do Not Disturb... I was hoping in iOS9 .... now 9.3! It kills me to think that some engineer at Apple thinks I want to receive calls from my "Special Group" when DND is set but I don't want SMS/Messages from the very same group! Additionally, how about the ability to set multiple DND times with different groups .. such as a "work callers" group during the work day (8-5) to limit calls and the ability to say at 5:00pm switch to "My Contacts" for callers? Weekend and weekday settings would be nice also.

Isn't 9.3 supposed to be the one that allows Wifi calling on Verizon?

Yep. Used it in the last couple of betas, and it's been working great. Sound quality is also better than calls over the cell network.

Why not just a dark theme? I love the dark theme options I get with android devices. Seems only way you can do dark theme on IOS is by a jail broken iphone. Customizable options would be nice. Posted via the iMore App for Android

The Night Shift is something I've been looking for, but waiting for the official launch rather than beta programme.

I've used it with the last two betas, and it's been fine. Basically, I have it set to turn on at 10 p.m. and turn off at 6 a.m. If you look at it in a fully lit environment, it looks kind of yellow, but it isn't nearly as pronounced in a dark room. You can see the difference, of course, but it isn't annoying. And you can tweak how much it changes the color if the default isn't to your liking.

I'm surprised no one has rementioned using 2.2 of Apple Configurator to hide stock apps.
https://www.reddit.com/r/apple/comments/40mrow/you_can_hide_apps_like_ti...

Thank you for the run down, good info. I do have a question, kind of simple. How can we rank songs now with the new update? Because of the change when you click on the song title it now takes you to the album it's from. Looks like you can no longer rate them that way.

Great, no Night Shift on the iPhone 5.

Trust me , you are fortunate not to have it.

Itunes and App Store Option is missing in Settings. Does Anyone also have this issue??? Sent from the iMore App

I like your reviews and tips. You explain quite nicely without 'talking down' to the reader. I would like to see more in depth articles on pencil and also art programs. I am new here so I may have missed some. In any case, keep up the nice clean, no frills reporting.

I was under the impression you could remove/hide stock apps in iOS 9.3 but I can't seem to find out how. Can anyone help me with this? Thanks.

Night shift.....not for me.

Crickets & Snakes
Bugs: can't clear my website cache on Safari; Game Center constantly pops up onto my screen and doesn't respond to the cancel button.
Snakes: Can't select the Disallow Changes for Bluetooth- once selected, it immediately converts back to allow changes, along with several of the other choices in that category. I definitely don't want people to be able to use my microphone to spy on me. With the latest government push to access all IPhones, I am not just being paranoid, even if there is something that I am not doing correctly. Lastly, why not give us a convert button to be able to easily uninstall the latest version of the update and restore to whichever update we want? I hate this new update!

Oh yeah- one more really IMPORTANT feature doesn't work- my alarm! There is no way to save the alarm that you program in. It just converts right back to not having any alarms at all. I use this all of the time and am extremely unhappy that it doesn't work in this update!! This is the main reason that I want the update off of my phone.
Thank you for signing up to iMore. You will receive a verification email shortly.
There was a problem. Please refresh the page and try again.