iOS 9 first look: A smarter, smoother experience for iPhone and iPad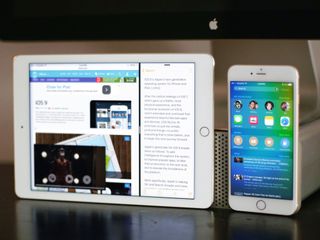 After the radical redesign of iOS 7, which gave us a cleaner, more physical experience, and the functional revolution of iOS 8, which extended and continued that experience beyond apps and devices, iOS 9 promises us just two simple, profound things—to polish everything that's come before, and to take the first steps towards what comes next.
Apple's grand plan for iOS 9 breaks down as follows: To add intelligence throughout the system, to improve popular apps, to take iPad productivity to the next level, and to elevate the foundations of the platform.
More specifically, Apple is making Siri and Search broader and more proactive, expanding Apple Pay, significantly improving Notes, adding transit to Maps, launching an all-new News app and service, enhancing the Quicktype keyboard, bringing multi-app multitasking to the iPad, amping up performance, extending battery life, tightening up security and privacy, and making the update process much more efficient.
I've spent the last month testing the iOS 9 developer beta, and the last few days trying out the public beta. So, how does it look?
Siri & Search
Siri is Apple's virtual personal assistant. It launched as a beta in 2011 and has been improved and expanded upon every year as part of iOS feature releases, and continuously as part of server-side updates. Most recently that's included new Apple Music commands, and a new engine that Apple says has made Siri 40% faster and more accurate. But then, when you're handling a billion requests a day, you can never be too fast or too reliable.
With iOS 9, Siri is getting a new interface that looks like Siri on the Apple Watch, including a side-to-side pulse like something out of Knight Rider or Battlestar Galactica. It's dynamic but it's also colorful and fun.
In an effort to make voice and text better integrated and more consistent, Siri is largely subsuming Spotlight. Now referred to simply as Search, it lets you type when you can't talk.
That means natural language input—asking questions the way a human would—is now available with the keyboard as well as the microphone, and Search now has access to sports, stocks, weather, Apple help, YouTube, Vimeo, iCloud drive, Health, holidays, calculations and conversions, and more. There's even a way for developers to index their own content for Search in iOS 9, so we'll even be able to find things in App Store apps.
Including, apparently, a tasty recipe for Canadian poutine...
Currently, most apps are opaque to the rest of iOS. URL schemes allow some links to some specific parts of some App Store apps, but there's nothing approaching consistency or ubiquity. Worse, once you leave an app, there's no easy way to go back to where you came from. At best you can double-click the Home button and use the fast app switcher.
Image 1 of 2
Deep links and back links in iOS 9 change that by making apps more transparent to the system in general and Search in specific, and by making getting back as easy as getting there.
For example, with that tasty recipe for Canadian poutine, instead of a result or link launching the cooking app, it takes you to the exact screen that has the recipe. Then, at the top left of that screen, an arrow and label makes it incredibly easy to go right back.
If developers use web markup, they can even tie their apps and websites together. That means our days of tapping a Twitter link and going to the mobile version of twiiter.com—yes, like animals—are almost behind us. Soon, we'll tap that link and open the same exact tweet in Twitter.app instead.
Apple will only let official apps register for deep web links, and there's still no way to re-set default apps. That makes them secure—no one should be able to intercept them or spoof them to steal data or try to trick you—but it also makes them locked to the owner of the website or service. So, if you prefer Twitterrific or Tweetbot for your Twitter links, you're out of luck.
But thanks in part to those limitations, it's lightning fast. Screens slide in and out like the automatic doors on Star Trek, and apps seem as though they're embedded inside each other.
Overall, it's an incredible navigational improvement.
Search Screens and Siri Suggestions
Back before iOS 7, when Apple made Spotlight accessible from any Home screen simply by swiping down, there was a dedicated search screen available by swiping to the left of Home. iOS 9 brings it back, but with significant improvements.
Image 1 of 2
There's still a search box top and center, now with a microphone button so you can still use voice to access Search, even absent Siri. More importantly, instead of the rest of the screen being empty, iOS 9 is filling it up with Siri Suggestions.
Siri Suggestions are based on things you've recently done, things you typically do, and things the system thinks you might want to do, as well as time, location, and related activities.
The first row is Contacts. So, for example, if you just messaged your friend, their icon will be there so you'll be able to message them again if you want to. If you typically call your significant other before you leave work every day at 5pm, your significant other's icon might be there as well, ready and waiting for you to make the call. If you have an appointment with someone in your calendar, their icon will be there in case you need to reach out to them.
This replaces the Favorite and Recent Contacts from the iOS 8 fast app switcher screen, and while they're no longer separated into those categories, they offer the same functionality. Tap one and you get options to call, message, FaceTime, or to go to the Contact card for even more options.
The second row is Apps. So, if you typically check Facebook first thing every morning, Facebook could show up there as a convenience. If you recently downloaded Letterpress but haven't tried it yet, Letterpress could show up there as a reminder. If your getting close to the airport, your airline app could show up in case you need it.
This doesn't replace suggested apps on the Lock screen but rather enhances them. Now, when continuity or location-based suggestions aren't populating the bottom left corner, you might get suggested app there instead.
The third row is Nearby. These are places of interested populated based on time of day and location. For example, in the morning you might see breakfast spots or coffee shops. When you typically drive home from work, you might see a gas station or, if you use public transportation, a train station.
The last row is News. It starts off with major stories, breaking news, and popular articles in your region, and then starts curating based on what you've shown an interest in.
You can choose to show more in any section, which effectively doubles the number of suggestions. There's no way, however, to turn off any sections that don't interest to you, or to like or dislike suggestions to bias the recommendations. Also, while Search can provide results more like Siri, it can't execute commands like Siri. So no typing "message Georgia I'll be late" or "shuffle Nine Inch Nails".
You can, however, access a wealth of on-device and online content with just a few keystrokes, and that makes Search significantly more powerful and useful.
Siri can now search for and find photos on the iPhone and iPad. You can ask for photos based on dates, locations, and albums. If you've set up Faces in Photos for OS X, Siri can also find pictures of the people you know (if not, you'll get an image search pulled from Bing).
So, for example, you can tell Siri to "Show me photos from San Francisco in June" or "show me concert night photos with Dalrymple". It's a terrific way to quickly and easily find photos, and far beyond what's possible without Siri.
Siri's contextual awareness now goes beyond sequential inference, which remembered your previous request so it could use it as a filter for your next one. Now, Siri is also aware of what you're doing when you ask a question. That means, if you see something in an app like Messages, Mail, Safari, Notes, etc, you'll be able to say "Remind me about this" and Siri will set a Reminder and link it to the content you were referencing at the time.
So, for example, if you get sent a picture of an iPhone case and want to remember to look it up later, you can say "remind me about this a 3pm", and a reminder will be set with the picture attached and a link back to the message. Likewise, if a new podcast episode drops while you're busy, you can say "Remind me about this when I leave home", so you'll be able to enjoy it during your next commute.
With iOS 9, Siri is becoming more "proactive". What Apple means by that is something akin to prescience—when a virtual assistant provides information before you even ask for it. It's a controversial feature because, as typically implemented, it requires you to upload significant amounts of personal, private information to the cloud.
Image 1 of 2
Apple's doing it differently, however. Apple isn't bringing your data up to the cloud, they're bringing the service down to your iPhone or iPad. That way your data stays yours, and it's not shared with Apple or anyone else. It doesn't allow for everything every competing service offers, but it does balance functionality with privacy.
With proactive, for example, when you plug in your headphones Siri can anticipate you're going to go jogging and bring up Now Playing with your usual playlist. When you get into your car, Siri can anticipate you want to continue listening to your audiobook. When you create a calendar event or mail message with a common subject, Siri can anticipate the usual people you invite or copy. When you receive an invitation, Siri can automatically add it to your calendar. If traffic changes, Siri can alert you to leave earlier and provide up-to-date driving directions. When an unknown call comes in, Siri can check your email for occurrences of that number and suggest who it might be.
It's a first step, and a cautious one, but also a valuable alternative.
Apple Pay + Wallet
Passbook on the iPhone began humbly enough, as a way to collect together all your boarding passes, gift cards, coupons, and tickets, all in one place. You could scan codes, but not much more. Last year Apple added personal credit and debit cards in the U.S., and support for near-field communications (NFC). Apple Pay was born.
This year Apple is adding store and loyalty cards and, in recognition of its expanded role and functionality, renaming Passbook to Wallet. It's not as distinct a name but it is more appropriate.
Store cards are like credit or debit cards but issued through large retailers. They typically offer you store-specific rewards and benefits when you use them. Apple has mentioned Kohl's Charge, JCPenney Credit Card, and BJ's Wholesale Club as launch partners, with more to come.
Image 1 of 2
Reward cards, often called loyalty cards, don't offer credit or debit, but instead discounts or points or other incentives to encourage you to share more data and keep shopping. Apple Pay will automatically present the proper reward card, if you have one, when you check out. Supported at launch will be Dunkin' Donuts DD Perks, Walgreens Balance Rewards, MyPanera, Kohl's Yes2You Reward, Coca-Cola's mycokerewards, and Wegmans Food Markets. Again, with more to come.
Store cards are interesting, but reward cards specifically should go a long way towards encouraging any remaining retail holdouts to support Apple Pay. Apple gets to keep transactional information private, and retails get opted-in loyalty data. Close to a win-win.
Notes
iOS 9, like OS X El Capitan, sports a whole new Notes app. It takes what was once barely more than a text pad and makes it fuller-featured memory pad. Since Apple says Notes is regularly used by more than half of the company's hundreds of millions of customers, it's a welcome update.
In addition to formatting options like bold, italics, and underline, Notes now has styling. That includes title, heading, body, checklists, bulleted lists, and numbered lists.
Checklists in Notes might sound like Reminders, but are different and are meant to be used differently. Reminders lets you set time- or location-based alerts for your list items and integrates with Calendar. It's best for tasks like "pick up the dry cleaning when you leave the office" or "order theater tickets at 5pm".
Image 1 of 2
Notes lets you make quick checklists within the context of your note, but with no functionality beyond the note. It's best for things like a packing lists alongside places you want to go on your trip, or a party list alongside theme ideas.
In other words, if you want to be alerted about something, use Reminders. If you want to jot down a list, use a Notes.
The biggest advancement in the new Notes app is all the new content types that can be embedded in a note. Previously, if you could find the option in the popup menu, you could add a picture. Now, you can add sketches, photos, PDF files, videos, audio clips, web links, map locations, Pages documents, Keynote presentations, Numbers spreadsheets, and more.
Image 1 of 2
Sketches, not to be confused with the Apple Watch communications system of the same name, are quick illustrations you can scribble out with your finger right on your iPhone or iPad. They, like photos and videos, are displayed inline in the note. Map locations, iWork files, and the like show up as embeds and, if tapped, open the appropriate app