This wedding was shot on an iPhone — and the photos will wow you!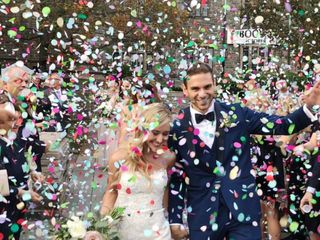 There's a saying that goes, "A good carpenter doesn't blame his tools", and that can be applied to a plethora of professions, but it seems like photography marries that statement quite nicely.
Professional photographers will tell you that you need top-of-the-line equipment, leenses, gear, editing software, etc., but in reality, having a good eye, a reliable machine to shoot with (it doesn't need to cost you thousands and thousands of dollars), and a little bit of practice can yield some pretty unreal photographs.
Case in point, Toronto-based photographer Barb Simkova who captured a recent, stunning rustic wedding on October 7th, 2017 on just her iPhone 8 Plus.
Image 1 of 5
Image 1 of 6
Image 1 of 5
Do you prefer DSLR wedding bells or iWedding bells?
Are yous someone who thinks shooting a wedding with an iPhone is a super cool, incredibly innovative idea?
Or do you think it's better to play it safe and stick to a traditional DSLR (what's that saying again? If it ain't broke, don't fix it?)
Let us know what you think in the comments below — and let us know what you think of the wedding photos!
Get the best of iMore in in your inbox, every day!
Cella writes for iMore on social and photography. She's a true crime enthusiast, bestselling horror author, lipstick collector, buzzkill, and Sicilian. Follow her on Twitter and Instagram: @hellorousseau
I still prefer the use of an SLR vs just an iPhone or just once device for the matter. Composition and framing looked great, but I can't help but wonder how much more the photographer could have done with an SLR camera on hand as well, or evening a mirrorless. Feel like just using an iPhone would be like drawing an image with crayons, and a DSLR is like painting with tons of different paint; you could probably achieve something great with both, but it really depends on the person. Look how many people make awesome art using MSPaint, then you have people using Photoshop butchering out some stick figures.

As someone who's photographed close to a thousand weddings professionally (and as a former research technician from Kodak Research Labs) these images are composed reasonably well, but when I view the images large on my computer screen they are lacking the detail that would exist had they been photographed on a quality full-frame DSLR camera with professional-grade optics. Back during my Kodak Research Lab days, I learned that viewing an image by itself (called "single-stimulus viewing) is fairly meaningless. It's only when one has a second image of an identical subject created on a different camera or imaging medium that one can make a more complete and proper evaluation of image quality. Iphone images are increasing in quality, but still pale in comparison when compared to images created on a more professional camera (as in one with a significantly larger sensor, better optics, etc.) which is still impossible to accomplish with a smart phone camera.

The composition on these pictures are quite good and the lighting was just right for the iPhone to shine for this wedding. Once you are in the church or dark areas, it can be very challenging. In the right hands, an iPhone can do wonders but no matter what. The DSLR is still the way to go and if I were doing this video, I would use the DSLR. You just "know" the difference when you see the pictures. However, the iPhone is looking pretty, pretty good!

The shots are framed well, and some of the indoor one are nicely composed, but the same can't be said of the others. The pictures taken outdoors of the couple and inside the church are horribly balanced, and the less said of the cake table the better.
Thank you for signing up to iMore. You will receive a verification email shortly.
There was a problem. Please refresh the page and try again.