Photos app on iPhone and iPad: The ultimate guide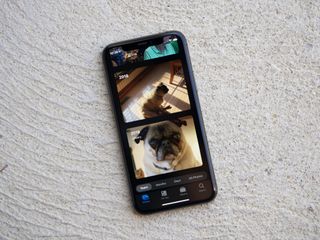 (Image credit: iMore)
The Photos app on iPhone and iPad is one of the best tools to organize, edit and share your pictures. The app offers many editing features for your iPhone, and it can even compete with some of the best photo editing app on your Mac.
Whether you're a professional photographer or you're just starting to learn how to use the Camera app on your iPhone, learning how to manage and organize your picture through Photos is essential. Trying to learn everything in a day can be overwhelming, especially if you're just starting out. Luckily, you'll find everything you need to know about the Photos app on iPhone right here. You can always come back here when you need it. We'll keep updating this page with any new features Apple adds to Photos.
How to navigate Photos for iPhone and iPad
To help keep your pictures and videos organized, the Photos app automatically sorts them into smart groups based on time and location. You can see your pictures by day, month, or year. With them, you can quickly glance at when and where you were, scrub through everything and anything, see a map view of your photos spread out across the world, and even copy a photo to the clipboard so you can insert it into a message. There are still albums you can access as well. And all of it with just a few taps and swipes!
How to organize photos and videos into albums on your iPhone or iPad
The Photos app on iPhone and iPad gives you quick and easy access to all your pictures and videos. Camera Roll/All Photos, My Photos Stream, Panoramas, Videos, even Selfies all have their own dedicated albums. While you can't change or delete any of those, you can add and manage albums of your own. That way, exactly the photos you want are exactly where you want them.
How to use Memories in Photos for iPhone and iPad
Great digital cameras like on the iPhone and iPad mean we can take as many photos as we want, whenever we want. That's amazing because we can record any moment, at any time. It's also terrible because we end up with so many photos we forget about the ones we took even a short time ago. By using Memories on your iPhone or iPad, you can forget about forgetting your pictures with a few taps.
How to add, remove, change, or hide People in Photos
Apple uses machine learning to recognize people inside your images and identify the same person in multiple photos. Like Facebook's algorithm, it's not perfect, but it's easy enough to correct. Here's how you can view common faces, put names to them, remove faces that have been misidentified, and hide faces you don't particularly want to see.
How to rotate, crop, and straighten in Photos for iPhone and iPad
Most of us don't frame every photo perfectly when we shoot it. That's why Apple provides editing tools right inside the Photos app that let you straighten, rotate, crop, and even change your pictures' aspect ratio easily. That way, you get your photos, and you get them framed just the way you want them.
How to use adjust light, color, and B&W in Photos for iPhone and iPad
Smart adjustments in Photos let you enhance your images, either automatically, intuitively, or precisely. The Magic wand is still there, of course, but you can also change light, color, and black and white with a swipe, or dive down into brightness, warmth, and other details. Crank it up, crush it down, or go gray. It's all up to you!
How to apply filters in Photos for iPhone and iPad
Filters were once used to try and salvage the often-poor images captured by iPhone cameras. Now that iPhones have good cameras, filters are simply a way to have some fun. Flashes are another story. You can now apply live filters right from the Camera app.
How to markup images in Photos for iPhone and iPad
Did you know that the Photos app has a markup editor natively built-in? With the Markup editor, you're able to draw and doodle on your photos, add callouts to highlight specific areas of an image, and add text for funny captions. You can definitely get creative with your photos with markup, so feel free to let loose!
How to use extensions in Photos for iPhone and iPad
The Photos app works as a central hub for filters and effects pulled from all the extensibility-compatible editing apps you've downloaded from the App Store. Find the apps, install them, enable them, and then you can apply them all right from the Photos app. Best of all, they're non-destructive. That means you can change, remove, and revert them at any time.
How to make slideshows, contacts, and wallpapers from Photos for iPhone and iPad
Want to show off your pictures and videos to friends and family? You can create custom wallpapers and contact pictures, and even custom slideshows with automagic animations, transitions, and music that you can share on your iPhone or iPad or send to your Apple TV over AirPlay.
How to print and share from Photos for iPhone and iPad
Keeping all your pictures and videos in the Photos app is incredibly convenient, but sometimes you just want to share them with others. That's where the Share Sheet comes in. With it, you can send pictures and videos through AirDrop, iMessage, Mail, iCloud, Twitter, Facebook, and more. You can even use AirPrint to make hard copies of your favorite images.
You can search for photos by typing in places or dates, or you can search by telling Siri where and when you want to look for. Say "May 2019," and you'll go right back. Ask for "Cupertino," and you'll be there. Combine the places and times, and Siri will take you anywhere — and anywhen — you want to go.
Any Photos questions?
If you have any questions about the Photos app on iPhone or iPad, drop them in the comments below!
Updated November 2020: Updated for iOS 14 nad iPadOS 14.
Get the best of iMore in in your inbox, every day!
Question: How to label/identify black iMovie video thumbnails in Photos app. iMovie Trailers have a 1/2 second of black at the top which just shows up as a black thumbnail image in Photos. Is there an app that easily generates an identifiable intro image?

Hello! How do you apply and edit to multiple photos on an IPhone 8? will I need an app or extension?

How can I copy adjustments from one photo to another?

I have a iPhone 6plus. How do I move photos from the phone to my computer. I need to make more space on the phone

Photos taken on the same day, in different locations, are in iPad photos under the same geo tag. Very annoying. Is there a way to separate them? Software is up to date.
Thanks for all the great info. Love your website.

Great info, as long as you are living in an all-Apple world, but I (and many others) for one reason or another store and manage our photo library on a Windows PC, but own iPhones. Using iTunes for Windows, we can copy and routinely re-sync our photos to our iPhones. But how does Apple's apparently automated approach to image file metadata compare to, or coordinate with, the conventional way that all computers handle image file metadata? Is the iPhone even looking at the embedded IPTC metadata fields where I've already so carefully stored tags (IPTC keywords), captions (IPTC Description), and other metadata? When iPhone's photos app goes about associating and sorting images with searchable categories, using facial recognition to serve up people search, establishing places, etc., is it embedding those values somewhere in the image's international-standard, IPTC content fields so it can be utilized on non-Mac platforms? Or is it being stored in some Apple-only proprietary, linked sidecar data file that can never be usefully accessed by other computer systems? Users might want to ask these questions before committing to an all-Apple proprietary solution to image file metadata. Arguably, photo images should carry their metadata with them in a universally recognized, compatible way so the metadata is part of the file, not be dependent on one particular proprietary platform's approach that may be subject to continual on-the-fly revision at the whim of its programmers.

Can you tag or name photos?

Wonderful information! Is there a way to upload my photos from my Mac to iCloud Photo Library and have access to them from my iPhone so that I could download a few photos or videos when I choose to but not automatically download all 30,000 photos to my iPhone?

Hi there Somehow my photos view changed to be arranged by years instead of the normal view and I cannot figure out how to change it back. Can you help me out? Thanks Bruce

It is worth mentioning that sometimes there is no problem with your iPhone or iPad because the problems are on the server's side.

When I had such problems, I've hired a great app development agency https://mlsdev.com/blog/53-how-much-does-it-cost-to-develop-a-mobile-app, and I've chosen the perfect option as far as price and quality are concerned.

Is there a setting for date stamping the photos? In Samsung phones there is a setting to use GPS or not and for date stamps.
Thank you for signing up to iMore. You will receive a verification email shortly.
There was a problem. Please refresh the page and try again.