What are Apple's plans for 4K video on the Mac? Latest Mavericks beta shows the way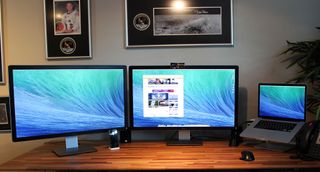 4K video is coming, in fits and starts, not just to the general consumer marketplace but also to Apple products. Apple's actual support of 4K video has been a bit patchwork, but its new beta release of OS X Mavericks 10.9.3, published last week, is starting to provide some clarity to Apple's 4K strategy. What's more, it may be a clue as to what Apple has up its sleeve for new hardware releases. Let's take a look.
What's 4K?
The flat panel TVs most of us upgraded to sometime in the past few years have effective resolutions of 1920 x 1080 pixels (that's where the 1080i and 1080p designations on those sets comes from). But TV makers are pushing forward with a new standard for home television called 4K UHD, which increases resolution to 3840 x 2160.
There's still a dearth of programming available in 4K, but it's coming. While it may take a while for cable operators to get to that point, some Internet video services like YouTube and Netflix are committed. What's more, movie theaters now routinely show new movies on their digital projectors in 4K, so this transition has already happened in studios, video editing suites and post-processing shops.
Apple's been making a fairly big deal out of 4K video since 2013, when they first unveiled the Mac Pro to attendees of Apple's Worldwide Developer Conference (WWDC). The Mac Pro began shipping in December, but it actually wasn't the first Mac with native 4K output capabilities. The Retina MacBook Pro, which was refreshed in October, could also handle 4K video through its HDMI port.
Limited initial support in Mavericks
At least initially, OS X Mavericks' 4K support on compatible machines has been limited — you could manage 3840 x 2160 resolution on a 4K display at 30 Hz — a very slow refresh rate compared to lower-resolution monitors, or 4096 x 2160 at 24 Hz (what's called DCI 4K, the 4K standard used for 4K film projection — film is projected at 24 frames per second, hence the lower refresh rate).
The Mac Pro fared a little better, initially, as long as you paired it with one of a couple of 4K displays: The Sharp PN-K321 (which Apple offers as a configure-to-order option when you buy the Mac Pro) or the Asus PQ321Q (which is available from online vendors). Both of those displays come equipped with a DisplayPort interface that, when mated to one of the Mac Pro's Thunderbolt 2 ports, could work at 60 Hz, once you configured the display to support "DisplayPort Stream" mode. (Apple has a tech note (opens in new tab) detailing the process.)
What's more, using a 4K display on a Mac was an exercise in frustration — content on the display appeared tiny. Windows would be spread out; text was almost unreadable. 3840 x 2160 is a lot of pixels to fill. You could scale the resolution similar to how you can on a MacBook Pro's Retina Display, but only using unofficial methods — it wasn't as easy as opening your Displays preference and tweaking a setting.
Bottom line: you couldn't just hook up a 4K monitor and expect it to work, like we do when we connect most peripherals to the Mac. And even if you could, you might not get the results you were looking for, with a lower-than-expected refresh rate that might cause some flickering or ghosting.
Mavericks 10.9.3 promises relief
With the new 10.9.3 beta out last week, many of the issues surrounding native 4K monitor support on the Mac seem to have been ironed out.
First of all, the Display system preference will let you scale the resolution of your 4K display, pixel-doubling the graphics to provide much sharper, more legible text and clearer images.
If you've ever connected your Mac to an HDTV (or used AirPlay through Apple TV and opened the Display preference on your HDTV), you'll now see a similar window: you'll be able to use scale resolution on your 4K display just as you can on most HDTVs.
What's more, you can adjust refresh rate, finally getting it higher than 30 Hz, providing a more responsive experience.
10.9.3 remains something that only registered Mac developers have access to right now, but this new functionality's appearance in the initial developer beta built bodes well for it to be a key element of the next public update to Mavericks. Hopefully it'll be a fairly short beta testing cycle.
Speculating on Apple's future plans
If I were a betting man, I'd assume that this change in 10.9.3 is laying the groundwork for Apple to release its own 4K display. It's just a matter of time. Apple's sole external monitor is the Thunderbolt Display, which is getting very long in the tooth.
The Thunderbolt Display was originally introduced in 2011. It's a fantastic display — beautiful color gamut, crisp LED-backlit display with 2560 x 1440 resolution, and lots of built-in expandability, with a FireWire 800 port, Gigabit Ethernet and three USB 2.0 ports. It even has a MagSafe power connector so you can charge your laptop.
But the existing Thunderbolt Display also was developed using the design language for Apple's then-current iMac, so it employs a much thicker bezel than the iMac does now. So next to Apple's current-generation hardware the Thunderbolt Display looks old. That built-in MagSafe power connector works with only one currently-shipping computer — Apple's "standard" $1,199 MacBook Pro, which hasn't been refreshed since 2012 — requiring you to hook up an adapter (which Apple includes).
Apple doesn't want to sell third-party displays like the Sharp model indefinitely - they'll want to sell their own as soon as they can. Apple tends to keep their monitor line very sparse. I think they might just sell a 4K Thunderbolt Display in the future, thought it'd please me if they refreshed the existing Thunderbolt Display too.
What do you think? Is Apple on the cusp of offering a 4K display? Have you tried out 4K on a new Mac? Let me know in the comments.
Hmmm, will this be the year of 4K for apple? Mac Pro could use an Apple 4K thunderbolt display. Apple TV and Mac mini due for refreshes at some point. New 4K display, 4K capable Apple TV and 4K capable Mac mini in one year? I'd be surprised, but i might buy them all (I'm on a gigabit/sec internet connection, since I got that I've wanted 4K in my living room -- if I can afford it)

One small quibble: the Apple Thunderbolt Display comes with a MagSafe 2 adapter, there's no need to buy it separately.

I did not know that, thanks!

I was hoping that instead of 3840*2160, Apple would opt to double the current 27" TB pixel resolution (from 2560*1440 to 5120*2880). Imagine 220 ppi on a 27" or a 30" display. Although I can also imagine that the price would be nothing like the $1K Apple's currently charging for the TB display. At 3840*2160, the pixel density is exactly the same as the old iPad Mini or pre-retina iPhone (at 164 ppi) although you'd normally view a 27" display from a greater distance. Still, a 4K display at 27" is only 55 pixel more denser per inch than the current 27" TB display. It will certainly be less impressive than the introduction of Retina MBP- moving from 110 ppi or 128 ppi (if you opt for the higher res display on the 15") to 220 ppi. Sent from the iMore App

I think that's unlikely; DisplayPort 1.2 (which is what's in Thunderbolt 2) is limited to 4K.

The problem is that the 5120x2880 would require more bandwidth than any existing protocols can handle on the latest Macs. Thunderbolt 2 can only go up to 4K resolution with 60 Hertz support IIRC. We have to wait until TB3/DP2.0/HDMI 2 or 3 to come out first before Apple can release a monster monitor like this. We all want the higher PPI but I believe Apple is going to be limited by what the existing technologies can give them and not to mention, Retina is not only measured by PPI but also distance. I doubt the distance between your face and the 27" Cinema is going to be the same as your iPhone or Macbook Pro, therefore, Apple can get away with less PPI while still technically making it Retina for all intents and purposes.

Also, I think the monitor sizes might expand as well to include 24" and 27" this time. If Apple shrinks 4K to 24", the PPI would be much higher while retaining the same resolution and bandwidth requirements.

Anything is possible. It's smart to incorporate into their product. You never know they may release their own 4k monitors and TV's. Sent from the iMore App
Get the best of iMore in in your inbox, every day!
Thank you for signing up to iMore. You will receive a verification email shortly.
There was a problem. Please refresh the page and try again.