But what if I didn't want a bigger iPhone?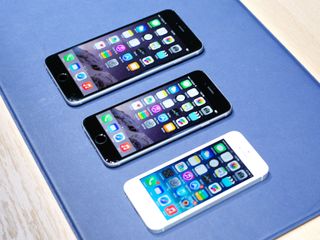 Now that the new iPhone 6 and iPhone 6 Plus have been revealed, all that we're left to decide is which one we want, right? But there's more to it — what if I didn't want a bigger phone at all?
With the iPhone 6, you don't have a choice — you're either going to get the smaller 4.7-inch model or the big honkin' 5.5-inch iPhone 6 Plus (a name I love, by the way, because as an old-school Apple enthusiast, it takes me back to the Apple II+ and the Mac Plus).
In his hands on look, Rene notes, "I have no doubt that, just as I look back at the original iPhone as an iPhone mini now, the iPhone 6 will feel absolutely normal in a week or so."
That may be true, but it's also going to occupy a lot more surface area in your pocket. It's thinner, the edges are rounded, and Apple's made some clever interface tweaks in iOS 8 to make it easier to use the bigger phones one-handed, but it's ultimately still a bigger iPhone. And Apple hasn't replaced the current four-inch models with something newer.
I guess it's go big or settle for what you already have. iPhone users who prefer a smaller, more compact device are going to be left out of innovations like Apple Pay, faster 802.11 ac Wi-Fi, and some of the features specific to the A8 and M8 coprocessor. At least they'll still get to use the Apple Watch, once it's released. This is the price of progress, not just for Apple but for just about any consumer technology - cars, microwave ovens, TV sets. New models replace old ones all the time.
Don't get me wrong — I'm ready for a bigger phone. I've found the current four-inch iPhone screen size to be limiting, both in terms of being able to see content clearly and being able to interact with it on the tiny screen. So I'm definitely looking to upsize. Without having held either of them in my hand yet, my gut tells me that the 4.7-inch model is going to be the one I'll prefer. Because at least I can still slip it in my jeans pocket without feeling like I've just shoved a skateboard down my pants.
Having said that, with all the focus on the iPhone 6 and the Apple Watch, it was easy to overlook a minor bullet point that really deserves more attention: The iPhone 5s and iPhone 5c remain part of the product lineup, and they're the new $99 and free phone, respectively (on contract).
The iPhone 5s is an especially good deal. If NFC payments, the larger screen size and some of the other iPhone 6 improvements aren't must-haves for you, the iPhone 5s is an excellent phone with plenty of life left in it. Key innovations in iOS 8 like Metal, the graphics optimization technology that promises more console-quality games, will work just fine on the 5s. The 5s also sports Touch ID, which is getting a big boost in iOS 8 as well.
If I was ready for upgrading from an iPhone 4 or 4s, or even a 5, I'd give the iPhone 5s a long look, because it really is a tremendous value for the money. As it is, I'm already a 5s user, so I'm keenly looking forward to getting my hands on the 6.
It's interesting to note that Apple has shifted the memory configuration of the iPhones in this new iteration. 16 GB is still the baseline — a paltry amount that even casual users grow out of fairly quickly, as they load their phone up with apps, videos and photos. But the 32 GB tier is completely gone in the iPhone 6, and in its place is 64 GB for $100 more, or 128 GB for $100 more than that.
Apple's clearly trying to give iPhone buyers a strong incentive to pay for the increased storage capacity. The 64 GB model is certainly a better value, and I'm willing to bet that the increased screen size will result in some larger apps, too, so it's a good thing. But it's a shame that Apple has kept around the 16 GB capacity as the baseline. We were already feeling the pinch with the iPhone 5 and 5s.
What are your thoughts? Are you sticking with a smaller iPhone for now, or are you ready to upsize or supersize your iPhone? Spill your guts!
Master your iPhone in minutes
iMore offers spot-on advice and guidance from our team of experts, with decades of Apple device experience to lean on. Learn more with iMore!