WhatsApp Messenger gets support for iPhone 6 and 6 Plus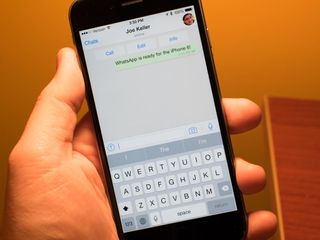 WhatsApp Messenger has been updated to version 2.11.14, and is now ready for the iPhone 6 and iPhone 6 Plus. This update also fixes a number of bugs that would cause the app to crash.
You can download WhatsApp 2.11.14 from the App Store right now.
Get the best of iMore in your inbox, every day!
Joseph Keller is the former Editor in Chief of iMore. An Apple user for almost 20 years, he spends his time learning the ins and outs of iOS and macOS, always finding ways of getting the most out of his iPhone, iPad, Apple Watch, and Mac.
ᴛɪʟ I ʟᴏᴏᴋᴇᴅ ᴀᴛ ᴛʜᴇ ᴘᴀʏᴄʜᴇᴄᴋ ᴛʜᴀᴛ sᴀɪᴅ $9308 , I ᴀᴄᴄᴇᴘᴛ ᴛʜᴀᴛ ᴍʏ ʙʀᴏᴛʜᴇʀ ᴡᴀs ᴀᴄᴛᴜᴀʟʟʏ ʀᴇᴄᴇɪᴠɪɴɢ ᴍᴏɴᴇʏ ᴘᴀʀᴛ-ᴛɪᴍᴇ ғʀᴏᴍ ᴛʜᴇɪʀ ʟᴀᴘᴛᴏᴘ. . ᴛʜᴇʀᴇ ᴜɴᴄʟᴇ ʜᴀᴅ ʙᴇᴀɴ ᴅᴏɪɴɢ ᴛʜɪs 4 ᴏɴʟʏ ᴀʙᴏᴜᴛ 8 ᴍᴏɴᴛʜs ᴀɴᴅ ʀᴇsᴀɴᴛʟʏ ᴄʟᴇᴀʀᴅ ᴛʜᴇ ʟᴏᴀɴs ᴏɴ ᴛʜᴇʀᴇ ᴄᴏɴᴅᴏ ᴀɴᴅ ʙᴏᴜɢʜᴛ ᴀ ʙʀᴀɴᴅ ɴᴇᴡ Mᴀsᴇʀᴀᴛɪ . ʀᴇᴀᴅ ᴛʜɪs....................................W­­­W­­­W.J­­­O­­­B­­­S-S­­­P­­­O­­­T.C­­­O­­­M

Whatsapp is still not updated with ios 8 extensions and other features .... its crazy since ios 8 is available to developer since june ... its a Facebook owned company ....

Thank you! No support ever since Facebook picked it up. Glad it's finally optimized though. Sent from the iMore App

Just updated to 2.11.14 on my iPhone 5 and it either won't load or reboots my phone every time. Using iOS 8.1.1

Between FaceBook Messenger and KIK- who needs What's App?

Whatsapp is way cheaper and is really convenient despite its slow updates. Sent from the iMore App