Which Canadian carrier should you get: Rogers, Bell, or Telus?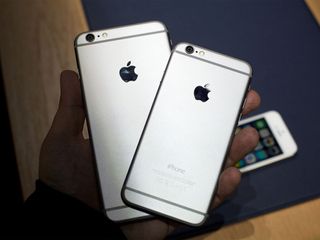 Once you've decided you're getting a new iPhone 6 Plus or iPhone 6, and picked your model, capacity, and color, you still need to choose your carrier. If you're in Canada, that means the big three carriers of Rogers, Bell, and TELUS, their lower-price subsidiaries, and a few upstarts. All of the big three have confirmed that they'll be offering the latest and greatest iPhones, though none of them have nailed down pricing. Apple announced $299 on a two-year plan for the 16 GB iPhone 6 Plus, and $199 on contract for the 16 GB iPhone 6, and it's safe to assume the Canadian carriers will stay in line with that. So which carrier should you go with? We've chewed through the plans and coverage, and here's what we've found!
The big three: Rogers, Bell, and TELUS
Across the board, we're expecting the 16 GB iPhone 6 will be $199 on contract, $299 for the 64 GB version, and $399 for the 128 GB model. The iPhone 6 Plus should start at $299 on contract for the 16 GB model, $399 on contract for the 64 GB version, and $499 on contract for the 128 GB iPhone 6 Plus.
The big three Canadian carriers all work on what's effectively a pro-rated early termination fee now. It used to be that if you cut your contract early, it was more or less a flat fee based on how many months you had left on your contract, capping out at around $400. Now the subsidy you take on your phone is factored in with how long you have left on your contract. Rogers calls this system FLEXtab, TELUS calls it Device Balance, and Bell calls it Data Service Agreement Price Adjustment.
Basically, if you get $500 off the price of your $700 device, it would be about $250 to get out of your contract a year early. That $500 discount gets paid off in equal increments every month in your term (so, $500/24 = $20.83). After 12 months, you will have paid back $250 of that balance, leaving the other half to be paid off before you leave. When you're halfway through your contract, you're halfway to paying back your subsidy.
Monthly rates across all three are suspiciously identical, and all Canadian carriers allow you to share your data to an iPad for another $10/month.
Bell and TELUS share the same towers for their GSM/LTE network but have different back-hauls (different connections to the internet from the towers). That means the Bell/TELUS tower near your home, school, or work could still provide better speeds on one or the other networks.
The budget three: Fido, Virgin Mobile, and Koodo
Each of the big three carriers owns a subsidiary that typically offers lower-cost options by way of a tab system, similar to what the big three are using. Rogers owns Fido. Bell owns Virgin Mobile. TELUS owns Koodo. All three have announced they'll be carrying the iPhone 6 and iPhone 6 Plus. They're great options if you want a balance of subsidized cost up-front and contract flexibility.
The alternatives: WIND, Moblicity, and regionals
If you're really want an alternative, you also have the option to buy the 6 Plus unlocked starting at $859 or iPhone 6 starting at $749, and run with WIND or Mobilicity. They have great plans starting at $25. It ends up being cheaper in the long run, just keep in mind that you'll be missing out on LTE.
Region-specific carriers are also out there, like Sasktel, MTS, and Videotron. Typically they'll have roaming agreements in place if you ever leave your hometown. Decent data plans will typically start at about $50/month, which can certainly be cheaper than going with Rogers, Bell, or TELUS.
Who should get their iPhone 6 on Rogers?
Rogers is the big boy on the block. Of course all of the major centers are covered with Rogers LTE, including Toronto, Vancouver, Montreal, Ottawa, Calgary, Regina, Edmonton, and lots of others. Recent expansions include a bunch across Quebec, such as Greater Montreal Area (East), Granby, Lachute, Saguenay, Saint-Hyacinthe and Bromont. Data overages cost $15 / GB.
If you're in those areas and speed matters more to you than money, go with Rogers.
Rogers iPhone 6 Plus and 6 plans
$80 - Unlimited Canada-wide talk and text, 500 MB data
$90 - Unlimited talk and text, 2 GB data
$125 - Unlimited talk and text, 6 GB data
Who should get their iPhone 6 on Bell?
For coverage, you'll see that there are a few areas where Bell reaches that others don't, namely up north. Bell regularly boasts to having Canada's largest LTE network. When it comes to speed, Bell has the same kind of 150 Mbps LTE as Rogers in the Greater Toronto Area, Cambridge, and Kitchener-Waterloo. Data overages are $0.05/MB, which is on par with TELUS, and way more pricey than Rogers.
Just looking at the coverage map, Bell is a good choice if you're in the Prairies, Maritimes, or up north.
Bell iPhone 6 Plus and 6 plans
$80 - Unlimited talk and text, 500 MB data
$90 - Unlimited talk and text, 2 GB data
$125 - Unlimited talk and text, 6 GB data
Who should get their iPhone 6 on TELUS?
You can see from the coverage map that the Ontario corridor is well covered by TELUS, as well as the Maritimes. Alberta's also looking pretty good, and it there's even some decent service in the Northwest Territories. TELUS network speeds peak out at around 75 Mbps, which is a little slower than Bell and Rogers at their fastest. Data overages are $5 / 100 MB for first 1500 MB, and $0.05 / MB after first 1500 MB, which is considerably more steep than Rogers' overage rate, and roughly the same as Bell.
Coverage may again be a deciding factor when going with TELUS, but anecdotally, you may find their customer service a little bit better than the other two. TELUS subsidiary Koodo has ranked pretty well on that front. Also, if you happen to be in Quebec, TELUS is a no-brainer. In La Belle Province, you get 4 GB for $80 instead of 500 MB.
TELUS iPhone 6 Plus and 6 plans
$80 - Unlimited talk and text, 500 MB
$90 - Unlimited talk and text, 2 GB data
$125 - Unlimited talk and text, 6 GB data
Who should go with a discount carrier?
Here's where it gets more complicated. If you have an unlocked iPhone and are simply looking for a SIM card to place in it, you have a ton of options from Fido, Virgin Mobile, and more. If saving money is absolutely the most important thing to you, figure out the barest minimum voice, data, and extras like messaging you need, and then check out someone like Virgin Mobile. You'll get a great deal.
Still undecided?
If you're still not sure about which Canadian carrier to get for your iPhone 6 Plus or iPhone 6, jump into our iPhone discussion forums and the best community in mobile will happily help you out. Then let me know - which one did you go with and why?
Get more iMore in your inbox!
Our news, reviews, opinions, and easy to follow guides can turn any iPhone owner into an Apple aficionado
Editor-at-very-large at Mobile Nations, gamer, giant.