White iPhone 4 makes an appearance on Three, Orange UK, AT&T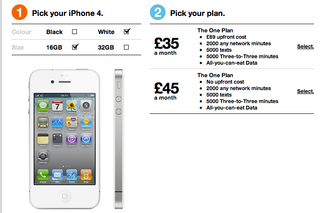 UK operators Three and Orange are now listing the white iPhone 4 on their websites. AT&T's online system is also now showing the white iPhone 4 in their OLAM (Online Account Management) system, both 16 GB and 32 GB white. This news comes hot on the heels of Best Buy and Vodafone Germany showing the white iPhone 4's in their internal systems, plus
The evidence is stacking up, Apple are definitely going to release the iPhone 4 in white soon, despite it now being over seven months since the original launch. This should come as no surprise; there will still be a big demand for the white iPhone 4. Not everyone wants to wait five months for the iPhone 5. There are also many potential customers that are totally unaware of Apple's product refresh cycles or just simply want a new phone now.
Do any of our readers still want a white iPhone 4? Let us know in the comments!
[Three (opens in new tab) and Orange, thanks Jared and George. BGR]
UK editor at iMore, mobile technology lover and air conditioning design engineer.
I think this shows that Apple won't do a complete hardware change with the next iPhone coming in june.

I think your right. They also just reconfigured the antenna for CDMA. Would be sorta a waste to manufacture for 5 months then scrap it.

Remember the video of the stainless steel band with the new breaks in the band and a SIM card slot?
The CDMA iPhone had the new breaks in the band but no SIM card slot.
So, conspiracy theory, the hypothesis, would be the band with the SIM card slit will be for the white GSM iPhone. One of the rumors for the white iPhone not shipping was because of light leakage from white paint around the camera.
The new design with this new band will have the camera mounted to the glass back, not the PCB. So light leakage solved.
Therefore the white iPhone will have this new antenna design and camera design.

Perfect. I will be preordering the Verizon iPhone (in Black) on 2/3. Waited this long for one, not about to wait 5 more months for an iPhone 5. I also am of the mind that I am not convinced that Verizon is getting the iPhone 5 in the summer. Even if so, I think it will be a more minor upgrade and the iPhone 6 will be the next "major" version.
Unless Jan/Feb becomes the new release for all iPhones, and neither AT&T or Verizon (or any international carrier) get a refresh this summer, and everyone gets the iPhone 4G in early 2012...
Could happen.

I WILL DEFINITELY!!!!!!!!!!!!!!!!!!!!!!!!!!

To late, missed me w/it. Broke down and got the iPhone 4 in Black. Maybe next year or the year after next we can see about some white action.

I want one, but it would be a waste since I have a black iPhone 4 already. =[

My iPhone 4 was stolen, and I am still deciding if I should get another one or wait for iPhone 5. If I get the 4 again, I will def. get white!
But, will the 5 be in black and white?! That is my new question!

I would still want the white. Sorry, I like the attention. White just seems so clean. They must have took the white back to the assembly lines after the whole antena ordeal.

I had mine converted to white about three months ago. White is old news for me now. I'm waiting for the 5.

Want want want!!! I've always wanted a white phone... first the white BlackBerries (before I got a BB and discovered they're CRAP), and now a white iPhone! My plan is up in May, so if it's out before then I'm DEFINITELY getting white.

I been got my iPhone 4 in November. I waited and waited and waited. Fool me once shame on you. Fool me twice Shame on me. Fool me a third time noooooo sir.

If the iPhone 5 is not released in white, I'll buy the white iPhone 4

I VERY much doubt that Apple will release a white iPhone 4 just five months before the release of the iPhone 5. We have seen white iPhones in store advertisement before, even from Apple itself. I say there will be no white iPhone 4, and that the color white will be one of the strong selling points of the iPhone 5.

So is the iPhone 5 coming to att in June?

That's what I'm talking about. Why even go for it and be behind?

I was thinking I'd wait until the iPhone 5 but I need a 32 gig. This 16 gig isn't cutting it anymore. I'm constantly running out of space and having to delete stuff.

Have not got the iphone yet from Verizon but will like the white one if they offer

Who cares. Where's my ipad2 with retina display?!

Of course it will sell because there are plenty of people out there that have no clue whats going on around them. Apple could release it the day before the new 5 comes out and they will sell a million of them. Most people are clueless.

Does anybody know if there's a black conversion for this? :)

Yesterday I shattered my 3GS screen. I'm tempted to get the white 4 now

I preordered the white iPhone 4 at Best Buy the day they allowed back in June 2010. I refused to buy the black one, and to this day still have a reserve at that Best Buy. With all of the hoopla, antennagate, yellow screens early on, and the dumbest campaign EVER 'it's better again' (along those lines) and the "hold different" motto, I'm staying away from the i4.
You'd be a fool to buy the out of date, red-headed stepchild version at this point since it's proven that the i5 will be an entirely different device.

Don't pick on red haired people meanie...

Ever since I went bare again the antenna issue is back dropped calls and all so I'd wait for the 5 which will be the most perfect phone ever, right? 

It may be a different device, but it may be in the same chassis, so the front and back plates may still be usable with little or no modification. I still think the 4 to 5 will be a 3G to 3GS type of upgrade at least appearance-wise.

Definately count me IN! I will either keep my black one for a back up or just sell it. If the iPhone 5 is a major update I'll use another line's upgrade for that. If its only a marginal update, I'll just stick with my white iPhone 4!

You read it here first , no iPhone 5 this summer. iPhone 4GS will come out end of June ( Verizon ) ;)

Totally waiting for 5. I have a white 3GS and it's still awesome

based on this, there isn't going to be an iphone 5 this summer, only a iOS 5 update. ugh.

The white iPhone 4 has been on those websites since the iPhone launch last year.
This is not new or now suddenly in their systems, it never left!

That is funny. White iPhone 4 is just Apple's version of vaporware!
I don't know if it matters anymore because it will be so outdated by the time it sees the light.
Get the best of iMore in in your inbox, every day!
Thank you for signing up to iMore. You will receive a verification email shortly.
There was a problem. Please refresh the page and try again.