White iPhone 4 delayed until Spring 2011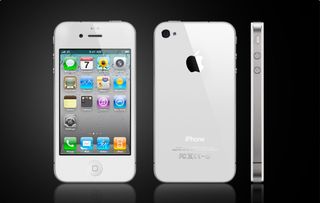 Apple has announced that the now seemingly mythical device known as the white iPhone 4 will not grace us with its presence until next spring. Apple spokesperson Trudy Muller:
This just after we told you how Apple teased us all with promises of reserving a white iPhone 4 at your local retail store. Clearly this is not the first time the white iPhone 4 has been delayed, nor do we know if it will be the last.
Those of you still waiting for a white iPhone 4, will you keep waiting, get a black iPhone 4 instead, or just give up and see if a white iPhone 5 ever decides to grace us with its presence?
[ Reuters via All Things Digital ]
by Brian Tufo
RETARDED! Just cancel the white iPhone 4. By the time it comes out we will be getting ready for thie new iPhone. Lmao.

i was waiting for it but now i guess i'll just wait for iPhone 5 (hopefully in white) :'(

UGH i guess i'll get black thanks alot apple :|

Wouldn't it make sense to just focus on making a white iPhone 5? I mean by Spring it'll only be about 3 months until the iPhone 5 is released. Pretty retarted on Apple's part.

I was waiting for a white one as well, but the black one with the clear plexi cover looks pretty sweet.

I saw an otterbox case in both black AND white! Woot!!

Apple needs to give up. Seriously.

My bet: they're going to delay it again until iPhone 5 release, then BAM. White iPhone 5, no white iPhone 4.

Can anyone explain why white is harder to make than black??? I don't get it.

I dont know why it's harder to make but the reasons it's not out yet is because they are having a hard time getting the white paint to stay the same color and they are having a hard time getting the home button color to match up to the phone color. That's what i heard anyways. Someone correct me if im wrong

Anyone else think it's ironic that Ww2_honor spelled the word "retarded" wrong?

Hahaha. Personally I think they should give up the the white iFail 4. Really, by the time they bring it out, there will be a new one due.

If Apple wants to piss off AT&T, they could make the white iPhone 4 exclusive to Verizon for a year. Could help bring AT&T customers over, and it would help to thin the Android herd over at Verizon. VZ is Android's safe haven in the US, but not for long.

Really, Apple?
I've been holding out on getting the White one since, well, they originally pushed it back. I REALLY am debating on just getting the Black one or not. If the White iPhone 4 had more to offer than the Black iPhone 4, maybe I'll hold out.
But what's the actual point. The new iPhone will come out shortly after the release. What is apple doing and why can't apple just announce why... It'd help us who's debating on waiting.

I gave up last week and bought the black one. Glad my patience wore out, lol.

Everyone might as well face it, there is not going to be a white iPhone 4. I really would like to see what is going on for why it takes this long to get the color right. Is the company working on it only one day a week? In any case, if you are really holding out for it why would you not just wait another 2-3 months on top of that for the iPhone 5?

Who cares? A color doesn't matter. Buy a case. Quit drooling, by the time this is released, the iPhone 5 will about to be born anyways. You folks who are waiting for a white iPhone, just get the new one next summer. You'll be glad you did.

Who would ever buy a white iPhone 4 in the spring when you can get a white iPhone 5 in the summer?

I'll just wait for the iPhone 5 now I think. Joke!

White sucks. Get a black one. BLACK IS BAAAAAD BABY.

This story sounds very fishy to me. It takes almost a year to get the color right? Wish I were a fly on the wall in Cupertino.
Here's a theory: maybe they needed the extra manufacturing capacity to make the Verizon iPhone.

There is no reason to complain whatsoever. The most likely scenario is that there will not be an iPhone 5. The most plausible theory is that the white version of tge iphone 4 will be launched in the spring...alongside a CDMA version of the phone. That will be apples glory for 2011. They will not need a new phone yet theoretically. The smartphone standard is set for at least another year

Thats it, waiting until iPhone 5... no reason to waste my upgrade.

Can someone explain the obsession with the phones color? Does it really matter that much? Most people put cases on their phones anyways, just get a white case. I can see having a preference, but to not buy the phone or to wait and missing out on having the phones benefits for months and months just for something so trivial makes no sense to me. Am I missing something?

white iPhone4 is DOA, who would buy one when a few short months later iPhone5/iPhone4G will be out, its just vaporware

I need a white iPhone to go with my white tiger...

Lol hopefully the antenna issue will be solved by the time it comes out. I think the black model is much more attractive anyway.

Who cares white iphone 4 while i am waiting for iphone 5 either black or white.

I too like many of you good folk was waiting for the white, but now will get the black, even if it goes against everything I believe, Im a patient man, but Apple has forced me to decide to experience their product in a colour I at first was dead against, but I guess it will suffice until the white iPhone 5.

I bought a white iPhone apple logo case on eBay from hong kong and people always trip out when they see it because they think it's the white iPhone 4. They also have other colors too with the apple logo showing so it looks like an actual iPhone back only it's a case. Picked up a white one for $7.00 and I'm happy! Maybe this could satisfy some of you out there.

I personally prefer the black one but for those of you that saying to get a white case don't make sense! Non of the cases will make the front of the phone white.

Black looks way better in my opinion.

We can put people on the moon but can't get a white iPhone? Just like the death touch issue, this bungle smells fishy. I don't think the white iPhone is a big consideration at Apple. How could it be? This is a company that accomplishes much of what they set out to do..the only reason a white iPhone is not available is because Apple doesn't really care about it.
I happen to prefer the black iPhone. For those that think the color of a product is a trivial thing, consider buying a lime green car or an orange house or eating blue steak. If the only color available for the iPhone was white, would you feel differently? Corporations spend lots of money researching the trends of color and it's impact on product sales. It's a bigger deal than it would seem. Everyone but Apple seems to get that...well, I take that back...how many colors are available for the Nano?

this doesn't make sense. why would they update the apple store app if they weren't going to release it for another few months. the whole timeline is off. i don't believe in this or the verizon iphone.

Horrible failure. Apple, I used to think you could do better. Now I'm doubting that.

Yep, like most have said - IP5 will be out 3 months later. And my upgrade falls in April so by that time, there should be rumors out and about covering the new iPhone. If the rumor is of a 4+ in., 1.2Ghz, 32-64Gb device then we're in business (Btw iOS5 better be more 'Android-like'). If the rumor mill dictates the same ol' same ol', then Android here I come - specifically the new EVO!

White iPhone - VERIZON. It will be the only way to tell who you roll with. Can't see El Job-o allowing Verizon to put that stupid red check mark on HIS phone. Maybe iPhone 4.1 will have it. Not buying the "paint" story any more. Does not hold water. Can't match a color?? Gee, I can bring a color scribble on a piece of paper to Home Depot and get a gallon of paint to match it. APPLE can't do this?? Please......... Apple is becoming insulting with all this. Tell the people, you know, YOUR CUSTOMER'S, what the deal is. Don't leave people hanging like this. OMG, what am I talking about. THIS IS APPLE!!

Boy am I glad I decided to get the black at launch instead of waiting :D.

Quit complaining you have 3 choices. Keep the device your using now, get the black iPhone 4, or just wait for the 5. I know we all like choices so there goes 3. Get over it move on. Like a company in this world never had delays and/or lied.

I WANT THE RED iPHONE 4!!!!!!!!!!

@Desmond, people are complaining because they were told two three different dates for a white iPhone release and were let down each time. Is it really hard for you to understand why people would be disappointed in this?
From what I've heard, delays were first due to the more delicate and breakable material the white iPhone 4 was comprised of. Once that was corrected, they realized there was a massive color matching problem between the new casing, and the original white button.
It's unusual for Apple to come as such a let down with a new product.

Just spend the extra $$$ and have the white iPhone 4 kit put on it!

Besides how questionable it might be to call these things "retarded," at least spell the word correctly. It's not "reTarted."
That's the first rule of insults on the web. For example: Never call someone an idiot, if you can't spell.

I just got the 3GS I was trying to hold out for the white iPhone 4 but I couldn't wait any longer, I'm very happy with my 3GS and will upgrade to the next white iPhone whenever we see it.

@Dood. Dude nothing in life is promised you just go with the flow. I admit it sucks but what else can you do? Complaining or disappointments on things no one has control over is waste of time. The one thing I've learned about dealing with Apple is that they are gonna do what they are gonna do. Which is what they believe is best as a whole. Just move on.

I agree, they should just give up and call it a day. Have to wonder how much money they are wasting each day to get this right. But Steve Jobs has too much stupid pride in him to quit.

there will be no iphone 5 next year. it will be Lion's year, all engineers will work on that. then in the fall they will start to work at ios 5.0

Looks like it has been canceled:
http://www.boygeniusreport.com/2010/10/27/apple-cancels-white-iphone-4/

@Desmond, Apparently you can't read so I'll repeat it. I said people are disappointed because Apple announced three separate release dates for the white iPhone 4. Apple failed to meet their announced dates all three times. They have a reason to be disappointed. Comming on here and telling people to 'get over it' is fine, but it seems a little aggro, so understand when people tell you you're being lame. I hope I didn't confuse you on that.

I'll just get a black and then hopefully the iPhone 5 will be available in white. It unfortunate since I've held out this long already...

Ah, im just gonna get the white case. Screw it!

OH, bad news for white iphone fans! Especially the one who are waiting for it! What's up with Apple's white iPhone???
Well, White is a traditional color for Apple products, and the white one is really cool and lovely, but I think the black also tempting too, even looks a little mystical, so I got it. It is fantastic too...
The iP4's picture definition ...I'm speachless....personally I really like the grouping of apps much tidier than before and the camera zoom. And as the iPhone 4 high-definition video clips, watch video on IPhone 4 are so cool and amazing! and I have download the iPhone 4 Video Converter from iFunia, Im suck in enjoying my favourite movies on the go!
hmm, maybe I will also get the white one then this one give to my son!

Wow! It's cool! This is what I wait for.. the X! :D hehehehe!

Hey now... Remember the no complaining rule! We are not allowed to point out that something is not a hack anymore because it made people cry. Now go enjoy your nice warm bottle of formula and take a nap.
Thank you for signing up to iMore. You will receive a verification email shortly.
There was a problem. Please refresh the page and try again.