White iPhone 4 shipping in 3-5 business days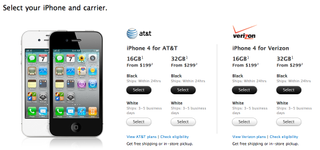 As promised the white iPhone 4 finally showed up on Apple online last night and is currently available with a 3-5 business day shipping estimate (as opposed to the mere 24hrs for the black iPhone 4). Apple might be prioritizing current stock for Apple Retail, carrier stores and resellers like Best Buy so anyone heading out to get one today doesn't come home disappointed.
So if you've waited this long and 3-5 more days don't matter to you, place your orders and watch for the delivery truck. If you want it today on the other hand, you'll have to head on out to the store! Either way, let us know what you're getting
Get the best of iMore in in your inbox, every day!
Senior Editor at iMore and a practicing therapist specializing in stress and anxiety. She speaks everywhere from conferences to corporations, co-host of Vector and Isometric podcasts, follow her on Twitter @Georgia_Dow and check out her series at anxiety-videos.com.
may get this for a birthday present instead of a tomtom , i'd pick one up from the store though ...

Get this and just buy Navigon or TomTom app in the App Store, WIN WIN or is that #WINNING, hahaha

I have had my black iPhone 4 for almost a year now. I'm waiting on the 5.

Would be nice. Holding out for the ip5.

Hmmm I think if I can i will get a white and sell my black one just to increase to 32 from 16. I am getting close to filling my current phone!

Dood isn't standing in line. He's hiding.

ive been in line for this at my local apple store for over a year now, i mean its the iphone, and its white! the phone that changed everything..........err i mean the phone that changed its color......and nothing else

Lmao @ standing in line for a year. I can believe that a lot of people are on the edge with this one. If the new five comes out in September a lot of people will have a sour look on their face. Speaking as a 3GS owner I will consider this but by the time I make up my mind the 5 will be out.

also debating selling my black 16gb and getting a white one...

Not a fan of the white iPhone. Most people uses cases anyways so I don't see the point of needing to switch unless it's for more gigs.

This would've been perfect...like 8 months ago

Got mine this morning, jumped ship from my black 32 gb iPhone 4 through AT&T to a white 32gb iPhone 4 from vzw. Ah sweet sweet service.

This site is full of vital information for iPhone app developers and users. I'm sure many of those who visit this site will also like it. Congratulations to the administrator and owner of this site. This will give more information for the development of the iPhones industry.
The iPhone industry is now a multi-billion industry. I'm sure the millions of users of the world will always need more information, developments and news iPhone apps. The current development is amazing and more and more iPhone developers from all over the world also enjoy their creations because of the great potential to sell to the billions of users around the world.
Thank you for signing up to iMore. You will receive a verification email shortly.
There was a problem. Please refresh the page and try again.