Everything we learned about iOS 8 today at WWDC 2014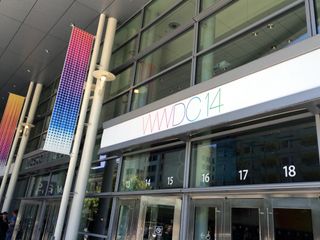 Apple's WWDC 2014 keynote has ended, taking the lid off of iOS 8. These are the big announcements from the two-hour event, collected here for your convenience.
Apple officially announces iOS 8
The eighth major release of Apple's mobile operations system comes with a host of new features for both customers and developers.
AirDrop and Handoff tie together sharing between OS X and iOS
AirDrop now works between iOS devices and Macs, letting you send items back and forth between the two platforms. Handoff lets you pick up on one device where you left off on another, like beginning an email on iOS and finishing it on OS X.
iPhone will be able to hand off phone calls and text messages to Mac
As part of Handoff, your phone calls and non-iMessage text messages can come through your Mac running OS X Yosemite.
Notification Center in iOS 8 offers quick replies, actionable items
Notifications now give you the ability to quick reply and take action, from the lockscree, from notifications themselves, and inside Notification Center. Notificaation Center also adds support for widgets from third-party apps.
iOS 8 introduces new Spotlight search
Spotlight search is getting a major upgrade in iOS 8. Much like Siri Spotlight will now recommend restaurants, movie theaters, Wikipedia results, and web searches. You can also find items on the iTunes Music and App Stores.
Apple debuts QuickType in iOS 8 keyboard at WWDC
iOS 8 is bringing a number of enhancements to the keyboard, most notably predictive word suggestions based on the context of your conversation. The new QuickType row will appear above the keyboard with its suggested words, letting you tap to place the word in your message. QuickType will support fourteen regions at launch.
Messages get beefed up on iOS 8
Messages will receive several enhancements. Swipe can now generate specific actions, individual message threads can be set to Do Not Distrub, and photos can be viewed at a glance on a special page. There's now also support for voice messages.
Apple announces new enterprise features in iOS 8
There are a number of new enterprise features coming to iOS this fall. These include per-message S/MIME support, VIP email threads with their own notifications, and the ability to mark themselves as "Free" or "Busy".
Family Share for iOS 8 will let you share apps, pictures, and calendars
Family Share lets up to six users easily share calendars, reminders, media, and apps. Find My iPhone can be used with anyone in this group, great for family members that have a habit of losing their devices.
iCloud storage tiers now more affordable
iCloud is getting simplified, bigger, and more affordable storage levels. The first 5GB of storage will remain free, just as it is now. However, Apple is making the 20GB tier available for $0.99 per month, or about $12 per year, down from the previous price of $40. There is also a 200GB for $3.99 per month, and Apple also says that tier will be available up to 1TB of storage.
Siri features hands-free activation, Shazam integration in iOS 8
Siri got it's rumored Shazam functionality, along with some useful other features. You can also now activate Siri hands-free when your device is plugged in.
Apple bringing HealthKit to iOS 8
HealthKit will provide a single place for all of your connected health and fitness devices like a activity tracker or heart monitor. Items using HealthKit will share their data from devices to apps, all at the discretion of the user. Apple is working with Nike and the Mayo Clinic on some HealthKit applications.
Photos in iOS 8 adds smart suggestions, location matching and new editing tools
Photo tools in iOS 8 are getting major improvements. Your photos will be instantly synced across you iOS devices via iCloud. This syncing includes editing, and you can use new smart controls to edit light, color, and the straightness of a photo. Brightness, contrast, exposure, and shadows will all change together intelligently.
Improvements to the App Store make it 'the biggest release since the initial launch'
Apple is making some upgrades to the App Store, including improved search, and app bundles, and more. Trending searches will show users apps that are very popular, a new Explore tab will give you a starting point for app discovery, and developers can now bundle multiple apps together to offer them at a discount with one tap.
Apple announces new developer extensions in iOS 8
Apple announced that third-party developers will be able to extend their apps functionality to other apps. Extensibilty runs completely through iOS, keeping apps sandboxed. Extensions will also be available in Apple's own apps, like Safari.
iOS 8 provides support for third-party keyboards
iOS 8 will allow developers to create, and users to install, third-party keyboards system-wide. When installed, these keyboards will be sandboxed, and things like network access will only be unlocked when the user has given their explicit permission.
TestFlight to enable App Store beta testing
Apple will be rolling out the TestFlight beta testing service to developers soon. Apple acquired TestFlight back in February, and has apparently wasted no time in integrating the service into iOS.
Touch ID authentication coming to third-party apps
Developers will now be able to integrate Touch ID into their apps for authentication.
HomeKit lets your iPhone phone home
Apple is stepping into home automation, introducing HomeKit to connect to equiptment from a number of manufacturers. HomeKit creates a unified interface to control different smart appliances.
iOS 8 adds third-party access to camera data via an API
Developers will be able to access an iOS device's camera at a deeper level with iOS 8. Apps can now handle manual control of exposure, white balance, and more.
Metal helps game developers get the most out of iOS hardware
Metal will give developers "near bare-to-the-metal" access to Apple's A7 processor. Metal boasts 10x faster cell draw rates, GPU computation, and efficient multithreading.
Apple unveils Swift — Objective C without the C
Swift is an effort by Apple to create a language with the power of Objective-C without all of the complexities of the language itself. Swift still supports old Objective-C code, and developers can still create apps in Objective-C right alongside Swift.
iOS 8 Beta available to developers today
Developers can go to the iOS Develpers Center now and download the beta of iOS 8. The full consumer release will be available later this year. The iOS 8 beta supports iPhones as old as the iPhone 4s, iPads going back to the iPad 2, and the 5th generation iPod touch.
What do you think of the new features in iOS 8? Let us know in the comments below, and be sure to stay tuned for all the latest news on iOS 8.
Get the best of iMore in in your inbox, every day!
Joseph Keller is the former Editor in Chief of iMore. An Apple user for almost 20 years, he spends his time learning the ins and outs of iOS and macOS, always finding ways of getting the most out of his iPhone, iPad, Apple Watch, and Mac.
Great new features... U guys forgot to elaborate more about Continuity... It's about calls on iphone, you could answer on ipad.... That's amazing feature... Sent from the iMore App

I'm telling you..I was so surprised when they announced it.

I'm pretty sure I said "wow" out loud.

Messages finally has the option to "Store Messages" "Forever" for "30 Days" or for a "Year" in which they will automatically be deleted after the date. That should solve some of the problems with Messages, Ally! :-) Sent from the iMore App

You forgot or missed quite a few things on this list. Better put down that sandwich. WiFi Calling, additional language support, Camera timer, battery usage by app, etc.

Well, it's a start. Anyone else feel this is the level that iOS 7 should have been? Posted via iMore App from my S4 mini WITH an LED CrackLight ;-)

No, not really. Following that circular mentality you could say that about any previous version of something from its successor.. duh.. I would say that most everything they've demo'd is the next natural progression and I'm glad to see them going in full steam. EDIT: See what I did there? you're half-empty.. I'm half-full. :p

Depends on people's perspective. I think this is what iOS 7 should have been. However, I also understand why this isn't iOS 7. Everything was so rushed that there was no time to really polish it up. But now I can finally say it is time to move forward.

There is no way that they would have put all these features in iOS 7

I agree with you. I think if iOS 7 was like this, I would have been MUCH more inclined to not think it was simply an unnecessary UI change. IOS 8 really made me say "wow". Posted via the Android iMore App!

Family share is crucial. Huge deal

Maybe I don't get family share, but is it tied to your account or credit card? Cuz if it's your account, ios already does this. I know cuz I can buy stuff on my phone and then download it onto my moms phone, if it's supported.

Family Share ties multiple Apple IDs together. It's different from using a single Apple ID and logging in to it from multiple devices. There's also a remote permissions part, so kids can ask parents' permission to buy something on the App Store, and a permission slip will show up on the parents' iPhone/iPad.

Now it's really look likes windows.. ._.

not seeing it really.. windows has bright bold boxes all covering the screen.

I´m sure I saw somewhere that SIRI wil come in 22 additional languages.. Maybe I´m wrong. If so, do you know which?

Can't wait to start coding in Swift. Not sure, but I think it might be iOS 8-only, so we'll need to wait until iOS 8 has a decent installed base. (By oh, maybe December.)

Apps written in Swift will run under iOS 7 and OS X 10.9 Mavericks on Macs. So, ~90% of the existing iOS installed base, and 50%+ of the Mac installed base.

If dark mode comes to ios 8, at least iMessage and Safari, I'm more pleased. So far it's just interactive notifications and the Whatsapp features in iMessage! But the great circle that appears when you tap and hold to record I message...that's very not-so-discreet and it looks ugly. Hopefully it will disappear in the final version.. Sent from the iMore App

You forgot the best new feature: Finally a central file storage! Not only is iDisk back as iCloud Drive, every cloud storage could be used from every app! This will be a huge step to clean up the current mess of file management in iOS.

I agree! iDisk was something that was missed by me and countless other people when iCloud came out. I'm glad it came back as quickly as it did.

Not trying to cause a riot but this stuff has been on BlackBerry and Android for awhile now...

Oh, brother....(rolling eyes, forehead slap)....

I'm only telling the honest truth

Oh, OK, the "honest truth"--well, in that case, I'll remove my hand from my forehead....I thought it was the "dishonest truth"...or was that the "honest falsehood"....hmmmm... At any rate: Volvo Salesperson (VS): So, let me point out that our new Volvo here now has Apple's Carplay! Prospective Customer (PC): Well, heck, I've already got an iPad sitting on the top of my dash in my old Chevy. CS: Well, tell you what, let's take a test drive--somehow, when you step out of the car, I think you'll find the user experience a tad different than your current set up...Also, after we get back, I'll show you around the dealership, introduce you to our Service Manager, and explain how you're not just buying a car but a relationship with our company and this dealership for years to come.

Soooo they are bundling more apps i.e. iBooks with iOS without the option to choose the default ones or freely delete them ? This will make many users happy :) I use & like iBooks but seriously what's so bad in downloading it after turning on your device Apple ?
Thank you for signing up to iMore. You will receive a verification email shortly.
There was a problem. Please refresh the page and try again.