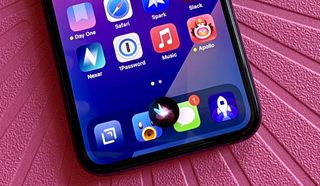 (Image credit: Christine Romero-Chan / iMore)
Siri is the name of Apple's personal digital assistant. It's basically voice control that talks back to you, understands relationships and context, handles basic sequential inference, and has a personality straight out of Pixar.
Ask Siri questions, or ask Siri to do things for you, just like you would ask a real assistant, and it will help keep you connected, informed, in the right place, and on time. You can even use Siri's built-in dictation feature to enter text almost everywhere by simply using your voice.
How to set up, secure, and start using Siri
Siri is built into every iPhone, Apple Watch, iPad, Mac, and more though you'll want to set up Siri so it works exactly as you'd like it to. That includes setting up "Hey Siri" so your assistant recognizes your voice, customizing Siri's language and voice, setting a passcode lock, and more.
How to call, message, and email your contacts using Siri
You can use Siri to make a call, send a message, or compose an email but it's more than just a voice control system. Siri remembers context and it can understand relationships so, for example, you can tell Siri to call your wife's iPhone and Siri will know who that is and which phone number to dial.
How to set and share reminders with Siri
Siri was designed to help you get things done, and part of that job description is creating and updating your to-dos and lists of to-dos in the Reminders app of your iPhone, iPad, or iPod touch.
If you need to be prodded to pick up milk on the way home, order that present in time for the big party, or set up that lunch meeting before the end of the day, Siri's Reminders integration is here to help!
How to create, view, update, and cancel calendar events using Siri
Since it is meant to be your personal assistant, it only makes sense to have Siri schedule and manage your meetings and events on your iPhone or iPad. Asking Siri to create a Calendar event only takes a few seconds and is much faster than creating them manually and entering all the data yourself.
Whether you need Siri to schedule a meeting, tell you what's on the agenda for the day, or move an existing meeting to another time to make room for a conference call or a power nap, Siri will help make sure your schedule is set.
How to set alarms and timers using Siri
Siri ties right into your iPhone or iPad's built-in Clock app which means you can use Siri to set an alarm if you want to be woken up at 7 a.m., have your assistant set a timer set for 10 minutes so the cookies don't burn, or find out what the hour is in Australia before you call. No matter what you need, Siri can keep you alerted and on time!
How to get driving, walking, and transit directions with Siri
Siri is a great utility to help you find your way home, help you around the big city, and figure out which route you should take to avoid traffic. No matter where you're traveling to, Siri works with Apple Maps to help you get where you need to go. Siri can even recognize third-party apps, such as Google Maps, that you have installed and launch them for you.
How to find restaurants and businesses, read reviews, and make reservations using Siri
Working in conjunction with the Maps app, Siri can help you find restaurants and even book tables. You will need a compatible app with a Maps extension like OpenTable to complete your reservation, but Siri does a lot of the heavy lifting, including finding places and times, and showing you Yelp-powered reviews and pictures that are also included so you can view all the information you need before booking, all in one place.
How to check stocks and exchanges using Siri
Siri can't be your financial advisor or broker — at least, not yet! — but Siri can look up stock prices and exchange positions for you. Whether you want to find out what's happening with APPL or GOOG, or if the DOW or NASDAQ is up or down, Siri's got you covered. (Just not your positions. Sorry).
How to view, create, and update notes using Siri
Being a virtual personal assistant, you'd obviously expect that Siri can dictate notes. In fact, Siri can not only take a note but update them as well. If you need something that's more permanent than a reminder, something more like an idea you don't want to forget, or a draft you want to get down while you're driving, Siri and the Notes app are the perfect combination.
How to check the weather and get forecasts using Siri
Siri not only makes for a great digital assistant but a great weather forecaster as well. With Siri checking the weather, you can make sure you're never caught without your umbrella, raincoat, snow shovel, or suntan lotion again.
How to play and control music using Siri
Siri can help you access your music more easily than ever. With Siri, you can play tracks, albums, and entires genres without ever having to open your Music app. If you're running iOS 14.5 or later, Siri will even ask what your preferred music app is when you ask it to play you a track for the first time.
How to search Google, Yahoo!, Bing, and Wolfram|Alpha using Siri
If you need information, chances are Siri can search the web to help you find it. Apple currently enables Siri to search Google (or Yahoo! or Bing) for general information, and Wolfram|Alpha for computational knowledge.
You can use Siri to find anything you would normally type into a web search box, only there's no typing needed. Just ask, and you'll get back everything from the latest celebrity gossip to the answers to that nagging math question to a listing of the best free apps for your iPhone.
How to find movie locations, showtimes, reviews, ratings, and trailers using Siri
Siri has become quite the movie buff, able to tell you not only what films are playing at which theaters, but provide you with their ratings and reviews, and even play you their trailers. Want information about your favorite actor or a complete list of the movies they starred in? You need only ask!
How to look up sports scores and schedules, team rosters, and player stats using Siri
Siri is quite the sports fanatic. Whether you're on the road and desperate for the latest news, or at a bar and just as desperate to win a bet, Siri has you covered. From sports scores in Siri to upcoming schedules, player stats to team rosters and standings, you can query and compare your soccer, football, baseball, basketball, and hockey favorites from a huge number of leagues including the English Premier League, Major League Soccer, Major League Baseball, NCAA Football, NFL, NCAA Basketball, NBA, WNBA, and the NHL.
How to control your smart home with Siri
Siri works with HomeKit perfectly, meaning you can control all manner of smart home accessories with just your voice. Ask Siri to turn on lights, lower the shades, change the temperature, lock your front door, open your garage, and more. Siri even works with some non-HomeKit devices, though that depends on whether the device itself works with Siri Shortcuts or with third-party systems like Homebridge.
How to use apps with Siri
Thanks to SiriKit, developers can integrate Siri into many different types of apps, including ride booking, messaging, payments, VoIP, and more. When you ask, Siri can perform certain tasks so you don't have to go through the rigamarole of opening the app yourself.
How to set up and use Siri Shortcuts
Siri can be an integral part of your Shortcuts experience, allowing you to set up specific trigger phrases that set off all manner of automations. These can be as simple as turning off your HomeKit lights and setting your morning alarm at the end of the day to interfacing with third-party apps and services to do complex work tasks.
Get started with Shortcuts and see what they could do for you!
Your personal assistant
As you can see, there's plenty you can do with Siri and the digital assistant gets smarter with each update, making it one of the best iPhone, iPad, and Mac tools for getting stuff done.
Updated March 2022: Updated for iOS 15, iPadOS 15, and macOS Monterey.
Master your iPhone in minutes
iMore offers spot-on advice and guidance from our team of experts, with decades of Apple device experience to lean on. Learn more with iMore!
Adam Oram is a Senior Writer at iMore. He studied Media at Newcastle University and has been writing about technology since 2013. He previously worked as an Apple Genius and as a Deals Editor at Thrifter. His spare time is spent watching football (both kinds), playing Pokémon games, and eating vegan food. Follow him on Twitter at @adamoram.