10 things I'm excited about for iOS 12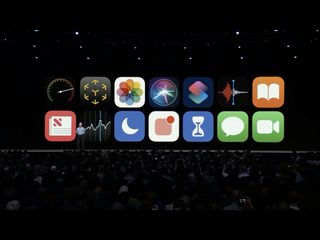 I don't know about you, but I was pretty excited about the reveal of iOS 12. While it may not be a transformational experience for iPhones and iPads, the work Apple is doing on performance is encouraging, and a lot of the changes in this year's release, including those performance improvements, Siri Shortcuts, and ARKit updates, seem foundational, setting things up for bigger changes coming down the line that need these pieces in place now.
These are 10 of the things that I'm excited about and interested in for iOS 12.
Siri and the Shortcuts app
Hands down, the thing I'm most excited about coming out of WWDC, let alone iOS 12. Siri is probably the aspect of Apple's ecosystem that most excites me, while also frustrating me due to what can seem at times like a lack of progress. iOS 12 seems to be changing all of that. Apple has been trying to get Siri to become more predictive and proactive since iOS 9, and the preview indicates that it might have finally made some improvements in that area.
But the truly standout portion of the keynote, for me, was Shortcuts. I've been wondering since Apple purchased the app what would become of Workflow, a formerly third-party app that lets you create automated workflows that link apps together in order to more efficiently complete tasks. Now, not only will Shortcuts allow you to create custom actions, but you can create custom Siri commands for those actions and Siri will proactively suggestion Shortcuts as it analyzes your behavior. While Shortcuts may seem small right now, I've been waiting for almost this exact thing for Siri for a while now, so yeah, I'm pumped.
While there are sure to be some bugs, that this is the direction Apple is taking Workflow and Siri is certainly encouraging for someone like me.
Notifications
Another big one: notifications. In iOS 12, the system will not only group together notifications by app, but also by type. Have a lot of messages from several different apps? They'll all be under the same banner.
And just to jump back on the Siri train for a second, Siri will now help you reduce notification clutter. Siri will study how you interact with notifications for apps, and make suggestions about how to manage them. You can always turn off notifications for a particular app, but now you're also given the option to have them delivered "quietly," which will see your notifications from a particular app delivered to the notification center, and have the app icon badged, but they won't appear on your lock screen, present banners while you use your device, or play sounds.
Do Not Disturb
With iOS 12, Do Not Disturb will gain more granular controls. While I already use Do Not Disturb to keep my iOS devices quite at night, you now have more controls over how Do Not Disturb works. You'll be able to use new quick settings to turn it on for say, just an hour or until later in that day, you'll also be able to set Do Not Disturb on and off based on other factors.
If, for example, you have a meeting on your calendar, you can set DnD to remain on until the end of that meeting. You can also set Do Not Disturb to remain on until you leave a particular location. If you just need to set a certain time, a new Schedule button will be available in the Control Center widget (long press or 3D Touch the Control Center Do Not Disturb button) that will take you to Do Not Disturb in Settings so you can set it as you normally would.
In addition, iOS 12 can hide your notifications from you when in Do Not Disturb thanks to the new Bedtime mode feature, which keeps you from getting distracted by notifications when you should be trying to fall asleep.
Performance
iOS 12 focuses a lot on performance, and if the actual gains are close to what Apple is claiming, people using older devices should be happy. This point gets high marks for hopefully reducing the headaches that come along with any software update, and hopefully making people feel as though they have, if not a brand new device, then still one that works well for them.
Messages and FaceTime
Messages and FaceTime get a combined section because a number of their enhancements are shared between both apps, such as camera effects. You can now use camera effects when taking a picture or video from Messages, and you can place camera effects on yourself when making a FaceTime call. Additionally, you can now start a FaceTime call directly from a Messages thread, including a group messages thread.
If you were to do that, you'd be able to experience FaceTime's biggest new feature, which is something I know a lot of us have wanted for a while: group FaceTime calls. Is 32 people a bit overkill? Maybe, maybe not. If you use FaceTime in a professional setting, maybe that's on the borderline of enough. But it's the biggest advancement for FaceTime in years, and I'm really pumped to try it out this fall.
Animoji
The new tiger, ghost, koala, and T-Rex Animoji are great, but obviously, the thing that really takes the cake here is Memoji. I'll be honest, this isn't something that was even on my radar, but it's one of those things that you see and say to yourself, "Of course. Of course, custom Animoji is the place to go." The fact that you can bring these Memoji with you into photos and videos in Messages, or even on a live FaceTime call, just injects a sense of fun into iOS 12, something important that I think a lot of people disregard to focus on more "serious" topics.
ARKit 2
This is another fun one. ARKit 2 comes with a lot of enhancements over ARKit 1 and 1.5, but perhaps the single most important for everyday people is shared experiences. While experiences can only be shared between two active participants and a third observer, that's sure to be only the start of shared augmented reality experiences.
As an aside, imagine watching a live, two-player augmented reality game on Twitch. Both players share the experience, then viewers watch from the perspective of the third observer, maybe someone sharing their "gameplay."
Privacy
In its presentation for macOS Mojave, Apple talked a lot about privacy, particularly when it comes to web browsing. Safari on Mojave will prevent sharing buttons for social networks and comment widgets from tracking you around the web, and the great news is that these features are coming to iOS 12 as well. Both systems will also work to prevent fingerprinting (a process by which advertisers and data collection companies gather data about unique identifying features for your device) by sending only general information back.
It's all part of a privacy philosophy that Apple has espoused for a while now: privacy needs to be a choice. I need to be able to decide what information I'm giving up and when I do that.
Photos enhancements
It's weird to think that I'm excited about one tab in one app, but that's where I am with the For You tab in Photos. Admittedly, it's not a bouncing-off-the-walls sort of excitement, but it's still an interesting addition to the Photos experience. The new home for your Memories movies will also serve up featured photos that you've taken. It will also make suggestions for effects to add to your photos, such as a loop for a live photo, or adding a filter or other effect to your photos. That's pretty cool.
But the social aspects of For You are also intriguing. For You makes it easier to share photos by suggesting people that it would be great to share them with. Photos will even automatically make picks suggesting which images to send to which people. And the fact that this sharing all takes place privately over iMessage is just another point in its column.
Screen Time
This is going to be useful for a lot for people, and not just those looking to reduce the amount of time they spend looking at screens (I often spend my day writing on an iPad, so I think my usage is going to be a little above average). But take Twitter, for example. I, like many others, use it as a news feed. And the news the comes through Twitter is often scary, depressing, or just plain nerve-wracking. Looking at that stuff constantly isn't healthy, and having a graph, generated by a system that is watching how you use your device, with hard numbers, might be the push you need to spend less time stressing yourself out like that.
Digital wellbeing is a new area of focus for Apple and other companies, and these are early days. I'm interested to see how these tools evolve over the next several years to help us lead healthier digital lives.
Bonus: Battery graph
So this is a little thing, but there is now a battery graph in under Settings > Battery. It offers detailed breakdowns of your battery use over time for both Screen On usage and Screen Off usage. It also shows you how much of your battery's charge level dropped as you used it. It's a great visual representation of how you use your device that pairs nicely with Screen Time.
Your picks
So these are the things that I'm most looking forward to in iOS 12. But what about you? Let us know what you're looking forward to in the comments below.
Get the best of iMore in your inbox, every day!
Joseph Keller is the former Editor in Chief of iMore. An Apple user for almost 20 years, he spends his time learning the ins and outs of iOS and macOS, always finding ways of getting the most out of his iPhone, iPad, Apple Watch, and Mac.
nothing ever changes, same old boring design. I was an apple fanboy. but not that android has caught up and added way more features. i sold my apple watch and iphone x and ipad pro. I got an s9+ . The only way i will come back to apple is if they re design the home screen in the future and open up the platform They claim they cant open for security but they can open it and just check the apps in the app store to make sure they are all good,. anyway goodbye boring apple.

"They claim they cant open for security but they can open it and just check the apps in the app store to make sure they are all good" And this worked for Android, right? WRONG! Despite attempts, Android still has loads of apps on its store which can put malware on your device. If you enjoy Android, then keep with it, but I've tried both Android and iOS even recently, and I still can't leave iOS, there are quirks with Android which I just can't deal with

I bet you don't see any Quirks in iOS, though... Like the inability to set 3rd party apps as default. The awful photography workflow - particularly if you shoot RAW. The lack of MTP, DLNA, or Miracast support... Completely lacking compatibility for pairing with 3rd party NFC devices. Awful Media CODEC Support. Lightning Port. Completely lacking in customization beyond Dock Icons, Wallpapers, and those generally awful Today Screen Widgets. etc. iOS, in the past, had three major advantages over Android: 1. The use of fast flash storage, which is a huge performance impacting component - similar to how even old PCs feel really fast when you go from a HDD to an SSD. Android devices often used eMMC or Embedded SSD Cards back then, so the I/O speeds bottlenecked performance to a fair degree.
2. Higher Resolution (i.e. Retina) Screens with better panels, when Android was still stuck on WVGA (less for lower end devices).
3. Better cameras. Android has literally leapfrogged iOS in all three of these areas. The Android OS has also improved over the past - almost a decad - to the point that it's not really a reason to avoid an Android phone. It really has more to do with what the OEM does on top of Android than anything. Updates aren't going to be a problem with the new architecture Google is rolling out, which allows the base system to update independently of the software layer on top of it. Carrier Bloatware is far less of an issue, as there are less preloads and most of it is easy to uninstall - also, many of the icons preloaded are just icon links to the Play Store, not full apps. I am at wit's end with iOS because I feel like unless you're Grandma Sue, the phone fights with you for everything. These are things that Android does well out of the box, because it makes sense. But because Apple now designs for kindergarteners, us adults have to suffer.

"the switch from ringer adust on the volume rocker to media volume with no media running etc" I can't remember which update it was, but an update came out that started doing this for me. After being frustrated by it, I looked in the audio settings, and low and behold under ringer volume "Adjust with volume buttons" was disabled. As soon as I re-enabled this option, I got the normal functionality back, so I'd check to see if that option is disabled for you.

I do see the quirks in iOS, actually, although some of what you mentioned seems more for unique use cases. MTP/DLNA I've not needed, plus if I'm linking to a Smart TV they usually provide some sort of app to do it. Not having Miracast was a pain at first, but there are now apps on the App Store which provide mirroring to the majority of Smart TVs. NFC again I haven't really needed (although iOS 12 I think is supposed to allow more things to be done with NFC). Media Codec problems are solved by apps such as VLC. In the case of HTML5 videos, I've rarely ran into issues. I agree with you on the lightning port and customisability, but as you can see many of the problems you've mentioned are easy to get around, or are for very specific use cases. In terms of Android "leapfrogging" Apple in those 3 areas, I don't think that's necessarily true. The iPhone continues to use fast flash storage, and you can look at comparison videos on YouTube to see that the iPhone is generally faster at loading apps than the top of the range Android phones. This could be due to the OS, as well. As for the resolution the Retina display is pretty high resolution, and for a device this size I don't think it needs to be any higher, it'll only end up draining battery for a minimal quality different when viewing a screen at this size. Better cameras are debatable too, there are many factors with the camera and often Apple wins in some areas whereas other devices win in others. "Updates aren't going to be a problem with the new architecture Google is rolling out"
The fact that this wasn't done in the first place makes me skeptical that this is actually going to work, but hopefully I can be proved wrong on this. Is Carrier Bloatware easy to remove? The last time I used an Android device, it only let you uninstall "updates" from pre-installed bloat apps, rather than removing the app itself. To remove the app itself you had to root the device, which is certainly not always an easy task. At the end of the day, I am not Grandma Sue, I'm a developer with a keen interest in technology, and yet I don't feel like I'm fighting with the iPhone. The iPhone becomes more open and customisable with each update, so I don't think it's really designed for "kindergarteners" anymore.

I'm glad to hear that Android has finally decided to deal with the update issue but I think that iOS's major advantage has been its better/easier usability and as of last year, when I last checked, that was still the case. I have been frustrated with Apple's control-freak nature for decades but I also don't like working on my phone or tablet as much as working with them. The last time I owned an Android device, it felt a lot like my jailbroken iPhone - more configurable but more prone to glitches and lots of little annoyances. When I next upgrade hardware, I will of course look at what is on offer from different sources and as always, I am hoping that things will be different. In the meanwhile, I am still using an iPhone 5 which is only just starting to loose functionality - since iOS 11 doesn't run on it.

My experience with Android was just that; prone to glitches and lots of other annoyances. For me it was less about usability and more about stability, and I've found iOS to be far more stable. I think Android has good usability when it doesn't have any custom software like Touchwiz slapped on the top

agree with you android stepped far ahead of design and features. google assistance is great helps me a lot.

Features maybe, but design? Honestly I prefer Apple's design, and to be fair it's something they have a reputation for doing well

All positive improvements, but once again a feature that is globally begged for, is a dark mode system wide. Seems like a no brainer for the iPhone X and OLED screen, but here we are, still without. I just don't understand this. All added features are always welcome, but this one actually serves a purpose for power consumption, battery life, and it's just easier on the eyes. Something tells me, if they DO offer a dark mode, it will only be available on the newest iPhones coming in September.

Dark Mode is available in macOS Mojave, so if they don't include it in any future updates in iOS 12, it will definitely be in 13

Even though this is probably true, dark mode should have come to iOS first simply because iPhone X use OLED displays and a dark mode would improve the battery life.

I agree, and hopefully they will include it as an update to iOS 12, since really it should've been released with the iPhone X

It *was* a timid show this year wasn't it? It was pretty awful to watch. iOS 12 isn't really bringing anything new to the game that Android hasn't had for a while or will be bringing at the same time - that's fine. Apple had a rough time with iOS 10 and 11 - they needed a year to focus on stability, absolutely. There's absolutely nothing wrong with that. Have the balls to say it though! The pretense that there's more there than there really is is bad enough, but the *reaching* - "isn't that cool? ... :)) *Awkward pause for applause*"

It's really ironic that in the Apple Dictionary, timid is a "lack of courage", hehe. But in all seriousness, it certainly was timid, and thankfully I was expecting this due to the rumors. In some ways it's a bit of a breath of fresh air, iOS 12 seems really fast and smooth, and that will only improve as the betas go on. Apple will always over exaggerate their new features, it's just their mantra.

I dunno. I'd take timid over that dude with the 80's soap opera hair making chicken sounds like in last year's iPhone/Animoji reveal. That was the definition of cringey.

".....but you can create custom Siri commands for those actions and Siri will proactively suggestion Shortcuts.......", "And the news the comes through Twitter.......", "So this is a little thing, but there is now a battery graph in under Settings......", "While I already use Do Not Disturb to keep my iOS devices quite at night..........." Maybe Siri will learn how to proofread someday. "In addition, iOS 12 can hide your notifications from you when in Do Not Disturb thanks to the new Bedtime mode feature, which keeps you from getting distracted by notifications when you should be trying to fall asleep", "While I already use Do Not Disturb to keep my iOS devices quite at night..........." Or you could just turn them off for the night. "While experiences can only be shared between two active participants and a third observer........" Insert joke here. But seriously, performance improvements are always welcome. New features don't always interest me as much as making existing features faster.

"Or you could just turn them off for the night." Isn't that what DND is for? I don't know how you would "turn them off" otherwise

I meant turn off the iOS devices, rather than fiddle with "quite" settings.

Grouped Notifications is like a quarter decade late, but welcome nonetheless.

As is the case with many new iOS features. Still, we get them eventually. Eventually, we'll get default apps, it's just an annoying waiting game

I just don't remotely understand the appeal of Animoji.

It's a bit of fun, I've had some laughs with it

How many times have you used Animoji's over the possible last 7-8 month? It seemed cool, like when new emojis are added, then I realize I don't use or want to use them that often. Seems like features aimed primary young teens and children.

I use them occasionally, its not something I abandon permanently so it has its place. It's daft to say it's aimed at children when you can find plenty of people online of all ages having fun with it. I've no doubt that young teens and children will enjoy it more, but it's still for everyone nevertheless

Carplay FINALLY allowing Google Maps and Waze is HUGE for me personally. I'm stuck with Apple maps for now. i don't like it much at all, but that's what Carplay allows for now.

Waze is my favorite, but Apple Maps is slowly becoming my 2nd favorite. If Apple Maps can get speed camera alerts and lane guidance (I think this exists in the US for now) then I'll be quite happy using it

The big thing was allowing other navigation apps in CarPlay. Now I can get a second opinion when apple maps is full of (frozen yogurt Emoji). Let's hope some off-line map apps get in too. It's sad that they screwed us until Navigon died. No word on whether they will stop Siri from blocking apps in the car (whether you are paired to a car or plugged in to CarPlay). They currently even block Siri from telling you the weather because Weather is not a verified CarPlay app. The other big miss is whether you can disable the Apple Watch from taking over the AirPods ever, or disabling on-watch music totally. I am so over needing to put my watch into airplane mode so I can make a call. And finally, I am totally disappointed that there was no MacBook Air or Pro refresh to Coffee Lake processors. I was so disgusted that I gave up and ordered a Dell PC laptop immediately after the keynote. It was cheaper than upgrading the SSD in my MBA from 512GB to 1TB and still being stuck with a 5 generation old i7. Then I can upgrade to a 2TB SSD for about $500.

I am hoping and praying for improvements in iBooks!! iBooks has gotten so bad over the past few ios updates that it's almost unusable. As just one example, the PDF's I have stored there keep reverting to iCloud! This is maddening, especially when I try to pull something up to show someone and I am offline and can't get to it. I did finally "fix" the problem this past weekend by downloading everything from the cloud (well over 500 PDF's!) and then selecting "hide iCloud books". At first this wasn't working because as soon as I had downloaded about ten of them by the time I got to the 11th, the first ten were BACK in the cloud! I did a hard reset and was then able to download them all. The thing is, I am the one who should have that control, NOT apple! This problem is not just my own. When I have looked for help online for this and other problems, I find a ton of other people having the same problems and NO help. It seems that Apple just keeps messing around a tiny bit with iBooks with each update but NEVER fixes the issues that people have complained about. It used to be great. I am hoping that the changes to this are more than just a changed name.

Improved privacy is always welcome. For me, the rest is fluff. Notifications are mostly just things that need switching off, Siri is a distraction and FaceTime is annoying if you know people outside of the Apple Universe. Perhaps Apple is also addressing some of the security holes that have recently been exposed in it's software and in that case, a lacklustre update is fine with me.

I guess each use-case is different, the notification stacking I think is really useful, even with just a light amount of notifications where it's stacking message threads for example. I use Siri a lot so any improvements are highly welcome, I don't see it as a distraction since it's only there when I need it. I have FaceTime for the iPhone people and WhatsApp video calling for the rest, FaceTime is more intuitive and links to my Mac, but I can see that it's a pain if you have few friends with iPhones.

I would be excited for a system-wide, 10 band audio equalizer. The presets are a joke, an exercise in compromise and frustration. Yes, I know there are free apps available to do this, and I am using one. The problem is that the EQ settings only apply for that app, which is fine for playing music/podcasts. However, watching TV/videos/Netflix etc. still uses the pointless presets. Come ON Apple, even Windows Phone had a real EQ, although it was only 7 bands and very poorly chosen bands at that. Android has a 7 band EQ, but they are well-chosen and so is quite useful.